Bangladeshi sitarist Alif Laila thrills audiences
Most Westerners don't know much about Bangladesh, but they do know the sound of a sitar — a South Asian instrument that for millions of Americans growing up in the 1960s and 1970s is forever linked with the music of Beatles legend George Harrison.
"It's mysterious and mesmerizing. You're in a spell. You can't figure out what it is," says Alif Laila, one of the Washington area's best-known sitarists. "The instrument is a bridge between East and West. It was the sitar that opened the doors to meditation, yoga and an ayurvedic way of life. People are curious whenever I play."
Laila, whose full name means "one thousand nights" in Arabic, was born and raised in Dhaka, the Bangladeshi capital. The accomplished artist, musician and composer spoke to us one recent afternoon in her Maryland studio filled with dozens of original paintings — but not before serving tasty samosas (baked pastries filled with potatoes, onions, peas and lentils) and tea offered in colorful ceramic cups she designed herself.
"My mother inspired me. She wanted to learn the sitar, but growing up in Kolkata (then Calcutta) in a Muslim family, it was not a very common thing to have a male teaching a female," Laila said, noting that female sitarists are still a rarity. She tried singing, but conceded that "I was shy and my vocal range was not very good — so my mother encouraged me to try the sitar, and that did the magic."
At 17, the determined girl told her father she was going to visit her aunt. Instead, she snuck off to Kolkata, returning a few days later with her very own sitar, considered the most difficult instrument in the world to master.
The late Ustad Mir Qasem Khan — nephew of legendary maestro Ustad Allaudin Khan — taught Laila the intricate techniques and compositions that embody the school of Indian classical music known as Senia Maihar Gharana.
After graduating from the College of Fine Arts in Dhaka in 1981, Laila eventually moved to the United States and continued studying music with various gurus influenced by Pandit Nikhil Banerjee, one of the greatest sitarists of all time.
"Like with any endeavor, if you want to reach people, you have to be good at it and make it flow, especially with Indian classical music," she explained. "The technique is very complex and takes years to master. The music itself is another infinite universe. You have to master not only the science but the music as well. The ultimate flow comes when you can cross that threshold of science and step into the world of art."
It also helps to have a decent sitar — and these days, a good one costs at least $4,000.
The instrument dates from the 13th century, yet no single country can claim ownership of its origins. A combination of the Persian three-stringed setar and the South Indian veena, the sitar — usually constructed from teak wood — consists of 21, 22 or 23 strings and has a long hollow neck and a gourd resonating chamber.
"The sitar has exploded in popularity in the last decade. Sitars are now available on eBay and Amazon, but there's lots of junk out there," said Laila, who currently owns a Hiren Roy sitar — sort of like the Steinway of pianos or the Gibson of guitars. "I was lucky. It was just lying around, and belonged to someone who didn't want it."
Through her friendship with respected Indian tabla player Pandit Anindo Chatterjee (who performed during President Obama's visit to New Delhi in November 2010), Laila met Ravi Shankar — the legendary sitarist who in 1971 helped George Harrison produce his "Concert for Bangladesh" to raise money for starving war refugees.
"Ravi Shankar opened up the doors of Indian classical music to the whole world," said Laila, who has met the 92-year-old Shankar several times since then, most recently at a musical performance in Baltimore four years ago. "He's like a prophet who made a huge difference to the world; he was doing global networking before the Internet."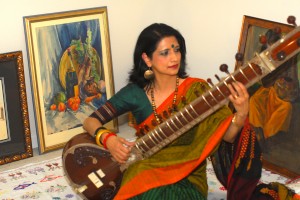 Laila tries to practice at least three hours a day, preferably at night. As she plays, a "sruti" box electronically replicates the drone in the background.
"Imagine seven instruments in one," she said. "The sitar sounds like a whole orchestra is playing."
Throughout her career, Laila has performed at the Bangladesh National Museum and the Kerala Fine Arts Society in Cochin, India — and at dozens of venues from Kuwait to the Detroit Museum of Art. In 2004, she became the first female sitarist ever to play at Dhaka's historic Shahid Minar, a national shrine to early martyrs of the Bangladeshi independence movement.
Locally, she's appeared at the Shiva Vishnu Temple, the Washington Music Conservatory, the Clara Smith Performing Arts Center in College Park, the Smithsonian Planetarium, the Gandhi Center in Bethesda and the Kali Temple in Burtonsville.
In April, Laila was the star attraction at the Embassy of Bangladesh, which hosted a huge celebration to mark the 40th anniversary of the establishment of diplomatic ties between Washington and Dhaka. This summer, she's due to perform in venues ranging from the Bangladeshi-American Doctors' Conference in Baltimore to the Holy Cross Conservatory of Music in Worcester, Mass.
Laila has been interviewed by the Voice of America's Bangla service and is fairly well known back in Bangladesh, where she frequently travels to visit her aging mother.
"There was a long pause in my life, about 25 years or so, when I couldn't do what an artist does day-to-day, because I was taking care of my family," said Laila, who has two grown sons. "But I kept it flowing and always balanced my artistic self and my motherhood, and the rest of the family responsibilities."
She added: "Whatever experience I've had in my life — happy or sad — I felt like I should say something with my sitar. When my aunt died, I dedicated a whole album to her. Music is not only the playing itself. It's intertwined with your life."
Her seven CDs to date include titles like "I Am a River," "The Inner Voice," "Devotion" and "Meditation With Sitar." All but one of her albums are illustrated with her own paintings.
"The CDs are not just for Bangladeshis, they're for everyone," she said. "My listeners are all over the Internet, downloading my tracks."
When Laila's not performing or practicing, she's usually giving sitar lessons — and her dozen or so students generally fall into two groups, she says: "Younger people who are curious and influenced by the charm of the sitar, and those who had left the sitar a long time ago and want to get back to it, finding comfort in what they had before."
In the early '70s, Harrison — who took sitar lessons from Shankar — featured the instrument prominently in songs like "Norwegian Wood" and "Within You Without You." Many other groups used sitars in hit tunes including the Monkees, the Mamas and the Papas, the Rolling Stones, the Turtles and the Moody Blues.
Perhaps that's why the instrument became associated with drug use — an unfortunate development, said Laila.
"Back then, it was like anybody playing the sitar has to have marijuana. But if you're doing pot, you can't be a sitar player. You need a healthy lifestyle in order to practice three or four hours a day. Toxic materials must be out of your body."
That means no smoking, no alcohol, no drugs — and plenty of water and good healthy food.
And two more attributes: patience and persistence.
"It's very difficult to pursue the sitar in a focused manner. Even if you're talented, you can't survive on just music," she said. "It took me a whole lifetime and some people don't have the patience. You have to believe in yourself."

Larry Luxner is news editor of The Washington Diplomat and former editor of CubaNews. Born and raised in Miami and based in Bethesda, Md., since 1995, Larry has reported from every country in the Western Hemisphere. His specialty is Latin America and the Middle East, and he's written more than 2,000 articles for publications ranging from National Journal to Saudi Aramco World. Larry also runs an Internet-based stock photo agency at www.luxner.com.