Baltimore's killing fields leaves a trail of tears
On the killing streets of Baltimore, Ashford Davis says, the tears never stop.
The bearded, slight black man, who has lost countless friends and acquaintances to murder, wears the sorrow and anguish of his city on his face: three little black tears tattooed below the right eye, two below the left.
The teardrops glint just so in the early afternoon sun outside Zion Baptist Church in East Baltimore, where he attends a weekly job-training program, and for a second, it looks like Davis is weeping.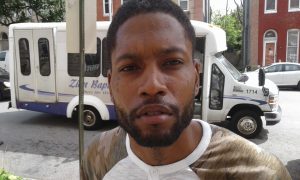 "They're my tears for this city; it makes you cry, man," says the 32-year-old, who spent half his life bouncing between prison before returning to his the corners of inner-city neighborhoods. "There's just so much pain in my life, so much pain I caused in others' lives – pain, pain, pain. Poverty, hunger, no jobs, no hope."
It's a lament often heard in Baltimore, which ended 2017 with the highest murder rate in its history, among the deadliest cities in the country.
About 27 million visitors a year know Baltimore for its downtown with its glass skyscrapers, multibillion-dollar development along the waterfront and affluent North Baltimore communities. The city boasts a gorgeous Inner Harbor, five-star hotels and restaurants and $12 million downtown penthouses.
But in the impoverished, black neighborhoods, the city's nickname "Charm City" seems a cruel mockery, and it's better known as "Body-more, Murdaland" – the graffiti on an eastside row house that opens every episode of "The Wire."
Baltimore finished the year with 343 homicides, the highest per-capita murder rate in the city's history. The city, with a population of 314,000, had 353 murders in 1993, but 113,000 more residents than today. Chicago has received much more media attention, but Baltimore has more than twice the per-capita homicide rate and more total murders than New York, which counts 8.5 million residents.
More than 90 percent of the Baltimore murder victims were black. Most killings were drug- or gang-related, but not all: There's the mother shot to death in front of her children in June in retaliation for reporting bullying and a stolen bicycle seat, or the 97-year-old man found dead in his East Baltimore home in July. A few weeks before that, Dion Smith, the younger brother of Baltimore Police Department's chief spokesman, T.J. Smith, was also shot dead.
"Enough with the hashtags and the RIPs and the balloons and the T-shirts," Smith said at a news conference, choking back sobs. "Let's stop. It's up to all of us, especially the guys on the street, to say enough is enough."
Latanya Bryant can still see Ernest Barnes Jr., her 24-year-old son, smiling and calling out to her in the sunshine that brilliant Sunday afternoon in June 2014, his words like an echo that keeps getting louder.
"He's waving to me in the back yard of our house and saying, 'Ma, I love you,' and I say, 'Baby, I love you, too,'" Bryant remembers. By turns, the memory makes her cry, and makes her smile. And for a long time, those memories proved almost impossible for her to live with. She pulled through, but barely.
Bryant also keeps playing a video in her head: the one shot by a neighbor that day, outside the family's Northeast Baltimore home. She says her son, who had worked full-time as a mason since graduating from high school, had never done drugs and never got arrested.
He had been vacuuming his 1994 Mercedes, and the video shows three men after they had jumped into the car with him. Their faces are visible. The single, fatal gunshot to her son's head can be heard. Bryant says the video shows the men dumping Barnes's body on to the street, running into a nearby home and emerging minutes later with changed clothes, then speeding off in the Mercedes.
No one has ever been charged in her son's death.
Bryant finds solace every Tuesday evening at MOMS – Mothers Of Murdered Sons and Daughters. "These grieving mothers saved my life," she says. "I say to God, 'I want the same peace they have found. God, if you just give me their strength to stand on and keep the suicidal thoughts away from me, I can make it.'"
Her son, she says, comes to her in dreams: "He says, 'Mom, I can't rest if you're crying.'"
In November, Bryant and her husband joined thousands of others for Baltimore's second Ceasefire weekend, an event organized by the mothers of victims. The participants marched, hugged, joined hands, sang, prayed and meditated while delivering a simple plea: "Nobody kill anybody."
But murders shattered both ceasefire events.
Erricka Bridgeford, 44, one of the co-founders of Ceasefire and a conflict-mediation specialist, got fed up with murders being treated as routine. At 12, she saw a neighbor fatally shot in the city, then lost four cousins to murder and, in 2007, her brother.
Bridgeford says the ceasefires will continue every three months.
"We are in a dark place and we must be a light in those dark places," she says. "If you see Baltimore's beauty in every corner of the crack houses, if you cry for Baltimore, if you are out here getting justice for Baltimore, if you turned Baltimore's bloodstained streets into sacred spaces, if you're still going to do the work in Baltimore after the media is long gone, you are this movement."
David Simon: Cops fear prosecution for making arrests
Perhaps no one speaks as authoritatively, articulately and incisively about Baltimore crime than David Simon, a longtime critic of the failed drug war, which he has called a "war on the underclass" and a "holocaust in slow motion."
Simon, a former Baltimore Sun police reporter, ascribes the most recent surge in murders to the high-profile decision by the Baltimore state's attorney, Marilyn Mosby, to charge six city police officers following the death of Freddie Gray after he fell into a coma while in police custody in April 2015.
In the aftermath of Gray's death, mass protests, riots, looting and arson convulsed the city, making headlines around the globe.
In May 2015, Mosby – one of the youngest chief prosecutors in a major U.S. city – appeared on TV at a news conference during an extraordinarily febrile time in the country. In front of cameras, filmed by journalists from around the world, she read charges against the six officers involved in Gray's case.
"Police brutality is completely inexcusable. I'm going to apply justice fairly, even to those who wear a badge … I have heard your calls for 'No justice, no peace'," Mosby said at the time.
A subsequent US Department of Justice investigation found Baltimore police officers had routinely used excessive force and discriminated against black citizens.
Negligence charges, Simon says, would have been justifiable against the officers in Gray's death from injuries he suffered while bouncing around in a metal cage in the back of a police transport vehicle during a circuitous 45-minute ride.
But the charges brought by Mosby, including false arrest against three of the officers, sent the wrong message to police officers, says Simon: "What Mosby basically did was send a message to the Baltimore police department: 'I'm going to put you in jail for making a bad arrest.' So officers figured it out: 'I can go to jail for making the wrong arrest, so I'm not getting out of my car to clear a corner,' and that's exactly what happened post-Freddie Gray."
Simon's theory seems to be borne out by arrest numbers: They have plummeted from more than 40,000 in 2014, the year before Freddie Gray's death and the subsequent charges against the officers, to about 18,000 by early November of last year. The charges against the cops also led to a mass exodus of officers from the BPD.
Warren Brown, a former Baltimore prosecutor who went on to become one of the most prominent defense attorneys in the region, lost his 22-year-old stepson, Louis Cody-Dorsey Young, after he was shot dead at a gas station in July.
Brown praised police for making an arrest quickly, but now fears violence will get worse.
"I just don't know how to end this carnage, and neither does anybody else. Not the mayor, not the police commissioner, not the state's attorney," he says. "We need a Marshall plan for crime with massive amounts of money and commitment from every government agency, the police, the schools, the medical institutions, the corporations, the foundations, and it's not gonna happen.
"The city puts this tiny Band-Aid on a severed artery," he says. Cops feel the heavy weight of scrutiny from the feds, the state's attorney, residents, violent criminals: "So most police say, 'Fuck it, if I'm gonna be arrested for making a typical arrest, I'm not gonna arrest people. The rules of the game changed after Freddie Gray, and the thugs with guns know they can kill people with impunity now."
The BPD and Mosby, at odds often since she charged the officers in Gray's death, dispute the widely held belief that police pulled back from enforcement out of fear they could face criminal charges.
"To suggest that officers are conspiring to allow violence to occur in our communities is an irresponsible generalization and a slap in the face of every hard-working police officer risking their life on a daily basis for the citizens of Baltimore city," Mosby says
Taking a longer view, Simon attributes the increase in the number of murders to the police department's shift away from targeting homicide suspects to clearing corners in low-level drug arrests.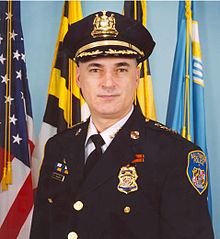 This, he says, has led to police officers no longer being trained to effectively target weapons and murder suspects by cultivating, protecting and nurturing relationships with informants, interviewing witnesses, writing murder warrants that will hold up in court, obtaining key evidence and testifying before a jury convincingly.
Simon notes the tough-on-crime Democratic Mayor Martin O'Malley's mass arrests policy from December 1999 to January 2007. O'Malley, who went on to serve two terms as Maryland's governor and ran for president in the last election, had repeatedly boasted on the campaign trail that he slashed violence and murders. In reality, homicides climbed from 261 in 2000 to 276 in 2006.
"So they basically taught police how not to do police work," Simon says. "When you catch a criminal, particularly a violent criminal, you lock up the right motherfucker, you lock up the guy who's doing the shooting or the raping or the robbing.
"The Baltimore police department can no longer police the city effectively."
Frederick H. Beaelefeld III, who served as city police commissioner from 2007-2012, also stressed targeting violent criminals instead of low-level drug dealers and addicts, repeatedly saying police need to "go after bad guys with guns." The strategy worked: Bealefeld brought the city's homicide total to 196 in 2011, the first time it had dipped below 200 since 1977.
A city in crisis
After Mosby's thunderous press conference in May 2015, the limelight dimmed when she failed to win convictions against any of the officers; three were acquitted, and one case led to a hung jury before Mosby dropped the remaining charges in July 2016.
That none of the six officers charged in Gray's death was convicted enraged many black residents, who saw this as yet another injustice.
In an interview, Mosby's voice quivers with anger.
"This is a city in crisis," she says. "We have elderly men and a mother of eight being killed. The police can't solve this alone. The prosecutors can't solve this alone. We need the community to stop forward, to get past 'stop snitching', which can mean death for witnesses, and break down the barriers of mistrust between the residents and the police who are supposed to be protecting them."
Further eroding community-police relations, body-camera footage that surfaced this past summer showed police officers planting evidence, prompting Mosby to drop at least 100 cases involving arrests the officers made. She says up to 800 cases may have to be tossed out as a result.
And in August, federal prosecutors charged a 21-year veteran Baltimore sergeant with stealing more than $90,000 from city residents, swearing out false affidavits and filing false incident reports. Seven other officers were indicted in March on similar federal racketeering charges.
In a statement from her office, Mosby said she was "severely troubled" by the federal charges against the sergeant and pledged to work to "restore public trust and build confidence in the criminal justice system".
In response to the city's surge in homicides, Mosby says she's doubled the size of her office's witness-protection program, diverted non-violent offenders from incarceration and intensified prosecutions for weapons violations and homicides.
BPD's Smith says the department has redoubled efforts to help non-violent offenders avoid criminal prosecutions, get drug treatment and find jobs.
That frees officers from low-level arrests to target gun offenders. "If you're gonna hold an illegal gun in your waistband, you're going to jail," Smith says. "When those people aren't held accountable – and too often they have not been — they become more and more emboldened and go out on the streets and carry out their crimes."
The department has also established "transformational zones" focusing on the most violent neighborhoods in a city where victims have been arrested an average of 11 times and suspects, nine times, and established "crisis-response" teams trained to help physically and mentally ill and homeless people.
One of the biggest problems remains, however: building trust between Baltimoreans and those they're supposed to protect.
'You ain't never see a cop in this neighborhood'
Tobias Sellers sits seething on his stoop in the West Baltimore neighborhood of Sandtown-Winchester, where Gray was arrested.
"He's this frail thing, a skinny boy, and it was heartbreaking to sit here that morning and watch what those goddamn cops did to him," says Sellers, a 64-year-old retired construction worker. "He was crumpled on the ground like a pretzel, and the boy's legs were limp; he couldn't even walk. So they dragged him like an animal."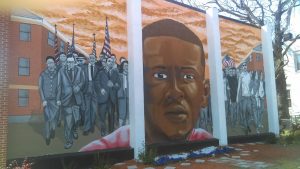 Walking in front of the gigantic mural depicting Gray, flanked by Martin Luther King and Baltimore protesters, Sellers adds: "These fucking cops – they abuse people, they rob people, they steal from people, they beat people up."
He is asked how often he sees police in the neighborhood since Gray's arrest.
"You kidding me?" says Sellers. "You ain't never see a cop in this neighborhood except once in a while they come around to hassle and abuse people. Sometimes, you call about corner boys getting rowdy, and they never even show up at all."
Longtime activist Ralph Moore, who grew up in Sandtown-Winchester, says the mass protests after Gray's death inspired hope for change.
"I just expected this awakening after the uprising, this realization that big things needed to happen in Baltimore and a meaningful response from the city," the soft-spoken black man says. "But it just receded back to business as usual."
Moore, 65, recalls halcyon days playing softball at Lafayette Square Park in the summer, football in the fall. Kids stopped at thriving markets and corner stores, working part-time jobs and saving enough for Orioles tickets, then walking five miles to the old Memorial Stadium for games.
Today, walking his childhood neighborhood, Moore says: "It breaks my heart to see what's happened. There's so much poverty and despair and vacant shells and guns and drugs everywhere. You have people who have been marginalized for decades and decades."
Without costly solutions, the carnage will worsen
Baltimore's murder epidemic reached such proportions that it prompted an unprecedented, emergency hearing in the state legislature in August.
It ran for eight and a half hours, and included elected officials, the city's schools CEO, health experts, public defenders, activists and residents.
As always, violent crime inevitably brings intense debate. Conservatives argue the violence underscores the need for more aggressive policing and longer prison terms. Gun-control advocates suggest the easy availability of firearms is the root cause.
But experts say the killings reflect a host of urban pathologies that date back decades and that without costly, long-term solutions, the carnage will only worsen.
Mayor Catherine Pugh, who has called city crime "out of control," has ordered that all city agency heads meet daily to devise new strategies to stem the bloodletting.
The first-term mayor has pledged to work more closely with the city prosecutors to improve conviction rates; rely on federal law enforcement to help dismantle violent drug organizations; pursue gun and conspiracy prosecutions with the U.S .attorney's office; and impose mandatory minimum sentences for gun possession.
But the mayor also stressed more holistic responses like increasing alternatives to incarceration for juvenile offenders; expanding drug treatment; building new recreation centers and renovating existing ones; broadening youth jobs programs; demolishing vacant houses; and offering free community college tuition to all city high school graduates.
Pugh's plan drew criticism from the influential clergy group Baltimoreans United In Leadership Development (BUILD). "The mayor's plan lacks accountability, timetables and has no real teeth," says BUILD's lead organizer, Rob English.
BUILD  called on the mayor to increase funding for schools, after-school programs and city rec centers; expand jobs programs with intensive training and the guarantee of placements; revitalize ailing communities in a city with 16,000 vacant homes, by conservative estimates, and some entire blocks without an occupied house; boost police hiring in a force with the number of officers at a 15-year low; and provide police more training and oversight to stop rampant abuse of and discrimination against blacks.
"The only way we're going to get out of this is by rebuilding and employing our way out, lad it's going to take hundreds of millions of dollars," English says. "Until we radically reconnect with young people in Baltimore, the violence will continue."
Pugh has ordered all department heads to meet with Police Commissioner daily to devise ways to stem the bloodletting.
Since a few months before the riots, English and organizers have gone door-to-door to more than 5,000 homes in the poorest and most violent neighborhoods to hear residents on ways to stem the violence.
"It's heart-wrenching and angering to look at the kids – seven and eight and nine years old – and look in their eyes and hear them talk about witnessing murders and seeing bodies on the streets," he says.
BPD's Smith says the department has redoubled efforts to help non-violent offenders avoid criminal prosecutions, get drug treatment and find jobs.
That frees officers from low-level arrests to target gun offenders. "If you're gonna hold an illegal gun in your waistband, you're going to jail," he says. "When those people aren't held accountable – and too often they have not been — they become more and more emboldened and go out on the streets and carry out their crimes."
Smith also says the police department is making progress filling vacancies with the sworn force at a 15-year low, form more than 3,200 officers in the early 2000s to 2,500 today. Freddie Gray's death and its fiery aftermath led to the departure of many officers and made it harder to fill vacancies.
The department has also established "transformational zones" focusing on the most violent neighborhoods in a city where homicide victims have been arrested 11 times and suspects, nine times, and "crisis-response" teams trained to help physical and mentally ill and homeless people.
'The violence problem is a jobs problem'
BUILD has repeatedly called establishing a pathway to placement in good, steady employment a key antidote to violence.
"The violence problem is a jobs problem," BUILD's English says.
Inside Zion Baptist church in East Baltimore, more than 50 ex-offenders sit in a cramped room and prepare for a better life. They're here for Build's "Turnaround Tuesday," which provides intensive training in preparing for interviews, expunging criminal records, writing résumés, learning computer skills, even basic literacy. To date, the effort has put 362 felons to work.
As a speaker talks of the importance of making a good impression, Ashford Davis listens intently.
Outside the church, he says maybe it's time to have the teardrop tattoos removed from his face for good.
"I wish they had a program like this before I before I ended up in jail for dealing drugs, pointing guns at people and robbing them," he says softly. He's training for a hospital tech job at Hopkins or one of the city's other major hospitals, all partners with the program that hire its referrals regularly. "But I never knew a better life. Now I do."
And for the first time, Davis smiles in the afternoon sunshine.
Gary Gately, a seasoned journalist, has won 15 national, regional and local awards for reporting and writing news, investigative, public service, feature, business and travel pieces. Gately's work has been published by The New York Times, The Boston Globe, The Baltimore Sun (where he worked in reporting and editing jobs for 11 years), Baltimore Examiner, the Chicago Tribune, The Atlanta Journal-Constitution, The Guardian, The Washington Post, The Dallas Morning News, Business Week, Newsweek, Arrive Magazine, The Center for Public Integrity, CBSNews.com, CNBC.com, ABCNews.com, USAToday.com, HealthDay, The Crime Report, United Press International and numerous other newspapers, websites and magazines.
His coverage has received awards from the Associated Press, the Society of Professional Journalists, the Washington-Baltimore Newspaper Guild, the Maryland-Delaware-D.C. Press Association and the Society of American Travel Writers (first-place Lowell Thomas Award for best newspaper travel story/U.S.-Canada (immigrant New York).
Gately also has extensive experience editing for newspapers and websites, has taught college journalism courses in news writing, magazine writing and travel writing and is the author of Maryland: Anthem to Innovation, a book on the state's history, industries and attractions.