Rapper Rebel Sun achieves hip-hop stardom in Israel
Jews and Gentiles who attend a Coolooloosh concert expecting to hear patriotic Hebrew songs about the beauty of Israel are in for a real shocker.
Instead of sitting through "Hava Nagila" or "Jerusalem of Gold," they'll end up dancing to the raw lyrics of rapper Joel Covington — a streetwise black man from Baltimore who for five years battled the Israeli Ministry of Interior's recent efforts to deport him.
Covington, a.k.a. "Rebel Sun," is the front man for Israel's up-and-coming hip-hop band, Coolooloosh.
"The Israeli government went to so much trouble to try and kick me out of the country. And now they're using me as a goodwill ambassador," said the 33-year-old Covington, who is kosher, observes Shabbat and calls himself "a Zionist to the core."
If Covington is bitter about the experience, he certainly doesn't show it during a leisurely interview on the porch of the Purnell Avenue rowhouse in Woodlawn where he grew up. During our conversation, the one-time University of Maryland political science major talks about his music and how he ended up in Israel.
"All my religious influences came from my grandfather, who raised me Jewish," he said. "Judaism didn't come for me in earnest until I was about 18, when I started getting back into Torah. I really wanted to see Israel for myself and I didn't want my opinion to be based on media bias or my own religious ideology."
Covington says his grandfather, who traced his roots to Jamaica, "wasn't deep into religion, he was just a guy who taught me about being fair and treating people properly."
After graduating from Woodlawn High School, the young man went to Coppin State University, where he majored in political science and minored in education. His godfather, Nathaniel McFadden ­— a member of the Maryland state legislature — got him involved in community projects.
Another mentor was Skip Sanders, deputy state superintendent of schools, who established a community program. Covington worked with that program involving juvenile delinquents for four years.
But Covington's heart was definitely not in his studies.
"After two years of college, I realized I didn't want to do this anymore," he said.
"Political science almost destroyed me."
He said the revelation came one day while walking around downtown Baltimore.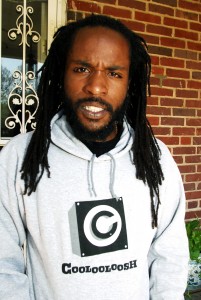 "I was wondering how the hell anybody could expect anything positive in this city, when right around the corner from Baltimore police headquarters were pimps, prostitutes and drug dealers," he said. "That's when I decided I had enough with the hypocrisy."
Covington said his interest in Judaism was fueled by his independent research into the origins of slavery. A 19th Century group called the Torah Keepers, which pieced together elements of Torah Judaism and New Testament teachings, piqued his interest.
"Their goal wasn't theology, but to maintain black history lost during slavery," he said. "After I started researching their works, I was amazed at the richness of the black Jewish community throughout the years. It's very much a misnomer that black people are Christian. Rather, Christianity was forced upon us during slavery."
Covington moved to Israel in the summer of 1999. For half a year he lived in Tel Aviv. He also spent a few months in the Jerusalem neighborhood of Rehavia, a few more months in Issawiya — an Arab village in East Jerusalem — and three years in the religious enclave of Ramat Bet-Shemesh, before returning to Tel Aviv, where he resides in the bohemian district of Neve Tzedek.
"After living in Israel for only three months, I knew I wanted to stay," he said. "I was asked to convert, and at first, I thought it would be much easier to go ahead and do it, but then I decided that would be like saying I was not born a Jew, and I was not gonna let anybody take that away from me. Avraham was almost 100 years old when he circumcised himself. Is anybody gonna say he wasn't a Jew?"
Covington added, a bit defiantly: "I'm not concerned with what man thinks about me. I'm a product of God. So the only one who can define me is God."
He married a black American woman named Shoshana; they had two daughters before divorcing.
"As with any country, there's always a tendency for xenophobia," he said. "But my experiences here in America have equipped me to deal with it. I try to keep my music very simple. My goal is to aim toward the lowest common denominator, the basic things that unify everybody regardless of their religion."
Covington sang and rapped locally around Baltimore since the age of 14. So it was only natural that in 2004, he'd join Coolooloosh, a five-man Israeli band formed the year before. The group combines elements of traditional Jewish music — including klezmer and Middle Eastern melodies — with jazz, R&B, hip-hop and urban rap.
The Jerusalem Post has called Coolooloosh "a bastion of originality in a culture of copycats." The band — whose members are mostly secular, leftist Jews — has played at jazz festivals, kibbutzim and college campuses across Israel. It has also performed at prestigious venues ranging from Croatia's well-known Spancirfest to Washington's Kennedy Center for the Performing Arts.
"Israel's ambassador to Sweden really helped us out. Our first international gig was in Stockholm," Covington said. The band has since played in Great Britain, France, Germany, Bulgaria, Hungary and the Czech Republic.
In April 2009, Coolooloosh played for the first time in a Jewish house of worship: the Sixth & I Historic Synagogue in downtown Washington. And in November 2011, Coolooloosh performed at the town hall in Bremen, Germany, as part of an event commemorating the notorious 1938 "Krystallnacht" which preceded the Holocaust.
"Hip-hop has been stigmatized as of late. But before it was rap music, we were poets. Then came the whole rap image," Covington said. Hip-hop, he suggested, is relatively innocent "compared to Hamlet, Othello and Romeo and Juliet, which is full of adultery, fornication, theft and murder."
Black Entertainment Television says Coolooloosh "is arguably one of the best live hip-hop bands in the world. … The band will continue to tour and bless audiences across the globe with their dynamic show. It's only a matter of time before they become one of the largest international acts in the music industry."
The band's best-known CD is Elements of Sound, with tracks ranging from "Mind and Soul" to "People of the Street." Lyrics are almost entirely in English, with a smattering of Hebrew thrown in at the tail end of several songs.
"We develop our songs together, but I enjoy my freedom as an artist to make what I want to make," Covington said. "In Israel, we have a very strong underground following. But slowly and surely, we've been creeping into the mainstream. Ever since moving to Tel Aviv, I've made that my mission."

You can find more about Coolooloosh here:
Website: http://www.coolooloosh.com/
Facebook: https://www.facebook.com/pages/Coolooloosh/21742910614
Twitter: https://twitter.com/#!/Coolooloosh

Larry Luxner is news editor of The Washington Diplomat and former editor of CubaNews. Born and raised in Miami and based in Bethesda, Md., since 1995, Larry has reported from every country in the Western Hemisphere. His specialty is Latin America and the Middle East, and he's written more than 2,000 articles for publications ranging from National Journal to Saudi Aramco World. Larry also runs an Internet-based stock photo agency at www.luxner.com.