Antique arms exemplify Spirit of 1776
Baltimore Antique Arms Show exhibitor Denny Fazzini with a display of Civil War rifles. (Anthony C. Hayes)
Fireworks displays, with their furious fusillades and powerful vibrations, have long been an accepted part of 4th of July celebrations. The crackling sounds and dazzling lights, sometimes set to patriotic music, wow the young and young-at-heart alike. But 4th of July fireworks also serve as a vivid reminder of the brutal gunfire which made this country free. And at a time when senseless killings lead to calls for an outright ban on guns, it is easy to forget that our rights were ultimately secured by a citizen army largely equipped with personal weapons.
Many of the weapons used during the Revolution are on display in museums today, or in the vaults of private collectors. Some examples of these aging weapons are unique, while many more might be considered carefully crafted works of art.
Every spring, the Maryland Arms Collectors Association hosts an internationally anticipated event simply known in the antique arms realm as "The Baltimore Show." Considered to be the premier antique arms event of its kind, the Baltimore Antique Arms Show boasts over 1,000 tables of the finest in collectible rifles, revolvers (pre-1898) and sporting shotguns. The Baltimore Show attracts thousands of serious collectors from across the globe. It is truly the "must attend" event of the gun collector year.
We attended this year's show back in March, just before embarking on an unrelated month-long assignment. The Baltimore Antique Arms Show was held at the Maryland State Fairgrounds in Timonium.
Craig Bell brought an assortment of flintlocks with a fascinating history.
"These are Virginia Manufactory Arms, which was the first state-owned armory after the American Revolution. For me what is cool about these rifles is I live about two blocks from the site where they were made.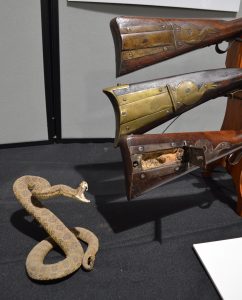 "Virginia said they wanted to take care of arming their own troops, so it was started in 1798 with the first production happening in 1802. They produced muskets, swords, rifles, and bayonets. What I brought here today are examples of the types of rifles they made. They made two styles. One is called the Rattlesnake because the patch box is coiled with a rattlesnake that says, 'Don't Turn On Me.' When you see the flags that say 'Don't Turn On Me', well, this came first. This weapon came after the Gadsden Flag, around 1806 – 1809. Only eight of these brass-styled rifles have survived. These are three of the five which remain in private hands. They made some changes in the second model, but total production of the pair was 2,093.
"I've always liked arms because my dad was a WWII combat veteran, but I was never allowed to have them as a kid growing up. I purchased my first arm after I got out of the service. I kept driving by a place called Richmond Arms, and thought, 'What is this place?' But that is where I bought my first antique weapon."
Bell was reticent to put a price on the extremely rare rifles and would only say, "I will tell you I paid a pretty price for these weapons."
*   *   *   *   *
Courtney Wilson, Executive Director of the B&O Railroad Museum, is also an avid collector of antique arms.
"As a young man who grew up in the middle of the Civil War Centennial in the 1960s, my dad took me to every Civil War reenactment and battlefield on the east coast. I fell in love with American History; with military firearms and culture.
"I think I bought my first gun when I was about 12 years old. My first gun was a Civil War musket. That's what I wanted more than anything in the world – and I paid something like 30 dollars for it. My personal favorites today are the long rifles – Virginia, Maryland, and Pennsylvania. It's a great hobby as well as a great investment. I always tell people to buy the very best that you can afford and buy what you're interested in. But I enjoy trading, too. That way, I know the weapons will end up in the hands of people who will really care for them."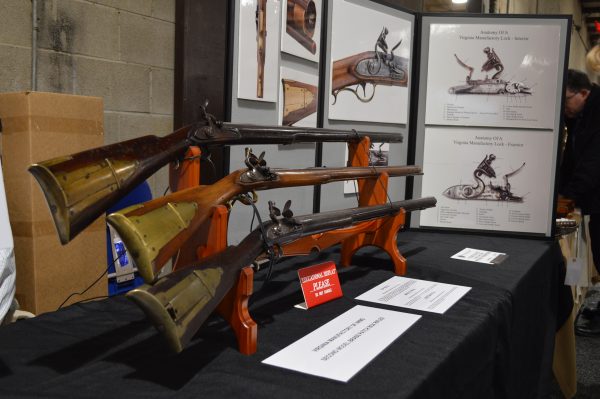 Midwest collector Perry Hansen said he started out collecting powder-class weapons when he was young – mostly because they were affordable. But from there, he went to patent-infringement weapons.
"In the gun industry, the Rollin White patent, for a bored-through cylinder that accepted a cartridge, was purchased by Smith & Wesson. What Smith & Wesson did was hold the patent during the Civil War. They would not release the patent to Colt or other firms that had government contracts. That's why the army still used the cap and ball during the Civil War.
"Officers wanted these cartridge guns, so there were manufacturers who tried to get around the patent – hence the patent-infringement guns. But I have an eclectic collection, with names like Allen, Remington, Patterson, and Prescott. At last count, I think I have about 5,000 of these guns – all of which date before 1898 – in various stages and conditions. I really enjoy the field. I am a collector – I don't deal in guns. What you see here today are some guns out of my collection I'd like to get rid of."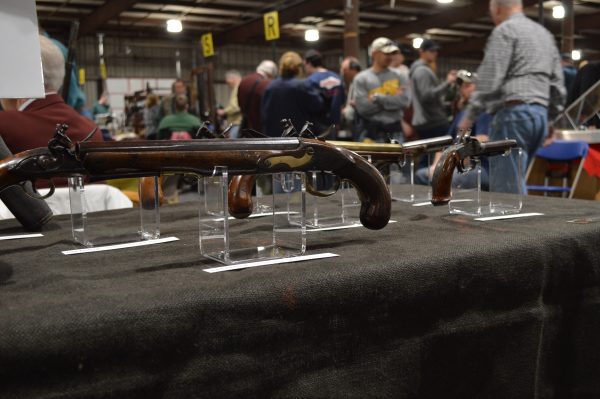 The antique arms displays were not limited to the collections of esoteric investors. We also spoke with author/collector Dan Hartzler and private museum curator Rodney Brown.
"I collect anything made in Maryland or carried by a Marylander," said Hartzler, "from Kentucky rifles to Civil War to War of 1812 and the Revolutionary War. I also collect clocks, swords, bayonets, etc. I've written 20 books, and they are all on Maryland subjects.
"The collection I have on display today are all pistols that were made by Maryland armorers. They date from the French and Indian War of the 1750s to the Revolution and War of 1812. These were all made by Robert Hazlett, who was a wonderful gunsmith here in Baltimore. He used silver and gold on his guns.
"I started collecting when I was a kid in high school, and a man named Harry Berry, who was a collector who lived in Baltimore, very much influenced me on the value of collecting Maryland things. Once my name started getting around, people would call me and say, "I have this gun by so-and-so. Do you know anything about him?' and I would say, 'Yes' and tell him the history of the thing and make it worth a thousand dollars more. So I thought, 'Maybe I should do something with this,' and I went to a publisher who got me started, and here I am now with twenty books."
*   *   *   *   *
"I have a private museum known as the War Museum," explained Brown. "The museum is refocusing its collection away from WWII and more to the Age of Exploration, Columbus, and the Caribbean. So I'm de-assessing a lot of cases, and that is what you're seeing here on display this weekend. Half of the stuff has been on display in other public museums.
"One very interesting piece is this Hungarian parade shield, made of enameled steel on wood with inlaid turquoise. It is an art object! I collect things because of the history attached to them – not some generic military value. Everything I collect is a unique piece of history, with that history attached.
"The nasty knife over there was made by an armorer at Ft. Knox during WWII. He made them and gave them to soldiers for the cost of the steel. That one has the guy's name and his unit and his serial number on both the knife and the scabbard, so you know it really went into combat. It's just exciting to have a combat weapon with that pedigree."
We asked Brown why he was refocusing this collection on the Age of Exploration?
"After collecting the same stuff for fifty years, I just needed a change!"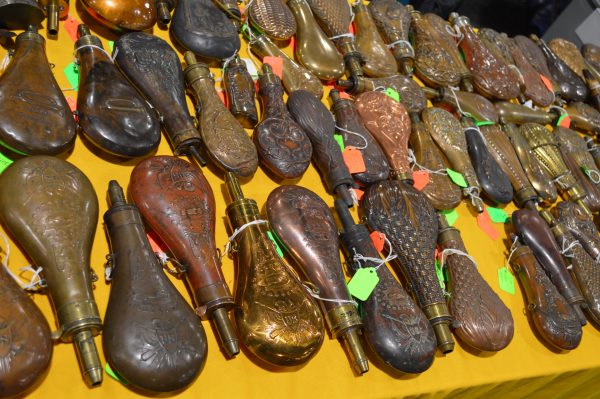 A special moment at this year's event was the presentation of an award to a set of pistols which once belonged to George Washington. The matching flintlock saddle guns are currently part of the Washington Collection at the Fort Ligonier Museum in Ligonier, PA.
Philip Schreier, of the NRA's National Firearms Museum, was on hand for the presentation. Schreier has been the official liaison to the Baltimore Show for almost thirty years.
"The NRA has what it calls the Gun Collectors Committee. They have decided to award Gun Firearms of Merit – a solid gold national treasure medallion – based on criteria they established twenty years ago. In twenty years, they have given three of these awards, and today we presented a fourth to a pair of pistols that were presented by the Marquis de Lafayette to General George Washington during the American Revolution. Washington's descendants subsequently gave the pistols to President Andrew Jackson, who then presented them (on his death) to the grandson of the Marquis, who was living in France at the time. The pistols stayed on the continent for many generations, but once they were brought back, their provenance was thoroughly examined. The committee evaluated the history of the guns and deemed them worthy of recognition of National Treasure status. That's why we are here, to present the award today."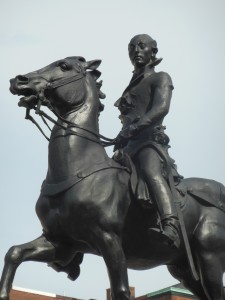 Schreier said the NRA has over five million members, but they don't self-identify as collectors, even if they have a collection of historic guns.
"Members will hedge if you ask them, but let's face it – if you see something you like and you bring it home, then you're a collector.
"I've told many people that walking the isles of this show is like going to some of the best museums in the world. The difference here is that there is a price tag on everything. But there are also some tremendous exhibits of collectibles that are not for sale, and the workmanship and research that has gone into these displays is absolutely amazing. There are things here you will never see in a museum because they are truly private collections."
Turning back to the importance of guns in American history, we asked Schreier if he would address the pressure many antique arms collectors encounter today as we sit at our present cultural crossroad.
"You know, there's a famous story about a senator named Toombs resigning his seat in the capital just before the outbreak of the Civil War. He was from Georgia, and he said, 'We are going to whoop you Yankees with cornstalks.' After the war, he was on a train headed to Chicago, and a former colleague who had served with him in Washington, said, 'Toombs, my friend! I remember your resignation speech. You said you would whoop us Yankees with cornstalks. How'd that work out for y'all?' Toombs replied, 'Well, it would have been helpful if you Yankees had fought with cornstalks.'
"This just tells you that our freedom wasn't purchased with good words, deeds, thoughts, and cornstalks. It took Brown Besses at Lexington and Minuteman safety muskets at Concord. And it took squirrel rifles at Bunker Hill to help purchase the independence we achieved at Yorktown in 1781. We've maintained and defended that freedom ever since with firearms.
"One of the great untold stories of American history is that of a Texas Ranger who wrote a letter to Sam Colt, saying 'We need a thousand of your pistols to help fight this war. Can you send them to me in six months?' When Sam Colt got that letter, he didn't have a factory and was nearly broke. He went to a guy named Eli Whitney and said, 'We need to deliver these guns in six months.' Whitney said 'The only way to do it is with machines which could create identical parts, and then put everything together on an assembly line.'
"The American process of industrialization began in New England making guns.
"When the Japanese signed the articles of surrender on the battleship Missouri in 1945, there wasn't an American soldier anywhere who wasn't carrying a weapon marked 'Made in the USA.' We not only supplied our soldiers, but we supplied the soldiers of our allies, in order to beat Fascism.
"Everything we have today, from washing machines to I-phones, goes back to putting those revolvers in the hands of Texas Rangers.
"We owe a lot more to firearms than most people realize."
For more information about the Maryland Arms Collectors Association and future dates for the Baltimore Antique Arms Show, visit The Baltimore Show.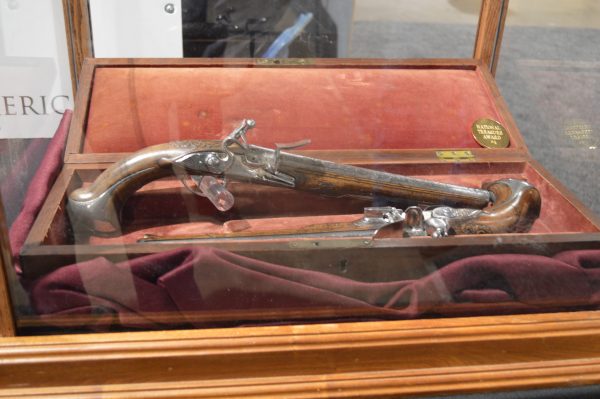 Anthony C. Hayes is an actor, author, raconteur, rapscallion and bon vivant. A one-time newsboy for the Evening Sun and professional presence at the Washington Herald, Tony's poetry, photography, humor, and prose have also been featured in Smile, Hon, You're in Baltimore!, Destination Maryland, Magic Octopus Magazine, Los Angeles Post-Examiner, Voice of Baltimore, SmartCEO, Alvarez Fiction, and Tales of Blood and Roses. If you notice that his work has been purloined, please let him know. As the Good Book says, "Thou shalt not steal."