Babe Ruth and Medieval Times: Now that's a date!
For some reason, we're not going to be running around quite as much as usual. Only two stops, but they're both worth the time and effort.
Let's begin at the Babe Ruth Birthplace & Museum, 216 Emory Street, two blocks from Oriole Park, with parking on Pratt, Portland, and Emory. It's open October through March from 10 to 5, Tuesday-Sunday, and April through September from 10 to 5, Monday-Sunday. Adult admission is $12.00, seniors $10.00. Allow 45 minutes to an hour for a tour.
Tours are generally self-guided.  However, if you make reservations in advance you can get a guide. I always think that's the best way to go through any museum. After all, who knows more about them than folks who work there.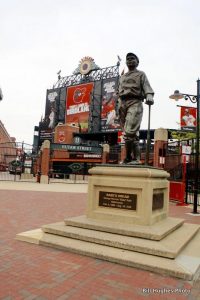 Yes, The Babe was born in this house in 1895. My goodness has it really been that long ago. He was the son of a German saloon keeper. Rumor has it, actually, it's more than a rumor, the salon stood at where second base is at Oriole Park.
In 1987 it became the official museum of the Orioles. In 2015 the museum had its first restoration project in 40 years. Some of the exhibits are from the Sports Legends Museum which closed October 2015.
Two of the exhibits include The Ruthian Record, a look at The Babe's records as slugger and pitcher and Babe: Husband, Father, Friend, a look at his private life.  The museum gets about 50,000 visitors a year.
School groups welcome. Handicap accessible. This museum is a must for fans of baseball and baseball history.
Reach them at 410-727-1539 or baberuthmuseum.org.
Now let's leave downtown and head to Arundel Mills Mall and the Medieval Times. The entrance is in the mall. Shows can be any day, but not always. However, there are usually shows Friday, Saturday and Sunday. Generally, showtime is about 7 p.m. But always check.
Group rates are available but single tickets are $61.95 for adults and 12 and under $36.95.
The shows are about two hours. You have dinner while watching the show. Dinner is served without utensils. Were there utensils in days of the knights? There is handicap seating.
In the outer lobby, while you wait for the doors to open, there are activities to keep you busy. You can browse the gift shop, chat with the King and Queen (there is a fee for a picture if you buy it), observe the falcon, stop by the bar and take your own pictures.
Inside the arena (seating for about 1,000) you're seated in one of six colored sections. Each color represents a knight for whom you root. I think the most interesting event is the jousting. The knights and horses are well trained. Feel free to scream and shout. So yes this is family entertainment.
The menu consists of garlic bread, tomato bisque soup, herb-roasted potato, sweet buttered corn, pastry, and a beverage. All very good, yes the chicken is messy, but no one complains.
There are 10 Medieval Times across the country. The closest is Lyndhurst New Jersey. In short, I had a good time. It was 15 years ago I was last here.
Reach them at 1-888-WE-JOUST or medievaltimes.com

Eddie Applefeld is a Baltimore native and a graduate of Towson University. He has been in the broadcasting profession for over 30 years. Currently he is the Promotions Director of WCBM radio. Before that, he was part of the Rouse & Company show on WQSR, host of a cable TV show called Dining Out and adjunct instructor at Towson.
His past accomplishments include being named a finalist in Baltimore Tourism's Employee of the Year Program and winner of Toastmaster's Speaker of the Year contest. He was also twice a heartthrob for the American Heart Association's gala fund raiser.