'Babble' explores language barriers through art
"Benjamin" — a fake human figure half covered by books — is the work of New York artists Alina and Jeff Bliumis. (Anthong C. Hayes)
Is language a gift that unites the world, or one which constantly bedevils mankind? For anyone who has ever tried to order dinner in a French restaurant, the problem of communication can be palpable. But consider those who have opted to immerse themselves in a totally foreign setting – either through work, immigration or study abroad. The drone all around them can sound like so much babble.
Yuzhuo (Mark) Zhang – a Chinese-born Curatorial Practice major at the Maryland Institute College of Art (MICA) – has experienced his own language struggles since moving to America. Zhang explores the barriers of an increasingly hyperlinked world in "Babble" – a new exhibit at Gallery CA.
Curated by Zhang, the project and its related programming seek to untangle the roots of human expression in order to establish an aesthetic and universal lingua franca.
"The title Babble comes from the Bible story of the Tower of Babel, where people are divided and cannot speak with each other. But it is about people babbling, which is a form of verbal communication," said Zhang.
Artists selected for the modest – but fascinating – exhibit include Jianfeng Yao, Alina and Jeff Bliumis, Gerald Leavell II, Brendan Fernandes, Naoko Wowsugi and Lucio Pozzi.
Pozzi – a pioneering multidisciplinary artist, who lives and works in Hudson, New York and Valeggio sul Mincio, Italy – will be in Baltimore for a live presentation of his piece, "A Declaration in Patchameena" on March 26.
"The exhibit is all about language barriers and how those barriers alter communication and understanding," explained Zhang. "For me, as an international student and an immigrant to America, I can tell you, I have been struggling with these language barriers for a very long time – not only with daily language – but with professional and academic language.
"What I discovered in my research is that language barriers are not only encountered by immigrants, but by native speakers too, because of jargon, accent, cultural difference, slang and even the generation gap. I've tried to discover more on this topic and how universal language can be viewed. This exhibit is a way to encourage a discussion about language barriers, how people might overcome those barriers, and how we all view this important topic."
Zhang said he is pleased he decided to go with the multimedia approach, as it stimulates thought, not only visually by aurally as well. "When visitors enter the gallery, they will encounter five video pieces. This sets the mood of the exhibit."
The exhibit also allows visitors a chance to contribute to the conversation with three post card sized prompts:
What would a universal language look like?
What do language barriers look and feel like?
How do you communicate with someone who does not speak your language?
"I've received many responses to the questions. Some think this show is positive – others negative. It's interesting to see that some people think language barriers are not a problem. They seem to think that, because we have diversity, a lot of different cultures can naturally work together.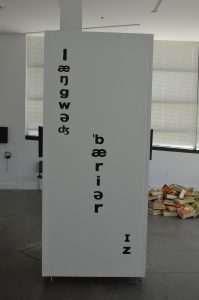 "For those who can't make it to the show, or did come and would like to share their views, I've created #babblebaltimore where they can share their personal stories."
One personal story Zhang shared with us about his time at MICA was the problems he encountered trying to follow classroom lectures.
"The professors may not speak fast, but to me it sounds fast. They use words I do not know, so I would listen until I heard something – maybe just one word – I do understand, and build my understanding of the lecture around that one word."
Zhang said he came to rely on the help of his fellow students – both Asian and American – in his efforts to comprehend his lessons. And he credited his professors in the Curatorial Practice program – particularly José Ruiz – for being accessible and helpful whenever he had a question.
"Professor José is from Peru, so he understands the struggle of language barriers."
Zhang also shared that his time at MICA has opened doors to exciting new worlds.
"When I began at MICA, because I did now know much English, I would socialize with other Asian students – particularly Chinese. But as I leaned more and became more confident, I would socialize with people from everywhere. It was amazing! Though their cultures are different, we could exchange ideas, and I got great feedback from them. From the casual (socializing) time, I have come to learn more."
Though this exhibit is his senior project for the Curatorial Practice program, Zhang said he hopes to continue his investigation of language barriers with future shows.
"Maybe in Queens, because I'm told there are over 600 different languages spoken there every day. It is similar in Los Angles, where I live. In Yixing, the city I am from in China, we have a mix of Chinese dialects, along with Korean, Vietnamese and Japanese. But even with the Mandarin, we have many dialects, so people are speaking with different accents.
"We live in a babbling world. Many languages are being spoken simultaneously. I didn't want to give this show either a positive or negative slant. I want people to be open to consider the problems encountered everyday by non-native speakers."
* * * * *
Babble runs now – March 28 at Gallery CA in Baltimore. The gallery is located at 440 East Oliver Street – directly across the street from the entrance to Greenmount Cemetery. Gallery hours are Monday – Friday 12 – 4 PM.
On March 24, at 2:30 PM, Gerald Leavell II – a MICA graduate candidate – will do a performance at Gallery CA. There will also be a closing event at Gallery CA on March 26 from 6:30 to 8:30 PM. Music for the evening will be provided by the Tee Tree Trio. Lucio Pozzi will offer a live presentation of his piece, "A Declaration in Patchameena" at 7 PM that night.

Anthony C. Hayes is an actor, author, raconteur, rapscallion and bon vivant. A one-time newsboy for the Evening Sun and professional presence at the Washington Herald, Tony's poetry, photography, humor, and prose have also been featured in Smile, Hon, You're in Baltimore!, Destination Maryland, Magic Octopus Magazine, Los Angeles Post-Examiner, Voice of Baltimore, SmartCEO, Alvarez Fiction, and Tales of Blood and Roses. If you notice that his work has been purloined, please let him know. As the Good Book says, "Thou shalt not steal."