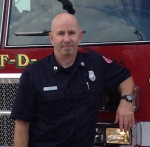 As a  City of Milwaukee Fire Captain and EMT I've had a first hand perspective on gun violence.  
I grew up using guns for targets and hunting. My career took me to dark alleys and bloody scenes all over the city and in every context from accidents, murder and suicide.   It's a perspective that's not understood by many gun owners.  
I'm retired from the department now and live in Milwaukee where I write, teach music and play piano. 
There is demonstrable proof that gun control, done correctly can reduce and all but eliminate gun related homicides, suicides and
Read more