Army-Navy: 'America's Game' a hit in Baltimore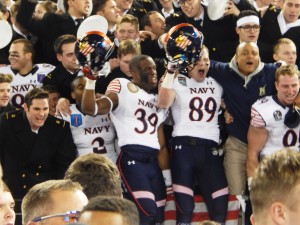 One by one, Navy's football players leaped onto the railing and into the waiting arms of their jubilant brigade, reveling in yet another victory over Army that's becoming more like a rite of passage than another chapter in a storied, 115-year rivalry.
The sun had long set at M&T Bank Stadium as the Midshipmen and Black Knights culminated Navy's record 13th straight win over Army by singing each school's fight song before going their separate ways, with the Midshipmen to Annapolis and the Black Knights to West Point, N.Y.
There they stood, side by side, a contrast of Midshipmen navy and white with Army grey in front of a crowd of 70,935. They knew what had transpired throughout Navy's 17-10 that marked the last time they would be opponents, as they will soon join forces while risking their lives on foreign soil.
But that's for another day, another time and another country. Saturday was Army and Navy's day to take center stage as the only Football Bowl Subdivision game on Dec. 13.
It started bright and early at the Inner Harbor, where ESPN broadcast its national pregame show "College GameDay," its first stop in Baltimore since it started visiting campuses in 1993.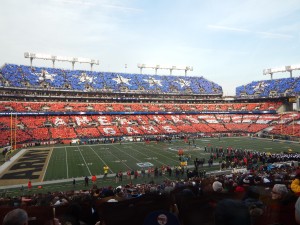 "Go Navy! Beat Army!" screamed the Midshipmen faithful, who were met with cheers of "Go Army! Beat Navy!" by the Army backers, turning downtown dock area into a playful pep rally where Midshipmen and Cadets held signs instead their traditional training weapons.
"It seems like every time schools like Notre Dame or Alabama or Florida State have big games, ESPN shows up and it makes the game even bigger," said Steve Anderson, a Navy fan from Baltimore. "So it's great for me as a Navy fan to experience something like this. They call this game "America's Game" for a reason. I hope they play this game here more often."
Anderson will have to travel to Lincoln Financial Filed in Philadelphia to attend next year's Army-Navy Game, but "America's Game" will return in 2016 to M&T Bank Stadium, which also hosted in 2000 and 2007.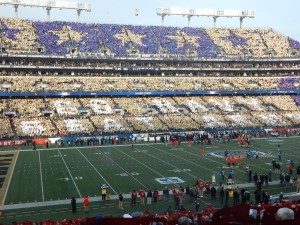 M&T Bank Stadium continues to be Navy's home away from Navy-Marine Corps Stadium in Annapolis, as the Midshipmen faced Maryland in 2005 and 2010, Notre Dame in 2006 and 2008 and Ohio State earlier this year. The Ravens lease M&T Bank Stadium from the Maryland Stadium Authority but have the right to book events, paving the way for the Army-Navy game.
Army-Navy is booked through 2017. But Ravens President Dick Cass said Navy Athletic Director Chet Gladchuk have praised each other's organizations, indicating the Ravens will make a play to host the game when Army and Navy open the bidding process for future games in 2015.
The game is played at a neutral field since Army and Navy's football field simply don't have the seating capacity to handle the masses. During the current cycle, the game has been played in Philadelphia, which is equidistant from West Point and Annapolis, but also in Baltimore and at FedEx Field in Landover – both considered Navy territory. However, tickets are distributed evenly between the academies.
"Baltimore is a Navy town, period," said Matthew Thompson, a Navy fan from Glen Burnie. "It always has been. It's just the way it is. You just don't see people wearing Army shirts around here – ever. If it were up to me, we'd play the game here every year."
Jennifer Adams, a Navy fan from Baltimore, agreed.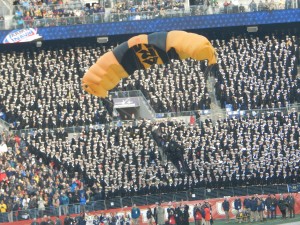 "Just look around – it's the perfect place," she said. "ESPN is here. We have the Inner Harbor and a great stadium. What more do you need?
How about for the game to be less one-sided? Navy has defeated Army in 16 of the past 18 years, and its 13 straight wins are the longest winning streak in the series' history. The longest previous winning streak had been five years by both teams.
"I don't want to see that pain on anyone's face after losing to Army," linebacker Jordan Drake said.
Navy Coach Ken Niumatalolo, who replaced Paul Johnson at the end of the 2007 season, became the school's all-time winningest coach on Saturday with a record of 56-35, topping the mark set by George Welch (55-46-1) from 1973-1981. Navy's been playing football for 133 years.
"It doesn't get much better than that. That's two amazing things in one day, continuing the streak and also making (Niumatalolo) the all-time winningest coach in Navy history," said Navy quarterback Keenan Reynolds, whose 1-yard touchdown run in with 12:07 left in fourth quarter was the difference. "What better way to get him that record than to beat Army? It's pretty sweet."
But Saturday's game wasn't about breaking records: it was about making sure the past repeated itself, making sure they ended their careers undefeated against Army just as the previous nine classes did.
"I couldn't be more proud of a group of seniors. For them to finish 4-0 against Army is a great accomplishment," said Niumatalolo, who was carried from midfield to the end zone on the shoulders of Will Anthony and Paul Quessenberry. "Our approach is to not talk about the streak. Our thoughts have always been focused on the preparation for this game. It's a heck of a run and you have to tip your hat to all the players that came before."
When the game was over, the teams convened at south end zone, where the brigade of Midshipmen was seated next to West Point cadets. Following tradition, players and fans sang the U.S. Military Academy's official song "The Army Goes Rolling Along" first since Army lost before breaking into "Navy Blue and Gold," Navy's official song.
It was over, another chapter in a never-ending book complete. The next time the Black Knights and the Midshipmen meet it will likely be thousands of miles away from Baltimore, on foreign soil, when they'll be fighting for much more than yards on a football field.
"These are two teams who beat each other up, shake hands and then in a year they go and protect our country – it's a cool deal," Niumatalolo said.  "Our country is in good hands with these kids from both schools."

Jon Gallo is an award-winning journalist and editor with 19 years of experience, including stints as a staff writer at The Washington Post and sports editor at The Baltimore Examiner. He also believes the government should declare federal holidays in honor of the following: the Round of 64 of the NCAA men's basketball tournament; the Friday of the Sweet 16; the Monday after the Super Bowl; and of course, the day after the release of the latest Madden NFL video game.