Armenians protest in front of Turkish Embassy on centenary of Ottoman genocide
While tensions were heating up in Baltimore last weekend over the death of Freddie Gray, a noisy protest of a very different kind erupted in Washington.
On Friday, about 500 Armenian-Americans gathered along Massachusetts Avenue to mark the 100th anniversary of what they call the genocide of more than a million of their ancestors at the hands of the Ottoman Turks.
To make their point, they massed in front of the Turkish Embassy, shouting slogans and waving signs reading "Turkey: Stop Denying Armenian Genocide!" and "1.5 Million Armenians Slaughtered." Many protestors wore black T-shirts with the repeating mantra "Genocide Denied is Genocide Repeated."
The Armenian protestors, nearly all of them Orthodox Christians, shouted at passing vehicles from behind police barricades, as did an equal number of the predominantly Muslim Turks on the opposite side of the street. Each side tried to scream louder than the other — with a few angry Turks occasionally flashing obscene gestures across Massachusetts Avenue.
Through it all, D.C. cops on horseback kept order and made sure protesters as well as reporters — including this one — stayed out of the street.
At the core of this emotionally charged issue is the historical accuracy of atrocities committed at the outset of World War I.
"The Armenian genocide is not an allegation or a personal opinion," declared Hrachia Tashchian, deputy chief of mission at the Armenian Embassy in Washington. "It is a widely documented fact supported by a vast amount of historical evidence.
"The genocide of 1915 had a number of grave consequences for the Armenian people, including dispossession of the homeland and destruction of Armenian heritage," he added. Acknowledging it, said the diplomat, "will contribute to the elimination of those consequences the Armenian people have been suffering for the last century."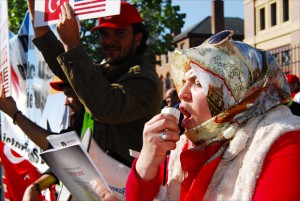 The Turkish government admits the killings happened but calls them an ugly consequence of war in the declining days of the Ottoman Empire — not a concerted, premeditated attempt to wipe out an entire people.
Armenians, however, don't buy that the forced expulsion and widespread killing of their forefathers was just a chaotic blip in history. In fact, they chose April 24 to stage worldwide protests because April 24, 1915, was the day Muslim Turks began rounding up Armenian doctors, lawyers, intellectuals and others they saw as a threat to the empire.
"The recognition of the Armenian genocide is not a subject for political bargaining or political manipulation. It is a matter of historical justice," said Tashchian, noting that 43 U.S. states, 21 foreign countries and several international bodies including the European Parliament in Brussels have done so. Only seven states — Alabama, Indiana, Iowa, Mississippi, Texas, West Virginia and Wyoming — have so far not symbolically recognized the mass atrocities that Armenians say amounted to genocide.
Local commemorations of the anniversary began April 22 with an observance at the Cannon House Office Building. On May 7, an ecumenical service is planned at the Washington National Cathedral. Armenian President Serzh Sargsyan is expected to attend, along with members of Congress, foreign diplomats and other dignitaries.
Then on May 8, "A Journey Through 100 Years of Armenian Music" will be held at the Music Center at Strathmore in Bethesda, Md. The Armenian Philharmonic Orchestra will perform a variety of pieces, from the traditional melodies of Komitas to contemporary works composed especially for the genocide's centennial.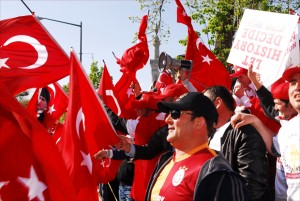 Finally, a divine liturgy takes place May 9 at the 3,000-seat Basilica of the National Shrine of the Immaculate Conception. That night, observances conclude with a $100-per-plate reception and banquet at Washington's Marriott Marquis Hotel.
Yet the cash-strapped Armenian government in Yerevan has little to do with this effort. Rather, the Armenian National Committee of America (ANCA) — a relatively obscure lobby shop off Washington's Dupont Circle — has taken the lead.
Aram Hamparian, ANCA's executive director, said his organization has just over 50 chapters and survives on donations from the 100,000 or so Americans of Armenian descent who are politically active.
"The vast majority of stuff we do is done by volunteers on a grassroots level, but we do have three people in our D.C. office who are registered lobbyists, including me," Hamparian told us. "The only reason we're relevant at all in this city is that there are tens of thousands of Armenians who vote and who care about these issues."
Yet a long line of U.S. presidents, from Bill Clinton to George W. Bush to Barack Obama, have been reluctant to side with Armenia and antagonize Turkey, which in past years has threatened to pull its ambassador from Washington if a genocide resolution were to pass Congress.
Serdar Kiliç, Turkey's ambassador to the United States, says the "so-called genocide" is a myth peddled by "single-agenda lobbies" seeking to perpetuate Turkey's negative image in the media.
"They are asking one of the parties to accept that they have committed genocide, but this was a war. An equal number of Turks suffered," Kiliç said recently. "This is an issue to be decided by historians, not the U.S. Congress."
Added Hamparian: "We've made a lot of progress, and we have a good moral case. There's a very strong government in Turkey that exercises a veto over what America can and cannot say. But this won't last forever. It takes time and effort, but ultimately, America will come out on the right side of this issue."

Larry Luxner is news editor of The Washington Diplomat and former editor of CubaNews. Born and raised in Miami and based in Bethesda, Md., since 1995, Larry has reported from every country in the Western Hemisphere. His specialty is Latin America and the Middle East, and he's written more than 2,000 articles for publications ranging from National Journal to Saudi Aramco World. Larry also runs an Internet-based stock photo agency at www.luxner.com.