Area Vets Open Up in St. Paul's Boys School Veterans Legacy Project
Owings Mills, MD — Marty Zuckerman was finishing high school during the waning days of World War II. Too young to enlist, Marty would have been about the same age then as St. Paul's Boys School (SP) students Torben Heinbockel, Owen Woolley, and Ryder Reese are today. But even as Marty's exposure to an America at war informed his eventual service in the U.S. Army Reserves, recording the stories Marty and other vets have been sharing may influence Torben, Owen, and Ryder for the rest of their lives.
The three St. Paul's students are amongst 15 classmates who are currently engaged in a special Veterans Legacy Project at the Atrium Village Senior Living Community in Owings Mills. The project – which was initially suggested by World History Teacher Jason Coleman as an exploration of SP alumni who made the ultimate sacrifice – has grown to include documenting the stories of Baltimore-area veterans.
"We were just the infancy of our thinking about getting out into the neighborhood and introducing ourselves to some retirement homes," explained Coleman, "when St. Paul's got an email which introduced us to (Atrium Activities Director) Dena Schrier. When the email was passed to myself and to Mr. Patrick Mulloy – the Upper School Division Head of our school – I said, 'This is exactly what we were just talking about a couple of weeks ago.' So we agreed to contact Dena to see where it might go."
But why the initial email from Atrium Village to St. Paul's Boys School?
"I reached out because I wanted to do something different and special for future Veterans Days," said Schrier. "I thought it would be nice if we had inter-generational kind of projects that we could stage for our residents. I emailed every private school in the area, and St. Paul's quickly emailed me back. Pairing my thoughts with Jason's student-run film project, I knew this was gonna be wonderful.
"This will give our veterans a chance to see themselves in a movie!
"We always remember our veterans birthdays and do monthly luncheons for them. It's important that they've served, and we want to honor that."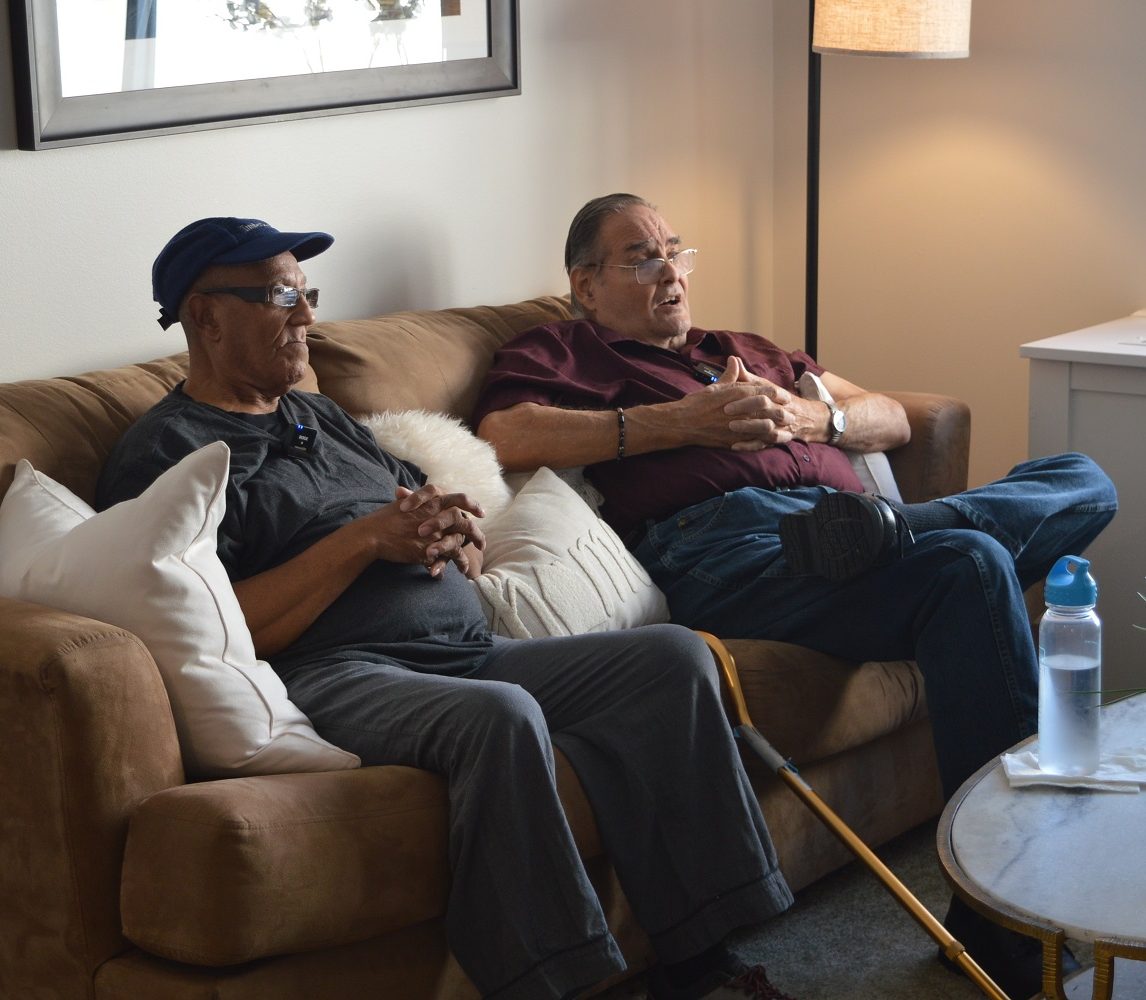 Schrier said the 5-6 minute film will premiere today at a party at Atrium Village. Longer segments of individual interviews will be available to each participant and their families.
While the SP students are prepared to interview veterans of any age, Facility Director Mark Heur said setting up cameras at Atrium Village meant sitting down with a more seasoned group of vets.
"Because we're a 55-plus community, you're not necessarily going to have young, disabled vets from Afghanistan. Plus, I would probably put our average age for this particular property somewhere around 87."
Would Heur say that this has been a welcome opportunity for the residents who have participated in the student-staffed project?
"Absolutely! I mean, they look forward to speaking to the boys. A lot of these residents just want to tell their story. So this gives them the opportunity to educate and to tell others about themselves.
"I think as a community, we've tried to get the veterans together and build their own community. That allows them to develop a sort of a camaraderie – to come together to talk about combat, or more general things."
Does Heur think the probing project could be cathartic for veterans who've never talked about their service experiences?
"That's an interesting question. I think a lot of it depends, number one, on when and where you served. Number two, what was your level of combat? Sometimes, when you're in the midst of battle and unfortunately you've killed others, you just want to stay silent. You don't want to relive it. And that's hard."
Sharing Their Stories
Marty Zuckerman wasn't the only veteran on hand the day the Baltimore Post-Examiner observed two interview sessions. The first group was comprised of Vietnam veterans Robert Merritt and Francois Taylor.
For Robert – who recalled his time in the Navy as "Just a job with a lot of rules" – being a ship-bound communications specialist during the war meant his interactions with the Vietnamese people primarily consisted of waving at smiling villagers while sailing up the Mekong River.
Francois, on the other hand, told the students his tour of duty as a cook on the mainland was far less laid-back.
"The Army would hire locals to help with the mess, and then a bomb would go off in a trashcan. You would have to fire the entire crew because you didn't know which one of them was the saboteur."
Both veterans recalled feelings of longing when they heard songs like Leaving on a Jet Plane and I'll Be There.
As for the volatile situation they heard they might face upon coming home?
"We were told just don't wear your uniforms," Robert ruefully remembered.
Such was the open hostility which awaited many returning Vietnam veterans.
Both vets also agreed that, after the service, no one is the same. Each realized, for example, they didn't need their mom to do mundane things for them anymore, because they had become used to doing everything for themselves.
And for many returning from war, there was an unexpected adjustment.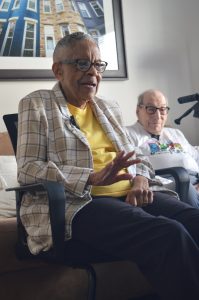 "When I got back, my girlfriend wanted to be all Lovey Dovey, but I just couldn't. It took a while before I felt safe," Francois said.
In the second group, Marty was joined by Rosemary Woods – a former Army X-ray technician and the only woman to take part in the project. Marty and Rosemary both served during the Korean War era – mostly state-side for Reserve Transportation Officer Marty, who had wisely cemented his commission by joining the ROTC at the University of Maryland.
"It was the best move I ever made, and I would happily do it again," reported Marty.
Rosemary said her decision to join the army was a decidedly mixed bag. For one thing, being in uniform at the start of the Korean War nearly worried her mother to death. Luckily, the medical training Rosemary received helped land her (and her husband) in peaceful post-war Germany.
Missing Korea may have been a blessing, but being in the vanguard of a newly desegregated Army was not an experience Rosemary would ever want to repeat.
"We were treated like second-class citizens when we came home. Even thinking about that today, it still makes me angry."
Lessons Learned
At a time when many accuse educational institutions of coddling our kids, it was interesting to watch Torben, Owen and Ryder deftly interview four salty seniors – all who seemed determined to hold nothing back in recalling their military experiences. Credit, of course, largely goes to the young men's families, and to the faculty at SP. But in the end, the success of this project rests squarely on them and their classmates' shoulders.
That's a lot of pressure for 9th and 10th graders. So how did their History teacher rope the boys into this plan?
"Last year, Mr. Coleman announced this as a potential project." explained Torben, "and it just really sounded interesting. The project originally started out with researching veterans from the St. Paul's community – names that we could see on plaques in the chapel. It seemed like a great opportunity, so I decided to sign up."
Given the bloody history of the last 100+ years, it was no surprise to learn that all three of the boys had family members who themselves were veterans.
"There are many in my family, but the one I remember the most was my great-grandfather. He served with the Army in World War I, in the Argonne Forest," offered Owen.
"I believe my grandfather served in the Vietnam War. I'm not exactly sure what branch," said Ryder.
"My dad is from Germany," explained Torben, "so he served in the West German military from like 1980. And my great-grandmother on my mom's side served in the Polish military."
We asked the boys if listening to the veteran's stories has swayed them in any way on military service.
"Well, I joined this project because I love film," said Ryder. "It is my main thing, and I think listening to their stories today, their experiences, really opened me up to the world of the military branches. As far as positively, I suppose it's helped me be more empathetic with those who have served our country, and really helps me know what they went through."
Mr. Coleman – a Marine Corps veteran who served in Iraq – said watching the student interviews took him back to his own boyhood.
"Growing up, I spent a lot of time with my grandfathers, learning about World War II. I had a great uncle in Korea, and both of my dad's older brothers were in Vietnam. I grew up hearing a lot of stories, and I was always a question-asker. Then I realized, as my grandfathers passed away, that their kids didn't know most of the stories I knew.
"How many veterans stories get totally lost? There's a wealth of experience, right? They're gone, because no one is taking the time to sit with them and listen."

Anthony C. Hayes is an actor, author, raconteur, rapscallion and bon vivant. A one-time newsboy for the Evening Sun and professional presence at the Washington Herald, Tony's poetry, photography, humor, and prose have also been featured in Smile, Hon, You're in Baltimore!, Destination Maryland, Magic Octopus Magazine, Los Angeles Post-Examiner, Voice of Baltimore, SmartCEO, Alvarez Fiction, and Tales of Blood and Roses. If you notice that his work has been purloined, please let him know. As the Good Book says, "Thou shalt not steal."