Annex Theater Illuminates the Life and Work of Charlotte Salomon
New play by Baltimore artist Carly J. Bales delves into the subconscious of the enigmatic painter
BALTIMORE, MD — FOR IMMEDIATE RELEASE
Annex Theater is excited to announce the second play of its 2018 season, the world premiere of Life or Theatre?, May 24th – June 17th, Thursdays – Sundays at 8PM. Life or Theatre? is a new play written and directed by Carly J. Bales, inspired by the life of visual artist Charlotte Salomon. Tickets are available at baltimoreannextheater.org
Life or Theatre? explodes the work and subconscious of the 20th century expressionist painter Charlotte Salomon on stage, fusing her autobiographical prose and expressionist painting with classical music, cinema, and theatre into a singular expression of her self – a demand by a young woman to exist in a world that demanded otherwise.
THE PLAY'S BACKGROUND
Between the years of 1941 and 1943, Charlotte Salomon, an enigmatic young German-Jewish artist painted a massive autobiographical tome of 1299 individual gouache paintings chronicling her life in Berlin and exile to Cote d'Azur, France. The expansive work transformed her and the individuals in her life into characters in a melodrama, revealing a dark family inheritance of suicide and mental illness; secret obsessive loves;  troubling personal relationships; and Salomon's tumultuous struggle with fate to define her own destiny against the backdrop of Weimar and Nazi-era Berlin. In isolation, Salomon then edited the pieces down to 796 paintings with 340 vellum overlays of text and musical cues to create a unique visual work she called Leben? oder Theater?: Ein Singspiel (Life? or Theater?: A Song-play) "This is my whole life," she said giving the work to a family friend only months before her deportation and murder at Auschwitz.
This uncategorizable, ferocious body of work survives today and dark, unresolvable questions about Charlotte's life remain. Was she embroiled in a secret affair with a family friend?  Did she murder her abusive grandfather? How believable is her story? When does the line between truth and fiction become irrelevant? While Salomon's work parallels that of the famed Anne Frank, and the scope of her work is the largest singular body of work by a Jew during the Holocaust, her legacy remains relatively unknown to larger audiences. However, "the themes of her work are compelling, pressing, and ever-relevant nearly a century later – a woman tackling and defining her identity on her own terms, battling her supposed social inheritance and fate, and confronting what it means to create in a destructive world," says writer/director Carly J. Bales.
THE DEVELOPMENT OF LIFE OR THEATRE?
One hundred years after Salomon's birth, Baltimore artist Carly J. Bales is realizing a new stage work called Life or Theatre? based upon Salomon's short life and work. "The play builds upon and expands the intention of the source material as a deeply intimate and contradictory Gesamtkunstwerk – which is an ideal 'total work of art' melding poetry, music, and visual arts –  by incorporating new and classical compositional music, filmmaking, poetry, philosophy, and visual art into a live performance piece that explores the deeper universal existential underpinnings of the work," says Bales. "I wanted to grab the hands of audience members and plunge them down into the depths of her subconscious as she embarked on an Orphean journey toward the creation of herself through art. I'm very excited about my artist-collaborators helping me realize this vision."
Known for highly inventive, multi-disciplinary performance work and her fearless approach to realizing her ideas, Bales is "a perfect artist to tackle the rich and complicated world of Salomon," says Evan Moritz, Annex Theater's Founding Artistic Director, "and we are thrilled to bring Bales' first full-length play as a writer and director to our intimate space."
ABOUT THE WRITER / DIRECTOR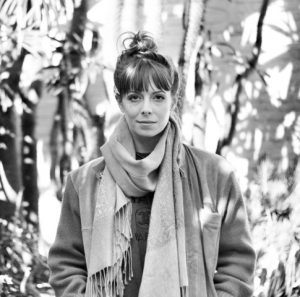 Carly J. Bales is a performance artist, director, and arts organizer. Bales makes plays, films, and ephemeral experiences for an array of eyes and ears. Some topics she keeps coming back to are: concepts of self and self creation; the lampooning of capitalism and the power structures it creates; and the general absurdity of human existence. Her expansive and clever performance work can be found in galleries, theaters, abandoned buildings, and spaces in between. Driven by interdisciplinary collaboration and bold risk-taking, Bales has become Baltimore's most go-for-broke performer (Baltimore City Paper) and an integral actor/performer in both the city's do-it-yourself theater and experimental performance art communities (The Hub) while balancing her work as an arts organizer and curator.
She is the Founding Producing Artistic Director of EMP Collective (www.empcollective.org), a beloved independent art space in downtown Baltimore, and the Founding Creative Director of Le Mondo (www.lemondo.org), an ambitious project that positions downtown Baltimore's Howard Street as a center for experimental performance arts and grassroots development.
Since 2013, Bales has been honored to collaborate in concert with the bizarre and wonderful Annex Theater on an array of performance projects including: Directing: Stupid Ghost; Performer: 1-800-MICE (Aunty Lakeford; add. Co-Writer); The Tempest (Trinculo), The World is Round (Multiple), and Mary Hartman, Mary Hartman (Mary Hartman). Recent other theatrical works include: Red Death (Directed by Cricket Arrison) and Cleveland (Directed by Carly J. Bales, #1 Play of 2016, Baltimore City Paper).
CAST AND CREW
Development for Life or Theatre? began in mid 2017 and contributing local design artists now include Annex favorites: filmmaker Rachel Dwiggins (Mary Hartman, Mary Hartman; 1-800-MICE; Cook/Thief/Wife/Lover; Condo Condo Condoland), costumer Susan Maccorkle (Dark World's Destruction; The Tempest; Flatland; Minotaur; and more), lighting designer Evan Moritz (Insurrection: Holding History; 1-800-MICE; Ebon Kojo; Cleveland)  and Annex Theater newcomers: composer James Young, choreographer Alayna Baron, and scenic designer Reese Siedlecki.
Annex is also pleased to welcome an amazing cast of performers including: Caroline Preziosi (Dark World's Destruction; Cleveland; Flatland), Kevin Griffin Moreno (Stupid Ghost), Jacob Zabawa (Dark World's Destruction, 1-800-MICE, Shattering Frame) and Annex newcomers: Surasree Das, Kerry Brady, and Karen Webber.
More information and bios can be found at: baltimoreannextheater.org/life-or-theatre