Andrew Morton talks about Baltimore's Wallis Simpson
On Saturday afternoon, February 17, 2018, the popular historical biographer Andrew Morton appeared at the Light Street Branch of the Enoch Pratt Free Library, in South Baltimore's Federal Hill area. His purpose was to talk about his latest book.
Its title is: "Wallis In Love: The Untold Life of the Duchess of Windsor, The Woman Who Changed the Monarchy." Wallis' full moniker was Wallis Warfield Simpson. She was a native of Baltimore, a blue blood, twice divorced and by all accounts "no great beauty." In fact, Morton described her as "hard and masculine."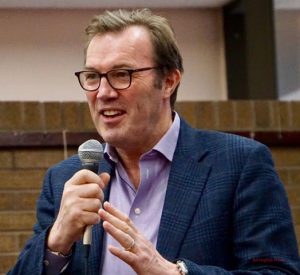 Nevertheless, Ms. Simpson, a debutante in her youth, went on to marry the ex-King Edward VIII of England, aka Duke of Windsor. He actually gave up his throne "and his birthright" to marry her in 1937. People who knew her at the time, wondered: "Why her?" She had a reputation for being a lightweight intellect and a celebrity-addict. Morton's book promises to give his readers "a fresh portrait of her" and to answer that big "why" question.
The British-born author is currently at the top of his writing game. Some of Morton's earlier books: "Diana: Her True Story" and "17 Carnations: The Royals, the Nazis, and the Biggest Cover-up in History," have all been roaring successes. In fact, the "Diana" book was met with "international acclaim" and put him in the highly-regarded top level of celebrity biographers.
Yours truly' mostly positive review of Morton's earlier tome, "17 Carnations" can be found here.
Morton spoke before a very appreciative, capacity audience of over two hundred. In fact, it was SRO only. It was like he had called a meeting of his own fan club. The lively Q & A session revealed that the author's take on Wallis Simpson, "the Duchess of Windsor," was not very positive at all. In fact, he stated that she was "more in love with her husband's title than with Edward VIII himself." Then, he added this zinger: "She spent much of her life in love with another man!"
I couldn't help but notice that when folks lined-up – and it was a very long line – after Morton's talk to have him sign copies of his book, they brought along copies of other books that he had written over the years and asked him to autograph them, as well. Which, of course, Morton was very pleased to do.
Morton stated that for his new book, he did "a considerable amount of research" in and around Baltimore – at the Maryland Historical Society, Ladew Gardens, and the Oldfields School, which Wallis Simpson had once attended. He also stated that he relied on "diary entries, letters, and other never-before-seen records" to offer his "fresh portrait" of her as she worked her way up the "social ladder." He is convinced that Wallis never "read a book in her entire life." Morton said she was good "at faking it."
Morton also disclosed that the Duke, during his courtship with Wallis, was wildly in love with her and would often pen "childish letters." He comes off as an empty-headed playboy. When they were apart, the Duke, Morton continued, would also constantly call her. In return, she would often cruelly mock him by "holding the phone out," so others in the room with her would hear his whiny voice. Oh, how mean!
The Royals themselves, and the movers and shakers in the then-British government, considered Wallis "That woman!" They had a very low opinion of her. Not only was she a divorcee (a big no-no), but also (gasp) "an American," and a "commoner." Some in that same circle consider her a "sorcerer," others were even more harsh and labeled her "a Nazi spy."
The nasty feeling, however, were mutual. Morton underscored how the Duke and Duchess "hated" the Royals with their heads up in the clouds. "The bitterness" between them ran deep, he added. Before she married the Prince, while living in France, she had received "constant death threats," which had to be taken seriously.
One of Morton's sources is a Baltimore woman, Juliana Chatard Alexander, a nurse. Back in 1972, when the Duke was living in France, he was dying of cancer. Alexander, then age 26, tended to him. In fact, Morton revealed that he died "in her arms." Wallis was asleep in another room at the time. Morton recalled Alexander's thoughts at that very sad moment: "The poor Duke of Windsor died in the arms of the wrong Baltimore woman."
Well, I'm sure there is much more in Morton's book on the late Wallis's life to make it worth a read. He said she had to navigate her way "through the strange wonderland of London society."
Indeed, "that woman" from Baltimore (212 E. Biddle Street to be exact) did that and much more. For better or worse, Wallis Warfield Simpson was a player on the world stage.
Finally, kudos to the Pratt Library for putting on this first-rate literary event.

Bill Hughes is an attorney, author, actor and photographer. His latest book is "Byline Baltimore." It can be found at: https://www.amazon.com/William-Hughes/e/B00N7MGPXO/ref=dp_byline_cont_book_1