An Inspector Calls: Captivating mystery at Everyman Theatre
Jamieson Foreman and Sophie Hinderberger are silenced by Chris Genebach in An Inspector Calls (Stan Barouh)
In a game of Clue, it's a given that all of the players are murder suspects. Someone in the room killed Mr. Boddy. But what about a suicide? When a woman decides to take her own life, how and why would a detective affix the blame? This is the conundrum which serves as the backdrop for celebrated playwright J.B.Priestley's psychological drama, An Inspector Calls – the latest offering at Everyman Theatre.
Tautly directed by Noah Himmelstein, An Inspector Calls is billed as, "the perfect cross between the worlds of Downton Abbey and Sherlock Holmes." Film fans might add "Murder by Death", because of the play's obvious plot interpolations and tongue-in-cheek humor. But that's not a knock. This is a very stimulating play.
The story opens with a small engagement dinner at the home of the venerable Birling family. Picture upper middle class Britain circa 1912. Present are industrialist Arthur Birling, his snotty wife Sybil; their spoiled young adult children Eric and Sheila, and Sheila's fiancé – Gerald Croft. The merriment and speech making of the occasion is unceremoniously cut short by the abrupt arrival of the hard-nosed Inspector Goole.
Goole informs the put-upon lord of the manse that the reason for his sudden visit is: a desperate young woman named Eva has committed suicide by ingesting a caustic cleanser. Aside from offering a few perfunctory expressions of sympathy, the Birling family seems wholly unmoved, until Goole begins to question if anyone in the family knew the deceased. Goole appears to know the answers to his questions even before asking them, and the Birlings seem far too eager to turn on each other as dirty secrets are revealed. So eager, in fact, that Goole repeatedly interjects that he is conducting, "One line of inquiry at a time."
But who – if any of them – is actually to blame for the young woman's death?
When Arthur Birling maintains, "We're respectable citizens and not dangerous criminals", Goole retorts, "Sometimes there isn't as much difference as you think." One-by-one, sordid secrets are revealed, and by the end of the night, Sheila is left to remind Gerald Croft, "You and I aren't the same people who sat down to dinner."
Admittedly, An Inspector Calls is something of an Edwardian roller coaster ride, but the cast maneuvers the car with balance and finesse.
Resident company members Deborah Hazlett and Bruce Randolph Nelson portray Sybil and Arthur Birling with the panache Baltimore audiences have come to expect from these two exceptional players. Both are particularly effective conveying the cluelessness of the Nouveau riche, with a combination of stuttering segues and astounding arrogance.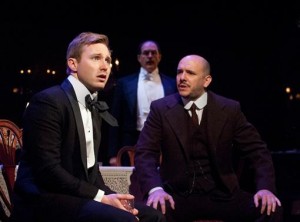 Sophie Hinderberger does a fine job as the vacillating daughter Sheila. Jamieson Foreman has some great moments when he (as Gerald Croft) comes unglued on the proverbial witness stand.
Chris Genebach's take on Inspector Goole might strike some as a rather narrow interpretation, but it is completely in character with a man whose livelihood depends on maintaining an authoritative air, while doing his job with a degree of single-mindedness.
Josh Adams and Olivia Ercolano round out the cast with solid turns as the hard drinking son, Eric Birling and the mostly muted maid, Edna.
On the creative side, a real tip of the silk top hat to scenic designer Timothy Mackabee. His use of reflective walls gives the entire set a multidimensional feel and adds a house of mirrors element to the unfolding maze of the mystery.
David Burdick's costumes will have you convinced you are about to set sail on the Titanic. And thanks to Laura Weiss for providing some very informative program notes.
An Inspector Calls may shatter some of the Utopian ideals of George Bernard Shaw and H.G. Wells, but it is a highly entertaining who-done-it and is heartily recommended.
* * * * *
Everyman Theatre's production of An Inspector Calls runs now – October 11. Running time for the show is an engrossing 1 hour and 50 minutes with one intermission. Please note: there is smoking on stage during this show. Everyman Theatre is located at 315 W. Fayette Street in Baltimore, Maryland. More information may be found by visiting Everyman Theatre.

Anthony C. Hayes is an actor, author, raconteur, rapscallion and bon vivant. A one-time newsboy for the Evening Sun and professional presence at the Washington Herald, Tony's poetry, photography, humor, and prose have also been featured in Smile, Hon, You're in Baltimore!, Destination Maryland, Magic Octopus Magazine, Los Angeles Post-Examiner, Voice of Baltimore, SmartCEO, Alvarez Fiction, and Tales of Blood and Roses. If you notice that his work has been purloined, please let him know. As the Good Book says, "Thou shalt not steal."