AMSOIL Arenacross brings 'controlled chaos' to Royal Farms Arena
AMSOIL Arenacross will bring "The Most Intense Racing on the Planet" to Royal Farms Arena for the tour's second stop on Friday and Saturday, as riders seek to emerge from the 14-city grind with the Ricky Carmichael Cup, named after the Hall of Fame competitor.
"It's the most intense racing on the planet," said Lindsey Alkire, a former competitor who now is a tour promoter. "These are the world's best drivers who all lay it on the line and will do whatever t takes to win. "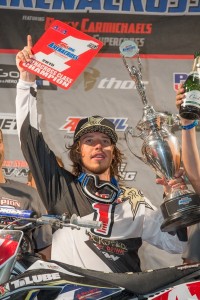 The Royal Farms Arena's floor will be covered with nearly a half million pounds of dirt (170 truckloads) to transform a venue that generally hosts indoor soccer games and concerts into a series of hairpin turns, bumps and hills that will send riders sailing through the air. Kyle Regal is the defending champion.
"You can't match the intensity when you have 16 riders all trying to win a championship," Alkire said.
Sixteen riders will look to race, push and shove their way to victories in an array of races, as AMSOIL Arenacross doesn't shy away from its competitors' "no-holds-barred, win-at-all-costs mentality that it takes to be successful on the man-made dirt battlefields built inside arenas across the country results in hard-earned, hugely satisfying wins and even more fulfilling championships. It's the UFC of motocross; there's simply no room for error here."
While riders are competing in what AMSOIL Arenacross describes as "controlled chaos" on the track, DJ KO will fill the air with music, which combined with festive lighting, creates a party-like atmosphere.
"The music creates a whole new vibe," said Alkire, who raced professionally from 2006-2011 before transitioning into her role as media liaison.
Alkire, 27, said the event's fan-first mentality is essential to AMSOIL Arenacross' success.
"Our goal is to entertain fans the entire time," she added. "What sets us apart is that we have great interaction with our fans. We have our track party when fans can meet the riders and when the show is over, all the riders sign autographs and don't leave until they've signed for every fan."
AMSOIL AX Arenacross
Where: Royal Farms Arena
When Friday and Saturday at 7 p.m.; Sunday (amateur day), 12 p.m. – 4 p.m.)
Track Party: Saturday from 5 p.m.-6 p.m.; Track passes can be purchased for $10 and attendees also must have a ticket for that night's show. However, admission to the track party is free with a recyclable Monster Energy can.
Tickets: $10, $15, $22.50, $40; $2 more if purchased the day of the show.
Tickets can be purchased here.

Jon Gallo is an award-winning journalist and editor with 19 years of experience, including stints as a staff writer at The Washington Post and sports editor at The Baltimore Examiner. He also believes the government should declare federal holidays in honor of the following: the Round of 64 of the NCAA men's basketball tournament; the Friday of the Sweet 16; the Monday after the Super Bowl; and of course, the day after the release of the latest Madden NFL video game.