Amazon surprises city students with a $30,000 donation of technology, STEM toys
Gifts will offer programming support for Enoch Pratt Free Library and Reading Partners.
Christmas in Baltimore came two months early today, when Amazon surprised a group of second-graders from Liberty Elementary School with boxes full of new educational devices, toys and books for their local library. The delivery of more than $10,000 worth of technology, equipment, and STEM (science, technology, engineering and mathematics) toys to Baltimore City students happened at Enoch Pratt Free Library's Forest Park Branch.
Joining the children were Mayor Catherine E. Pugh, City Council President Bernard C. "Jack" Young, Jeffrey Zwillenberg of Reading Partners of Baltimore, and Shan Byrne, Amazon's Director of Operations at the Baltimore fulfillment center.
Heidi Daniel, President and CEO of Enoch Pratt Free Library, not only hosted the exciting event, she also entertained the thoroughly-engaged children with two "story-time" readings, just before the presentations got underway.
The surprise delivery of the STEM toys and other educational equipment is designed to help facilitate educational development and STEM exploration in new Maker Spaces at both the Forest Park and Patterson Park branches.
Along with the educational equipment, Amazon presented a $10,000 check to Enoch Pratt to support programming throughout the library system, and $10,000 to Reading Partners, a program that places community volunteers, some of whom are Amazon associates in low-income schools, to help master basic reading throughout the year.
"Amazon is honored to be part of the great city of Baltimore," said Byrne, "supporting Enoch Pratt Free Library and Reading Partners to facilitate learning and education. Libraries make communities what they are; they level the playing field for those seeking knowledge, jobs and information. This library has helped Amazon associates in their job search, and we aim to ensure it can provide this service for years to come."
Daniel added, "It's public-private partnerships like this that make programming possible inside our libraries. Because of this donation, the library will be able to help students get ahead in science, technology, engineering, and math."
In her prepared remarks, Mayor Pugh shared her own childhood experience, as a way of underscoring the importance of the community library.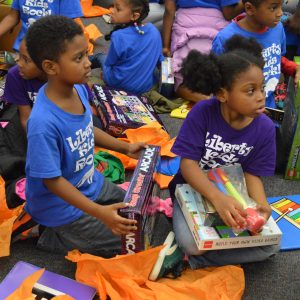 "My parents taught me how to read by the time I was three years old, and every Saturday they would take all six of my brothers and sisters to the library . At the library, we could sit for a couple of hours and read books; and in reading those books a window was opened to places around the world we had never been. We were allowed to check out two books each, and so we would share our books with each other."
Turning to Byrne, Pugh said, "I am really very grateful for the investment Amazon continues to make in our city – not just because we want to be the headquarters for Amazon – but we are very proud of the work they do. I've been to the operations center and have seen all of the work that they do and all of the employees that they have hired, so again, I thank Amazon for that.
"Baltimore is a world-class technology and innovation hub. That's why Amazon is here and why we are grateful for their investment in young people. Amazon will make a difference in what our city becomes in the next decade. Through these kinds of collaborations, we create opportunities for our youth beyond the classroom."
The mayor concluded her remarks with a charge to the second-graders:
"You need to make sure that you are coming to the library, that you are getting on those computers, that you are learning about worlds that you have not seen, and that you can dream about careers that you don't know about yet. Make your parents bring you here. This is your community library."

Anthony C. Hayes is an actor, author, raconteur, rapscallion and bon vivant. A one-time newsboy for the Evening Sun and professional presence at the Washington Herald, Tony's poetry, photography, humor, and prose have also been featured in Smile, Hon, You're in Baltimore!, Destination Maryland, Magic Octopus Magazine, Los Angeles Post-Examiner, Voice of Baltimore, SmartCEO, Alvarez Fiction, and Tales of Blood and Roses. If you notice that his work has been purloined, please let him know. As the Good Book says, "Thou shalt not steal."