After the Revolution: Red themes wrack windy drama at Centerstage
Susan Rome, Mark Zeisler, Arye Gross and Lois Markle in After the Revolution. (Richard Anderson)
In the 1950s, an ever expanding audience of American television viewers could relax and relate to the various mis-adventures of a host of fictional families. For many in middle America, it was easy to associate with the Cleavers (Leave It to Beaver) when the boys broke a window while hitting a baseball. Or see their own resourceful mom in Donna Stone (The Donna Reed Show) or excitable father in Danny Williams (Make Room For Daddy). For that matter, who couldn't connect with Ozzie Nelson, when he and his neighbor Thorny made a moonlight run to an all night drugstore because they had a craving for tutti-frutti ice cream?
For those who remember those shows, the era always brings a smile. But there was another type of family born of the 1950s – one seething with rage against capitalism and an America at war with the communist menace. The fragile fruits of such a family is the subject of Amy Herzog's stage play, After the Revolution, the current production at Centerstage.
Directed by Lila Neugebauer, After the Revolution examines an explosive few weeks in the lives of the Joseph family – a fictional clan based in part on Herzog's own kin.
The play is actually set in 1999, but echoes of the McCarthy era still resound in the lives of three generations of Josephs. Grandpa Joe (now deceased) was blacklisted after a confrontational appearance before the House Committee on Un-American Activities. His middle-aged sons, Leo and Ben, hold that Joe's ideals were just; as does Ben's wife Mel, and the sons' still living stepmother, Vera. And Ben's oldest daughter, Emma, carries her maligned grandfather's ideological torch, heading up a social action foundation which bears Joe Joseph's name.
All are proud of Emma, but storm clouds arrive when Uncle Leo learns that a forthcoming book based on recently released Soviet cables, gleaned from a counter-intelligence program code named VENONA, will show that Joe Joseph was actually guilty of the very crimes he vehemently denied for fifty years.
For Emma, the awful truth about the grandfather she idolized is a shocking revelation. But worse, Emma learns that grandpa's genuine guilt is a long held family secret; a secret which was purposely kept from her. How Emma will cope with broken faith and move forward with her life are the vexing problems presented in After the Revolution.
It's a soap opera-esqe premise, but more problematic for the audience may be finding a way to relate to Herzog's cast of characters. Better put – how many people today are losing sleep because the Rosenberg's were executed for espionage?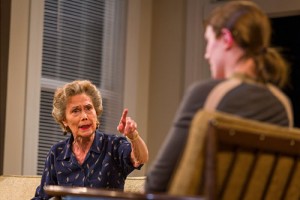 Consider:
Grandpa Joe was guilty of spying for the Soviet Union at the height of the Cold War
Emma is actively trying to free a convicted cop killer on a procedural technicality
Leo is a frankly furtive Marxist-leaning college professor
Ben is an openly Marxist professor and is gleeful that he has turned one of his students Red
Mel once marched in a protest, but she can't recall what it was all about
Grandma Vera maintains that Joseph Stalin was a misunderstood hero who simply got a bad rap
This isn't a group that engenders a whole lot of empathy.
Early on, Emma attacks her father for shielding her from the family secret, saying, "You told me Grandpa was an ideological communist. Now you're telling me something else."
Later, Ben insists, "It's not about bowing down. It's about what is politically expedient."
Not exactly like hearing Donna Reed cheerfully say, "Remember to eat all of your peas and carrots!"
To their credit, the cast of After the Revolution does a pretty good job at engaging the audience while trying to put across a family in crisis. But that effort is weighed down by stereotypes, along with reams of hackneyed discourse, much of which is delivered in the dreaded 'park and bark' style.
Equally frustrating is the set for After the Revolution, which – while visually appealing – tends to absorb any lines not delivered with gusto.
Arye Gross portrays Ben Joseph – the Marxist professor willfully wedged between ideology and honesty. Gross does a commendable job of conveying the pathetic frustration of a father being caught in a lie by an adult child.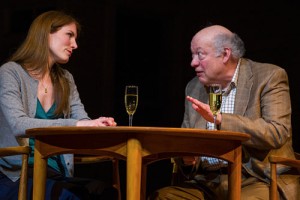 Ashton Heyl is tasked with carrying the bulk of the load as the embattled Emma. Heyl seems unsure of herself at times, but that may be more an issue with finding the amorphous center of her troubled character than with Heyl's interpretation. Regardless, there is no spark with her love interest, Miguel, which makes their scenes together seem somewhat stilted.
Conversely, Alejandro Rodriguez gives Miguel a solid, sympathetic spin. Susan Rome makes the most out of her turn as Ben's earnest wife, Mel.
As the acerbic, but steadfast matron of the Joseph family, Lois Markle is almost delightful. Markle mixes an array of emotions into a disarmingly dead-pan delivery; keeping the audience glued for Vera's next wry observation.
As it is written, the part of the younger sister Jess may be Herzog's most egregious stereotype, but Kelly McCrann adds some much needed energy to what could easily be an incidental role. Mark Zeisler is steady as the ever-present voice of reason, Leo Joseph.
Peter Van Wagner's sincere but lonely widower Morty almost slips away with the show.
On the artistic side, both lighting (Eric Southern) and sound (Brandon Wolcott) work fairly well, with the exception of the aforementioned problem with the set sucking up slices of dialogue. Asta Hostetter's costumes are all right – save for the needless distraction of seeing middle-aged men in cargo shorts (a societal problem).
After the Revolution is a mix – an adequate drama which happens to boast a decent cast. Just keep in mind that nothing about this show will remind you of the Fabulous Fifties, or the sage advice offered by the likes of Jim Anderson or Ward Cleaver.
Not sure if you would like it? A great starting point would be to ask yourself this question:
"Are you now, or have you ever been, a member of the Communist Party?"
* * * * *
After the Revolution runs in rep with another Herzog play – 4000 Miles – now through May 17 at Centerstage. Running time for After the Revolution is about two hours with one fifteen minute intermission. Centerstage is located at 700 North Calvert Street in Baltimore, Maryland. Tickets and other information may be found by visiting Centerstage online.

Anthony C. Hayes is an actor, author, raconteur, rapscallion and bon vivant. A one-time newsboy for the Evening Sun and professional presence at the Washington Herald, Tony's poetry, photography, humor, and prose have also been featured in Smile, Hon, You're in Baltimore!, Destination Maryland, Magic Octopus Magazine, Los Angeles Post-Examiner, Voice of Baltimore, SmartCEO, Alvarez Fiction, and Tales of Blood and Roses. If you notice that his work has been purloined, please let him know. As the Good Book says, "Thou shalt not steal."