Women are looking to empower their financial futures. Financial planning is something that women have tended to avoid in their lives. The process of financial planning is crucial for women so that they can take charge of their future lives.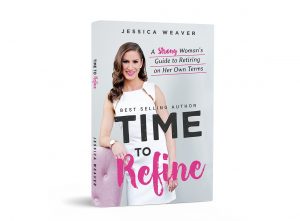 Jessica Weaver, a wealth advisor, went on a mission to help more women attain control, confidence, and clarity over their finances, with the aim of preparing them for the next chapter of their lives. Weaver was born into the financial planning world. Her father is a financial advisor.  But Weaver found that women were not responsive to the old school way of financial planning. So, she began writing her own financial blog, Not Your Father's Advisor, which became very successful. She then wrote two best-selling books – Strong Woman Stronger Assets and Time to Refine: A Strong Woman's Guide to Retiring on Her Own Terms.
The inspiration behind her profession and business reflects back to her childhood and teenage days when she observed her grandmothers struggling to deal with the aftermath of their rough financial situations and retirement. Weaver committed herself to work towards the betterment of retired women or those nearing retirement and aimed to guide them to make wise financial decisions for themselves so that they do not feel overwhelmed by the concept.
Having spent a decade as a financial advisor, Weaver continues to assist women by educating them about retirement. She adds, "I feel incredibly grateful for being able to help and guide people to attain financial freedom and growth. It is my life's mission to educate, inspire, and change women's lives."