Abbott and Costello tribute artists ask Orioles iconic question: Who's on First?
Bill Riley, Joe Ziegler doing Abbott and Costello tribute show.
With the free-agency departure of popular Orioles first baseman Mark Reynolds, a lot of concerned fans might ask manager Buck Showalter: "Who's on first?" That's a question Joe Ziegler has been asking Bill Riley every opening day for twenty years.
Ziegler and Riley make up two-thirds of the team of the Ultimate Abbott and Costello Tribute Show. On opening day, they will appear, "For anybody that wants us."
Ziegler told the Baltimore Post-Examiner that their stops today will include segments for remote broadcasts of perhaps 10-12 radio and television stations, including WLIF, WMIX, WNST and 105.7-The Fan. Ziegler said he especially enjoys appearing on The Norris and Davis Show because, "(former police commissioner) Ed Norris always lets us do the entire 'Who's On First' routine."
"That skit," Ziegler explains, "runs about six minutes long. That's a lot of air time for a radio show these days. Other stations will ask us to do something shorter, so we'll cut that bit down to  two to three minutes or do something else. But Ed always wants us to do the whole thing."
Portraying one of the greatest comedy teams in the history of show business is no easy feat. Abbott and Costello were masters of the straight-man/clown act, and enjoyed a headlining career which took them from the burlesque stages of Vaudeville to radio, Broadway, Hollywood and finally early television. Their routines inspired several generations of comics (most recently and notably, Jerry Seinfeld), while their classic, "Who's On First?" bit earned them the honor of being the first non-baseball-playing celebrities to be enshrined in the Baseball Hall of Fame.
Though not as portly as the late Lou Costello, Ziegler has his persona down cold, while Riley embodies the image of Bud Abbott that could pass at any race track from Belmont Park to Pimlico.
Baltimore born and raised, Ziegler has performed professionally since the age of fifteen. "I just love to perform and make people laugh," says Ziegler. Making people laugh inspired Joe, along with his wife, Sherry, to portray another famous duo – Stan Laurel and Oliver Hardy. Their depiction of the silent movie stars garnered the couple a Baltimore's Best award in 1982.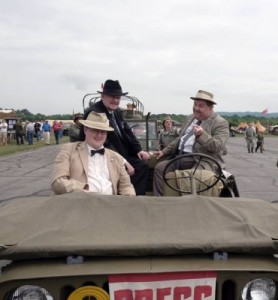 Ziegler first met Bill Riley, a Paterson, New Jersey native, in 1986, when Riley attended the broadcasting school where Ziegler was Dean of Students. While both men had worked with various other partners through the years, their mutual admiration of Abbott and Costello was the impetus to form a professional partnership. Since 1994, the two have performed as Abbott and Costello for a wide array of events and on radio and television.
Riley and Ziegler are often joined on stage by Pylesville, Marylander Jason Crutchley, who portrays the character, "Scoop Fields – Ace Press Agent".
"We brought Jason into the act in 2004 because some of the routines, like the Niagara Falls skit, needed a third person on stage. He's got a great sense of timing and fits right in."
The Niagara Falls skit is a cherished chestnut, but finding "fresh" material has also been a pleasurable pursuit for Joe Ziegler. "We cull bits from the movies, radio and TV; even old routines from vaudeville scripts that most die-hard fans have never seen."
Finding new material is essential for the busy team. Along with an ever expanding radio and television schedule, the trio regularly appears aboard the day-long living history cruises of The John W. Brown/Project Liberty Ship. They also perform annually at The Mid-Atlantic Air Museum's "WWII Weekend" in Reading, Pennsylvania and at Virginia Beach Airport's "Warbirds Over the Beach." In addition, in 2004, the team had the honor to perform in Washington, D.C. at the Disabled American Veterans' Dinner as a part of the WWII Monument Celebration/Dedication Ceremony.
Doing shows for veterans and older audiences always elicits interesting stories from those who remember seeing Abbott and Costello on the stage. I shared with Ziegler how this reporter's father remembers seeing Bud and Lou sometime in the late 1940's at The Hippodrome Theater where they introduced Baltimore to a young, unknown crooner named Eddie Fisher.
For many others, the memories of Abbott and Costello center around the team's movie work. It is that connection which earned Riley and Ziegler an invitation to an event called the Monster Bash. Unbeknownst to them, also in attendance was Lou Costello's daughter, Chris.
"We had entered the hall when a guy who was made up to look like Frankenstein crept up behind Bill. We just went into the bit where I (as Costello) can't get a word out while the monster stays behind Abbott's every turn. Chris Costello was there, signing copies of her book, Lou's On First, but suddenly everybody moved to the center of the room to see what we were up to. I'm told that Chris ended up standing on her chair in the back so that she could see what was going on. When we were introduced afterwards, Chris really touched me by saying, "I want to thank you for keeping my dad and Uncle Bud's work alive. You are the epitome of my father."
Ziegler also vividly remembers a call he received from Bud Abbott's daughter. "We were in Asbury Park to do a show and discovered that there was a street named after Bud. So we posed for pictures beside the sign and put them on our webpage. A short time later, I got a call on my answering machine from Bud's daughter, Vickie Abbott Wheeler, saying "Would you please give me a call." I didn't know what to expect, I mean, she could have said, "Stop doing the act or I'm gonna sue." But when I called her, she said, "I had no idea they had named a street after my father. Could you please send me a copy of the picture of you and Bill beside that street sign?"
Adding to the unexpected praise from daughters Vicki and Chris, Ziegler says he has also heard from friends of the late comics who say they appreciate the fact that the two do a true tribute show. "We get calls from time to time asking if we could do our show, but 'spice it up a bit.' I always say, 'We don't work blue.' Abbott and Costello worked in burlesque with some of the biggest names in the business, like Blaze Starr, but they always did a clean, family show. And that's all we will ever do."
It is clear that doing "clean" material is especially important to Joe Ziegler. "When kids come to see our show, they just get the biggest thrill. They're mesmerized by the word play in the old routines. A few have even said, 'I'm gonna pull that 7 x 13 routine on my math teacher.'"
Children are charged by the routines but Ziegler has had his share of special moments, too. "I guess some people wouldn't understand this, but it was a real thrill for Bill and me to work at the Palace Theater in Asbury Park, New Jersey and to know we were standing on the same stage where Bud and Lou once performed."
Some special moments have been ephemeral; others, tangible and unique. In September 2006, The Golden Radio Buffs of Maryland, awarded The Ultimate Abbott and Costello Tribute Show the club's highest honor, "The Golden Mic Award". This award was presented to the team, "For their efforts to keep the memory and spirit of Bud Abbott and Lou Costello alive in the hearts of those who remember their comedic talents and for introducing these comedy legends to new generations."
Radio buffs, retirees, kids – even a former police commissioner – all love Riley and Ziegler and their honest, heartfelt tribute to Abbott and Costello. And so do tens of thousands of Baltimore Oriole baseball fans. Which naturally brings us back to that burning question:
Who's on first?
Bill Riley, Joe Ziegler and Jason Crutchley will bring The Ultimate Abbot and Costello Show to Oriole Park at Camden Yards Friday, April 5, for the Bird's (Home) Opening Day against the Minnesota Twins. The trio will also appear live on Sports Radio: The Fan 105.7 – The Norris and Davis Show – during a broadcast from Pickles Pub – 520 Washington Blvd Baltimore and at 12:45 PM on WNST: Baltimore Sports – AM 1570 as Nestor Aparicio broadcasts live from the Pratt Street Ale House – 206 W. Pratt St.

Anthony C. Hayes is an actor, author, raconteur, rapscallion and bon vivant. A one-time newsboy for the Evening Sun and professional presence at the Washington Herald, Tony's poetry, photography, humor, and prose have also been featured in Smile, Hon, You're in Baltimore!, Destination Maryland, Magic Octopus Magazine, Los Angeles Post-Examiner, Voice of Baltimore, SmartCEO, Alvarez Fiction, and Tales of Blood and Roses. If you notice that his work has been purloined, please let him know. As the Good Book says, "Thou shalt not steal."