A young woman's 9/11 kindness comes back to her 11 years later
Forty-eight hours after the 9/11 terrorist attacks, a 28-year-old woman in a suburb of Portland, Oregon, wrote a song to let go of her emotions from that awful day.
The song, "Never Forget"  received air play in the Portland area, other parts of the United States and in Europe.
[audio:https://baltimorepostexaminer.com/wp-content/uploads/2012/04/04-Never-Forget.mp3|titles=04 Never Forget]
It didn't take long for the song to come to the attention of Portland-area police and firefighters who were reaching out to their New York counterparts – both their comrades who survived the Twin Towers attacks and the families of the comrades who weren't so lucky.
The young woman joined the Portlanders' relief efforts. When the New York police and firefighters learned about her song, and her help, they embraced her as one of their one.
Now the warmth between the young woman – my daughter Angie Foster – and the Portland and New York police and firefighters has come full circle: They are helping her during a difficult time.
On March 28 of last year, Angie had one of the happiest moments in her life: Giving birth to twin boys  Bryan and Ethan.
Just 2 ½ months later, that joy turned to devastation.
On the afternoon of June 12, 2011, Bryan died suddenly.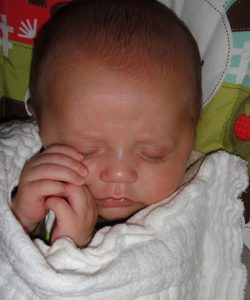 The boys' father is in the Washington County Jail in the Portland area facing a trial in September on an accusation of murder by abuse.
In the meantime, Angie is trying to put her shattered life back together.
It hasn't been easy. Bills piled up because the emotional trauma she suffered led to her being unable to work for four months.
The expenditures have included sizable legal bills stemming from her effort to put her life, and Ethan's, on a new path. One set of bills is associated with a divorce proceeding she filed shortly after Bryan's death.
The emotional and financial trauma Angie has suffered prompted the Portland-area police and firefighters she had become friends with after 9/11 to organize a fund-raiser in Ethan's name.
The charity in charge of the event is Tribute to Honor, the organization that Portland-area police founded and firefighters quickly joined to help their New York counterparts.
Several years after 9/11, Tribute leaders decided they had done as much as they could for the New York police, firefighters and their families.
So they refocused Tribute to help Oregon police and firefighters injured while on duty, or – in the case of injuries that were fatal – the families of the public servants.
Because Angie had done so much to help both the Portland-area and New York police and firefighters, Tribute to Honor leaders decided to expand the category of those the charity helps to include crime victims.
Angie and Ethan are the first persons they're helping in that category.
Wayne Winter, a retired Clackamas County firefighter who has been a friend of Angie's for 10 years, said in an appeal to supporters of Tribute to Honor, which he joined early-on:
"We now have the opportunity to help one of our longtime volunteers who has been with us for most of our 10 years.  Angie wrote and recorded a song two days after 9/11 that most of you have heard; it is called 'Never Forget.'
"It is a meaningful song that was written with love and support from a person who is a loving, giving, gifted and super human being.  Angie personifies what it means to help others when they need it. Now Angie needs our help."
The fund-raiser will be at 7 p.m. May 5 at the Tumwater Room in the Portland suburb of Oregon City. Check out the event's Website  and the Tribute to Honor's Web site is here.
Many people from the Portland area, the rest of Oregon and from other states will be attending the event.
Some will be music lovers who have heard the Angie Foster Band live or who listen to one of Angie's two CDs.
A master's degree in journalism from Syracuse University has helped Angie build a career as a tech writer in Portland.
But music has long been her passion. Her bachelors' degree at the University of California at Berkeley was in music, and she composes, sings and plays keyboards.
One of the New York firefighters who will be at the fund-raiser is Joe Torrillo. Joe, who survived being buried in rubble twice during the collapse of the Twin Towers, speaks around the world on selflessness, courage and the value of helping others.
He will be the keynote speaker at the fund-raiser. He is also donating an item to be auctioned off —  a portrait of the civil rights icon Rosa Parks, with Parks' signature. In 1955 Parks became a hero to millions of African-Americans for refusing to give up her seat on a bus in Montgomery, Alabama, to a white passenger.
Some well-known bands or individual musicians have donated items to be auctioned off at the fund-raiser. They include Duran Duran, Elvis Costello, Heart, Pink Martini, Diana Krall, Melody Gardot, Tim Finn and Keb Mo.
Another group of creative types who have rallied around Angie are song writers from around the United States whom she has met at the organization SummerSongs' composing camps in Saugerties, New York.
The actor Armand Assante, a friend of mine, not only filmed a tribute to Angie that will be shown at the fund-raiser but also donated a jacket he wore in "The Mambo Kings" to be auctioned off.  It was a generous contribution that moved Angie to tears, considering that "The Mambo Kings" is one of Armand's signature films.
"I am so touched and humbled that someone as famous and busy as you are would care enough to take the time to help me," she told him.
Only a film commitment in Africa prevented Armand from attending the fund-raiser, he told me.
Some day Angie would like to tell the story of what she has gone through since June 12, 2011.
But now is not that time.  It's likely she'll have to testify at the trial, so discussing the events of June 12 and beyond would be inappropriate at the moment.
It would also take energy she wants to continue devoting to her tech writing and to raising an energetic 1-year-old.
(Hal Foster appears in the Baltimore Post-Examiner under a partnership with Tengrinews of Kazakhstan. Feature photo of Angie Foster and Ethan, courtesy of Angie Foster.)

Hal Foster is a longtime journalist and journalism professor who has worked in the United States, Japan, Ukraine and Kazakhstan. His news career has included writing and editing at the Los Angeles Times and nine years as a journalist in Japan. He is an associate professor of Communication at the new Nazarbayev University in Astana, Kazakhstan. Catch one of his other blogs at en.tengrinews.kz.