Maryland businesses see opportunities in India
It's a long way from Baltimore to Bangalore — nearly 8,500 miles in fact — but that isn't dissuading Maryland companies from targeting India's IT capital as well as other booming Indian megacities as a potentially huge sources of profits.
On Feb. 23, nearly 90 executives representing some of the state's leading firms gathered in downtown Baltimore to discuss the warming trade relationship between tiny Maryland (population 5.9 million) and vast India (population 1.2 billion).
Area companies attending the "Taste of Business in India" event — organized by the Baltimore-based World Trade Center Institute and hosted by law firm Duane Morris — included ACS International Schools, Alliance Biosciences, ARINC, McCormick, T. Rowe Price, Cassidy Turley and Columbia Bank.
As attendees munched on vegetable samosas, alu bonda, chicken kebab, butter naan, gulab jamun and other Indian delicacies catered by Mughal Garden restaurant, speakers talked up Gov. Martin O'Malley's recent trade mission to India, the largest such mission ever led by a state governor to the world's second-largest country in population.
Between Nov. 27 and Dec. 3, O'Malley and more than 100 delegates visited Hyderabad, Mumbai and New Delhi, focusing on life sciences, cybersecurity and agriculture. They returned with $60 million in business deals, among them:
* a $10 million venture between Baltimore-based CyberPoint International LLC and New Delhi's Appin Security Group to jointly develop new security solutions for mobile devices.
* a $3.7 million contract for Rockville-based Sheladia Associates to help upgrade a highway near New Delhi.
* a $23 million commitment by Jubilant Life Sciences to expand its existing pharmaceuticals plant and warehouse in Salisbury, Md., which employs 240 people.
* a $10 million investment by organic foods exporter Jasco Nutri Foods, based in the state of Madhya Pradesh, in a 1,500-acre facility at a Maryland location yet to be determined.
In addition, O'Malley and the Federation of Indian Chambers of Commerce and Industry (FICCA) agreed to establish an India-Maryland Center, probably in Baltimore, when FICCA leads an Indian delegation here in April.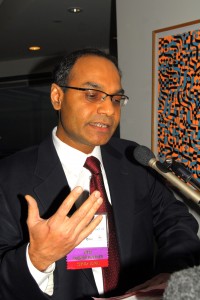 "India is a challenging market. There are a lot of government regulations to deal with, lots of corruption and very poor infrastructure," said Vinod K. Jain, president and CEO of the India-U.S. World Affairs Institute Inc., which helped put together O'Malley's trip. "But India has the world's largest population under 25. By 2020, America will have a shortfall of 17 million workers. That has to come from somewhere, and any work which can be digitized can be performed anywhere."
India ranks as Maryland's 12th largest overseas export market, buying $233 million in goods and services, according to Julie Vinatier, WTCI's senior director for operations and client services. It's also the state's 13th largest import market, providing Maryland with goods and services valued at $465 million.
Sunil Mithas, an assistant professor at the University of Maryland's Robert H. Smith School of Business, worked for more than 10 years with India's Tata Group — an $83 billion conglomerate that produces everything from steel and soda ash to automobiles and tea, and accounts for 2.6% of India's gross domestic product.
"India will be adding 300 million people, close to the entire population of the United States, over the next 20 years," Mithas said. "You already have 1.2 billion people there, but the middle class is growing. We offer huge human capital for companies like IBM and others in the R&D sector."
Two of India's fastest-growing sectors are telecommunications and the automotive industry, said Vinay Kwatra, minister of commerce at the Indian Embassy in Washington. Between 15 million and 20 million Indians sign up for new mobile phone service each month, he said. Close to 58% of India's GDP now comes from services, but only 16% from manufacturing.
"Our objective is to increase the share of manufacturing in our GDP to about 25% in the next 10 years and generate 100 million jobs from manufacturing alone," he said. "We do realize that growth is important, but that the share of manufacturing in that growth is equally important."
That translates into growth opportunities for American companies, Kwatra said, pointing out that in 2001, total U.S. exports to India were only $3.7 billion. In 2011, exports totaled $21 billion. This year, he said, India's economy will grow by 7.1% after expanding by an average 8% to 9% annually over the last decade.
Most of that growth is being driven by domestic demand, and by India's rapidly growing middle class, which is projected to number 583 million people by 2025.
Jain said his nonprofit India-U.S. World Affairs Institute, based in White Plains, Md., was established six years ago to strengthen the bilateral relationship and promote both the United States and India as a destination for foreign direct investment.
"India is the world's fourth-largest economy in purchasing power parity and a huge market in its own right, especially for biotech, pharmaceuticals, IT and defense," he said. "It's going to spend $1 trillion on infrastructure in the next five years, which is double what they spent in the last five years."
One company already cashing in on the boom is DSM Nutritional Products in suburban Columbia, Md.
Peter Nitze, president of DSM's nutritional lipids unit, said his company already has offices in Mumbai and New Delhi. He sees enormous growth potential in India — especially for its DHA, an omega-3 fatty acid used in nutritional drink mixes for children and pre-natal beverages for expectant mothers along with food products for diabetics.
"Almost a third of all Indians are vegetarian. That's equal to 356 million people, or 50 million more than the entire population of the United States," he said. "We offer the only readily available vegetarian source of DHA. India saw a 200% increase between 1995 and 2007 on health food ingredients, and starting this year, in cooperation with local partners, we're launching a major consumer awareness campaign in India. We expect to have a major impact on the Indian health market."
Nitze, a WTCI board member, has spent considerable time in India, which he calls a country of enormous diversity and breathtaking contrasts.
"It's the home of leading high-tech companies occupying beautiful gleaming buildings, and less than a mile away, a ramshackle village whose occupants lead a life of subsistence," the Maryland executive told participants. "India has an extremely educated workforce, but bear in mind that 70% of the population lives in rural areas on less than $2 a day. Even within India's largest cities, you'll find evidence of affluence side by side with chronic poverty and persistent health issues."
Based on his experience, Nitze offered four suggestions for those contemplating doing business in India:
* India has more than 300 distinct languages and 2,000 ethnicities. "So don't assume they're going to act like assimilated Americans, or that they're all Hindus, or that they all share certain beliefs. Even among sophisticated urban dwellers, there are very strongly ingrained customs. In hiring practices, be aware of those subtle differences."
* Don't rely on physical infrastructure, especially when it comes to water, electricity and waste disposal. "You can count on the power going out, at least once a day and sometimes for extended periods," he said.
* India has a huge and well-entrenched bureaucracy, and even simple procedures like shipping goods and getting permits can become an enormous headache. It helps to align yourself with a local partner who has experience working in India.
* Finally, be patient — especially when acclimating yourself to Indian food. "Don't get discouraged," said Nitze. "As long as you're prepared and open to these challenges and willing to learn, India is a phenomenal place to do business."

Larry Luxner is news editor of The Washington Diplomat and former editor of CubaNews. Born and raised in Miami and based in Bethesda, Md., since 1995, Larry has reported from every country in the Western Hemisphere. His specialty is Latin America and the Middle East, and he's written more than 2,000 articles for publications ranging from National Journal to Saudi Aramco World. Larry also runs an Internet-based stock photo agency at www.luxner.com.