200th Anniversary of Frankenstein for Halloween at Library of Congress
Christian Michaud (Victor Frankenstein) et Étienne Pilon (La Créature) — credit Deckard97 – Wikimedia
Washington, D.C.: It has been 200 years since English novelist Mary Shelley captured our imagination with the gothic classic Frankenstein. To commemorate this bicentennial the Library of Congress will host "Frankenreads,"a Bloomsday-style public readathon of the novel in its entirety on Oct. 31in the Library's Main Reading Room. The reading will begin at 10 a.m.and is open to the public. Tickets are not required. 
The event is part of a global celebration of nearly 600 organizations and 600 partners in 49 countries participating in "Frankenreads" related events occurring during Frankenstein Week, Oct. 26- Oct. 31. Like the novel, this event series is designed to have wide appeal to high school teachers, public librarians, scholars, book club members and filmmakers that have the desire and interest in celebrating historic fiction. A display of Frankenstein related items that are part of the Library's collections will also be on display during Frankenstein Week. 
"Frankenstein sparks imagination and critical thinking about the human experience, and thus it is perhaps no surprise that it is the most widely taught literary text in the country and the fifth most widely taught book from any discipline," said Neil Fraistat – president of Keats-Shelley Association of America. "We are celebrating the most read and taught British novel in American culture."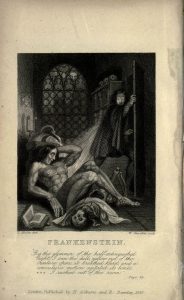 This is a rare opportunity for visitors to experience the inside of the Main Reading Room and will be the first readathon to be held in this historic space. The reading room will remain open to researchers. "Frankenreads" will be live-streamed on the Library's Facebook page at facebook.com/libraryofcongress and its YouTube site at youtube.com/LibraryOfCongress.
The excitement can be followed on Twitter at @Events_LOC and #Frankenreads.
Also happening during Halloween weekend, the Library will acknowledge the 40th anniversary of the film version of "The Wiz" with a mini-series of events including a screening and talk with Tony Walton, the production and costume designer for the film. These events are free, but tickets are required. For more information about the "Ease on Down the Road" activities, visit this site. 
Additional Frankenstein programming includes:
Thursday, Oct. 25
6 p.m., Mumford room, sixth floor, James Madison Memorial Building
Book Talk 
Award-winning author Charlotte Gordon will present a book talk on her biography of Mary Shelley and her mother, Mary Wollstonecraft entitled "Romantic Outlaws: The Extraordinary Lives of Mary Wollstonecraft and Mary Shelley" (Random House). Gordon recently authored the introduction to the anniversary re-issue of Mary Shelley's "Frankenstein" (Penguin Classics). This talk is free and open to the public. Tickets are not required. 
Friday, Oct. 26
10:30 a.m. — 11:15 a.m., Young Readers Center, ground floor, Thomas Jefferson Building 
Frankenstein Story Time
The Young Readers Center (YRC) will present a special Frankenstein-themed story time for infants and toddlers. All children and teens under 16 years of age must be accompanied by an adult at all times. Space is limited and is available at first come, first served basis.
7 p.m., Pickford Theater, third floor, James Madison Memorial Building 
Film Screening
There will be a free screening of 1958's "Frankenstein 1970." This version is set twenty-seven years after the creation of Frankenstein's iconic monster and Boris Karloff appears as a descendant of Baron Frankenstein himself set in a distinctly late 1950's looking future. Seating is on a first come, first serve basis. Doors open at 6:30 pm.
 7:30 p.m., Packard Campus Theater, Culpeper, VA 
Film Screening 
The Library's Packard Campus Theater of the National Audio-Visual Conservation Center will screen the "The Bride of Frankenstein" which wasadded to the National Film Registry in 1998. The 35mm archival print was produced by the Library of Congress film lab in 1995.
 Saturday, Oct. 27
2 p.m., Packard Campus Theater, Culpeper, VA
Film Screening 
A matinee of Tim Burton's "Frankenweenie" which is both a parody of and a homage to the 1931 film Frankenstein, based on Mary Shelley's book. The voice cast includes Winona Ryder, Martin Short, Catherine O'Hara and Martin Landau. 
 7:30 p.m., Packard Campus Theater, Culpeper, VA 
Film Screening 
Considered to be a faithful adaptation of Mary Shelley's novel Frankenstein despite some differences and additions in plot, "Mary Shelley's Frankenstein" starring Robert DeNiro will be screened to close out the "Frankenreads" film screenings at the Library. This film is rated R for horrific images. *No one under the age of 17 will be admitted without a parent or guardian.
Frankenreads is an international project celebrating the bicentennial of Mary Shelley's Frankensteinon Halloween 2018 and is organized by the Keats-Shelley Association of America. This Keats-Shelley Association of Americaproject is funded by a chairman's grant from the National Endowment for the Humanities.
The Library of Congress is the world's largest library, offering access to the creative record of the United States — and extensive materials from around the world — both on site and online. It is the main research arm of the U.S. Congress and the home of the U.S. Copyright Office. Explore collections, reference services and other programs and plan a visit at loc.gov, access the official site for U.S. federal legislative information at congress.gov, and register creative works of authorship at copyright.gov.