Wombats American trek makes a Baltimore visit
There's not a lot of bands I give the title of Road Warriors to.  Sure lots of bands go out and tour, but when you knock out 27 shows across the length and breadth in the  U.S. in just over a month's time, that really shows some next-level commitment to feeding and growing your fan base.
So it is with the UK's Wombats, whose stop at Rams Head Live on Saturday came at the tail end of this musical marathon.
"It's one of our longer tours this year, but we have done seven-week tours before. One tour we did on our first album we did 48 gigs in 52 days." drummer Dan Haggis said in an interview prior to the show.
"It's the nature of America, the drives, there's no real way to get around it. And we absolutely love being on the road over here. It's great fun." Haggis said.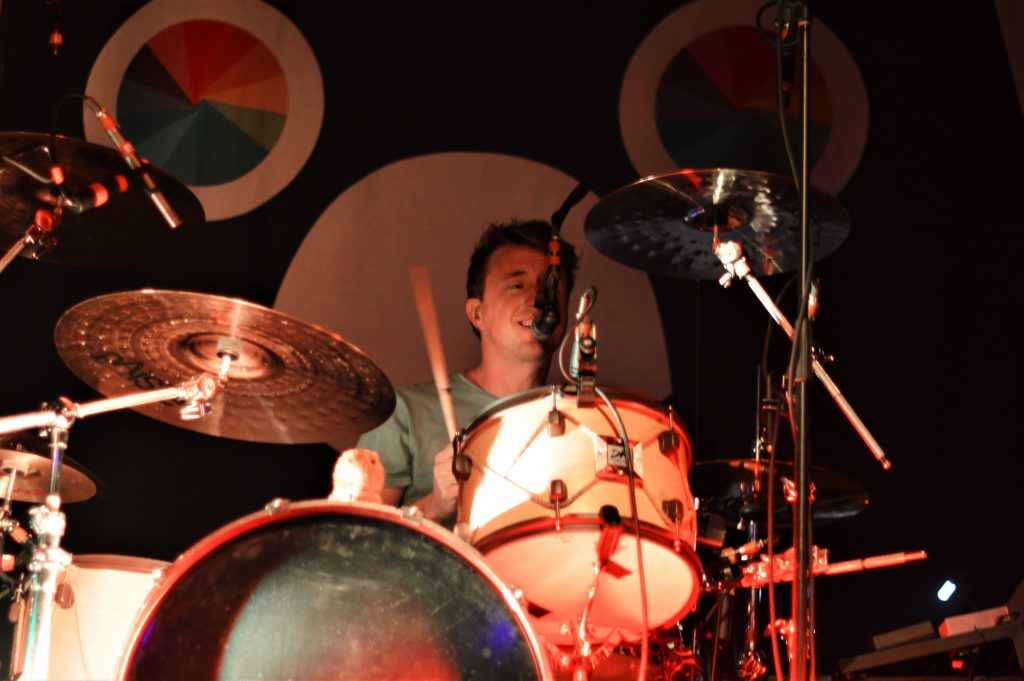 Bassist/keyboardist Tord Overland Knudsen "It's like when you see these documentaries about bands touring and making it in America." That's what you see and hear when you're young and start off playing in a band."
"It's every kid's dream coming from the UK or Norway," added Haggis. "I'm sure it's the same for American bands, they'd love to go play in Liverpool, London, wherever. It's the same for us coming here."
Already an established chart-topping act in the UK, The Wombats are on a mission to make strides in the US. "It's growing, but it feels like a steady following since the back end of the second album really." Overland Knudsen said of the band's success in the U.S.  "That's when started actually selling tickets and were able to play theaters and stuff. America's always felt like it's brick by brick, a slow build, but now it's at a steady level where all this hard work is paying off."
This tour marks the Wombats' fourth trip to the U.S. this year, beginning with a headlining tour in January, followed by a three-week summer tour with Weezer & The Pixies as well as a spot in this year's Lollapalooza festival.
If the Rams Head show is any indication, the efforts are indeed bearing fruit.  Fans began lining up for a good spot near the stage as early as 4:30 p.m. for a set that didn't begin until 9 p.m.  Their patience was rewarded with a 19 song performance that featured seven songs from their latest album Beautiful People Will Ruin Your Life, along with a mix of songs from the bands three previous LPs, and their newest single Bee Sting.
The show was full of indie-pop energy from the get-go, with lead singer/guitarist Matthew "Murph" Murphy kicking it off with the quick picking riff into to Beautiful People's Cheetah Tongue that got the crowd hopping and set the tone for rest of the night.
"We Want every night to be as good as it can be," said Haggis about playing out on the road. "Even if you're tired the crowds just get you through it. Their energy, singing along, as soon as you get onstage the adrenaline takes over."
The music was polished and uptempo for the most part, with Haggis and Overland Knudsen layering their melodic backing vocals on top of Murphy's passionate and earnest delivery, creating something of the signature sound that wove through the performance.
They deliver a sound surprisingly bigger than I'd expected from a three-piece band. Each member pulled double duty on keyboards at varying times, and Overland Knudsen picked up an acoustic guitar for Lemon to a Knife Fight and a solo rendition of Lethal Combination as part of the encore.
Instrumentally, they delivered in a style that shifted from raw and buzzy on songs like Moving to New York, Jump Into the Fog and White Eyes; to a more dreamlike and ponderous quality exhibited on I Don't Know Why I Like You But I Do and the band's second encore, Turn.
The Wombats North American tour runs to the end of October, followed by a brief rest up before heading out to Australia and New Zealand in November.

Chris Swanson is a live music and sports fanatic and a long-time Maryland resident. He holds tightly to what some consider an unreasonable affection for the Baltimore Orioles and older music venues. Chris has a Communications Degree from the Franciscan University of Steubenville.