William Donald Schaefer: 'Will Time Dim the Glow of His Halo?'
"He knows nothing, and he thinks he knows everything. That points clearly to a political career." – George Bernard Shaw
It was back in the late 50s, in the then predominately working-class Baltimore City, when I first met- "The Character" – known as – William Donald Schaefer. More on that contact in just a moment.
First, this item. Thanks to the then awesome political machine of Irv Kovens – later Marvin Mandel's – Schaefer would dominate Baltimore and Maryland politics for decades. He served nearly four terms as Baltimore's Democratic Mayor, beginning in 1972 to 1987, served two terms as Governor of the state, almost two terms as the State Comptroller, and before being mayor, he served three four-year terms as a Baltimore City Council member, one of which was as its president. That all added up to around 50 years of public service – one half of a century! Talk about a one-man political dynasty! (1)
As he will do eventually with all of us, Father Time caught up with Schaefer. He died on April 18, 2011, at 89 years of age. It's fair to say that the old boy-oh from West Baltimore had made a really good run of it.
Schaefer, as it turned out, was really a Republican at heart. He never saw a U.S. war, a corporate subsidy or a tax break for the rich, he couldn't embrace. Few, however, observed his unsavory politics too closely. In 1992, he openly defied outraged Democrats by endorsing the warmonger George H.W. Bush (Dubya's daddy) for president.
More history! On Tuesday, September 12, 2006, Schaefer lost his bid to be reelected as State Comptroller. Then-State Delegate, Peter Franchot, gave Schaefer a whipping in that election. Schaefer would no longer be the "State Comptroller" of Maryland. He was, finally, out of public office for good.
Schaefer's crushing defeat at the hands of Franchot gave him a stunning one-way ticket to the political graveyard. Franchot campaigned on the slogan that he was the "only real Democrat in the race." It turned out to be a winning strategy.
The late trial lawyer, Patrick Doherty, who knew Schaefer growing up as kids together in West Baltimore, regularly referred to him as "Shaky!" What a prophet Doherty was.
Before Kovens took charge of Schaefer's political life, he was an obscure title searcher, who also faithfully attended his Masonic Lodge meetings. When I was a deputy clerk in the Baltimore City Court office, in the early 60s, I remember Schaefer, "Mr. Anonymous" himself, coming in to search the court records. He barely lifted his head up to bid any of the workers the time of day.
Back to my first encounter with Schaefer: In the late 1950s, I was sitting in the fourth floor City Council's Chamber in City Hall, chatting with my political mentor, Michael "Iron Mike" McHale, a Councilman from my area, the then 6th District of South Baltimore. We'd both worked on the docks together and belonged to the same political club, headed then by Julian "Fats" Carrick and God bless her memory, Mary Avara. (Yes, THAT "Mary Avara" who was later to serve, with distinction, on the State of Maryland's first and only "Film Censorship Board.")
While McHale and I were chewing the fat, in spurted Schaefer, like L.G. "Long Gone" Dupre, a speedy halfback for the Baltimore Colts' fabled 1958 team. His face was as red as a fire engine.
Then a councilman from the city's 5th District, Schaefer flopped down in the seat next to us. He was cursing away, raving, pounding on his desk. When McHale asked him what was wrong, he stood up, stared at him, and then turned and stormed just as quickly out of the council chambers.
Schaefer didn't return for another thirty minutes. During the official City Council proceedings, which lasted an hour, Schaefer remained silent, sulking openly at his desk! This was my initial encounter with "The Character," but not my last.
In the late 60s, thanks to State Sen. Harry J. "Soft Shoes" McGuirk, and with a valuable push from then mayoralty aide, Peter Marudas, I was appointed as an Assistant City Solicitor. (2) The mayor at that time was Tommy "The Younger" D'Alesandro, a good and decent man, openly Liberal, who was way ahead of his time. Sadly, his political career ended far too early. (3)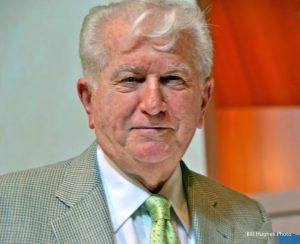 Young Tommy's sister was Rep. Nancy Pelosi (D-CA), now a Democratic leader in the House of Representatives and a former House Speaker. After D'Alesandro decided not to run for reelection, Schaefer ran for the job and won. He entered City Hall, in December 1971, as mayor.
During those early years as mayor, Schaefer did a pretty good job for the city, and also for the people. It was only after his political boss, Kovens, went to jail, in 1977, on a federal rap, that I noticed that Schaefer began to act out more. He started to believe his own b.s. Why? Because there was no one around to call him on his behavior.
Schaefer then cruelly replaced his most trusted aide and began surrounding himself with gofers, who tended to reinforce all of his grandiose illusions, silly antics, and hot-tempered habits.
It was in this period, too, Schaefer's massive ego contributed to the then-owner of the Baltimore Colts shifting the NFL franchise to Indianapolis. The whacky Colts' owner, Bob Irsay, needed to be handled with delicate diplomacy. Schaefer wasn't up to the job. Irsay and the Colts were gone before anyone could catch their breath.
Schaefer's dark side was hidden from full public view, along with his "Shadow Government" operation, "The Trustees." He ran it for several years from a backroom in City Hall. It was only in later years, however, when Schaefer "acted out" repeatedly in front of the TV cameras at the State's Board of Public Works meetings, that he was, finally, hoisted on his own petard.
At the moment, Schaefer is remembered mostly for his silly p.r. stunts, like jumping in the National Aquarium's seal pool, in 1981. The most fleeting kind of fame is the type associated with someone who is defined in the people's mind, "as a character."
From a serious historical perspective, however, Schaefer's time in office, will not match the herculean accomplishments of Baltimore's greatest post-WWII Mayor, Tommy "The Elder" D'Alesandro (1947-59); nor of the many solid achievements of Maryland's finest chief executive of the modern era, Marvin Mandel (1969-79); nor of the illustrative record of public service of Louie L. "The Legend" Goldstein as the State's Comptroller (1959-1998).
Some will insist that Schaefer deserved credit for "Harborplace." (4) Not so! That idea was sourced by the developer, James Wilson Rouse, a true visionary. (5) It was promoted, too, by a number of Schaefer's predecessors at City Hall, going as far back as  Mayor Theodore R. McKeldin (1963-67), a Republican who had also served as governor.
Few will remember, but there was a serious, eleventh-hour legal challenge to torpedo the Harborplace project. It, mercifully, was defeated. Yours truly was counsel for the city in that case. (6)
I recall meeting Schaefer for the last time when he was still the State Comptroller. He was sitting alone on a park bench in Mt. Vernon Square, in Baltimore. He looked a little depressed and told me that he "missed serving as the mayor."
Well, that made perfect sense because the office of mayor was a hands-on kind of job. Schaefer was at his best fixing potholes, barking "Do It Now" orders at subordinates and demeaning members of the City Council, critics, and any in the media, who didn't sing from his hymn book. In Annapolis, I think he was a lost soul!
Two years before he died, in November 2009, a lovely statue, and a nearby garden were dedicated at the Inner Harbor to Schaefer honoring his lifetime of public service. The late Willard Hackerman, a local construction magnate, put up the $500,000 to cover the cost. That was sure a nice gesture on his part and it made sense, too. For years, Hackerman's construction company had many a lucrative contract with the city when Schaefer was at the helm. They were cozy.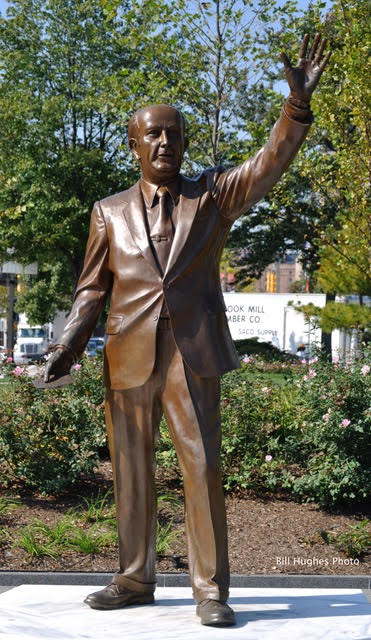 As to Schaefer's ultimate fate in the realm of historical rendering, well, only time will tell. William Shakespeare said that one of the time's greatest glories "is to bring truth to light."
Let's put it another way: Who remembers anything about the mayoralties of J. Harold Grady or Stephanie-Rawlings Blake?
Notes:
1. https://en.wikipedia.org/wiki/William_Donald_Schaefer
2.  Peter N. Marudas was a former newspaper reporter for the now-defunct "Baltimore Evening Sun." He also served as a trusted aide to Baltimore's Mayors Theodore R. McKeldin, Thomas J. D'Alesandro, III, and Kurt Schmoke. For many years, Marudas ran the office of Congressman and later U.S. Senator, Paul S. Sarbanes (D-MD). If anybody should write a book about Maryland politics, it's Marudas, an extremely capable administrator, and also a very insightful observer of the political scene. Better yet, he also knows where all the bodies are buried!
3.  Tommy "The Younger" D'Alesandro died on Oct. 20, 2019. He was 90-years of age.
4.  http://www.harborplace.com/html/
5.  James Wilson Rouse is also the grandfather of the very talented actor and movie producer, Edward Norton.
6.  The Harborplace case came up for trial on March 13, 1978, in the Circuit Court of Baltimore City with the Honorable James A. Perrott presiding. After taking testimony and hearing arguments from counsel for the parties, he ruled in the city's favor. The star witness for the city was the then-City Council President, Clarence H. "Du" Burns. In 1987, after Schaefer became governor, he became Baltimore's first black mayor.

Bill Hughes is an attorney, author, actor and photographer. His latest book is "Byline Baltimore." It can be found at: https://www.amazon.com/William-Hughes/e/B00N7MGPXO/ref=dp_byline_cont_book_1