Why Kool8 is my Favorite Water Bottle
I have carried around reusable bottles for years. I've tried so many different types and I've had issues with all of them.
I had water bottles with built-in straws and mouthpieces that were hard to clean.
I had water bottles with hinged lids that broke in my backpack and spilled everywhere.
I had cheap shaker bottles that leaked in my bags and purses.
I had plastic reusable cups with straws that worked fine but didn't actually keep my drink cold.
And I had thermoses with gaskets that slipped and leaked or didn't actually keep my drink hot.
None of it was working for me. Maybe these options work for more put together people, but I'm a "toss everything in a bag and run out the door" kind of guy. I need a water bottle that I can trust to stay sealed and take a beating.
I usually have electronics in my bag. I have notebooks and planners in my bag. I need to know that everything is going to be protected. I also commute about 45 minutes to work, so I need something that's going to keep my drinks hot or cold until I can get to work and can finally enjoy them.
These other water bottles typically only last a few months before I end up replacing them or looking for something that would serve my needs better. I have been on a near-constant search for a water bottle that doesn't have these issues.
A few months ago I was shopping around again and saw Kool8 ranked as the best water bottle for 2019. Could it be? A water bottle that I can trust? My knight in double-walled armor?
You know I had to give it a shot.
I loved the sleek design and color choices that I could get the Kool8 water bottle in. I ended up going with the cool, light grey because it's a really rich, calming color (though I considered you for a long time too, lime green).
When it arrived and I felt the weight of it in my hand, I knew I wasn't going to have any problem with it being sturdy enough. The stainless steel inner and outer walls felt strong and heavy-duty. The lid also screwed on tight so it didn't seem like leaks would be a problem.
I couldn't wait to use it the next day. 
Morning rolls around and I'm running out the door like always. I fill up the bottle with some ice and water, turn it upside down to do a quick leak test, toss it in my bag with everything else, and cross my fingers.
When I get to work, I open up my bag and everything is dry and the water bottle still looks just as good as when I pulled it out of the packaging. No scrapes, no fingerprints, and (most importantly) no leaks. Not only that, but I still hear those ice cubes clinking around even after my 45-minute commute.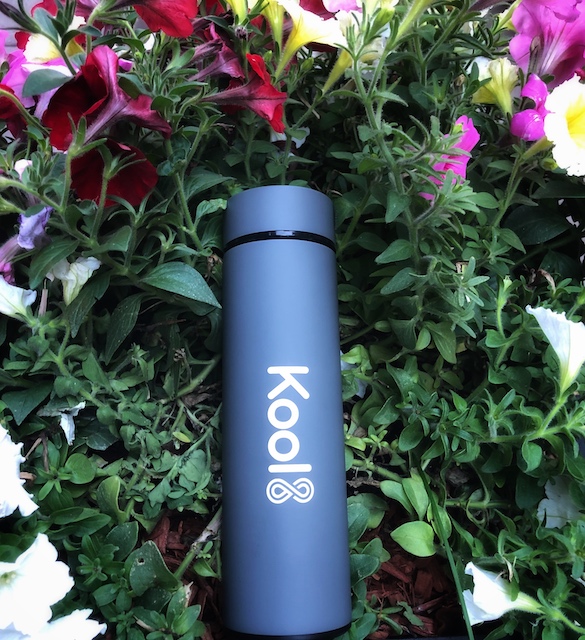 Success! 
Now that I knew I could trust it not to leak, I could put more in there than just water. Sometimes I treat myself to a jug of pre-made iced coffee when I grocery shop. I'm usually pretty frugal so I don't like to spend money on it every week. But, I splurged that week, because now I can finally make it to work with cold iced coffee!
Once I get through my iced coffee (or tea or whatever I fill my bottle with that morning), I'll fill it multiple times throughout the day and keep it at my desk. It helps me stay hydrated. It saves me money that I would otherwise spend in the cafeteria or at vending machines. And it saves me calories (because you know I'll end up buying a coke and a bag of chips, not a bottle of water).
Having ice cold water with me all day every day keeps me healthy and on track during those stressful work days.
I also love making tea at work. It's a great compromise if I want a little caffeine to drink or if I just want to drink something other than water. It's cheaper and better for me than soda from the vending machine or expensive coffee runs.
To me, the best thing about Kool8, and also a feature that I've neverhad in a water bottle before, is that it has a built-in tea infuser. I can scoop my loose leaf tea into the infuser, put the infuser over the mouth of the water bottle, and pour hot water right over it! 
Before, I had to use either tea bags or this ball infuser on a chain. The ball infuser is a pain to use with water bottles. The chain inevitably falls into the bottle with the ball, so I either have to try and fish it out with a long spoon or drink way-too-strong tea.
The built-in infuser is a better option than the ball infuser or tea bags because there's no fishing anything out of the bottom and there's also no excess waste. Skip the bag, the paper wrapping, the string, the tag, and the staple. Just toss the tea. 
The infuser is also great if I make tea in the morning to bring into work. I can brew a cup, seal up the bottle, and it's still hot enough to burn my tongue when I get to work. I seriously love this bottle.
Kool8 is a real game-changer for me. I was worried that I would have to carry around some ugly bulky water bottle in order to find a product that I trust not to break or spill. But, Kool8 can do it all and still look great with a sleek, modern design and cool colors.
Now, if you'll excuse me, we're going to go ride off into the sunset together and live happily ever after.
I'm a single mother of 2 living in Utah writing about startups, business, marketing, entrepreneurship, and health. I also write for Inc, Score, Manta, and Newsblaze