Warriors show some love to the homeless with pop-up restaurant
In 2014, Prince George's County native Erin Dorsey (above) started The Warriors Movement to help teenage girls. Three years after that, her and her team are helping homeless men.
The Warriors Movement joined forces with Central Union Mission in D.C. to serve homeless men with the "Everybody Eatz" pop-up cafe for the second year in a row, this past December.
"We're not getting anything in return for this," the Warriors Movement founder said."Let's just do something," she added. "Let's bring the community together and do something nice for other people," she said.
Starting at 1 p.m. that day, at Central Union Mission, homeless men were pampered with haircuts and manicures, and then at 5 p.m. they were treated like a guest at a five-star restaurant. Chef Karen Delos Reyes of the Gaylord at National Harbor and Chef Tony Beverly Taste of The DMV owner provided the three-course dinner.
The men, who attend one of the programs there at Central Union Mission, also received door prizes and gifts like books and gift cards. The Coca-Cola Company provided blankets. Live music and a DJ also kicked the party off in the evening.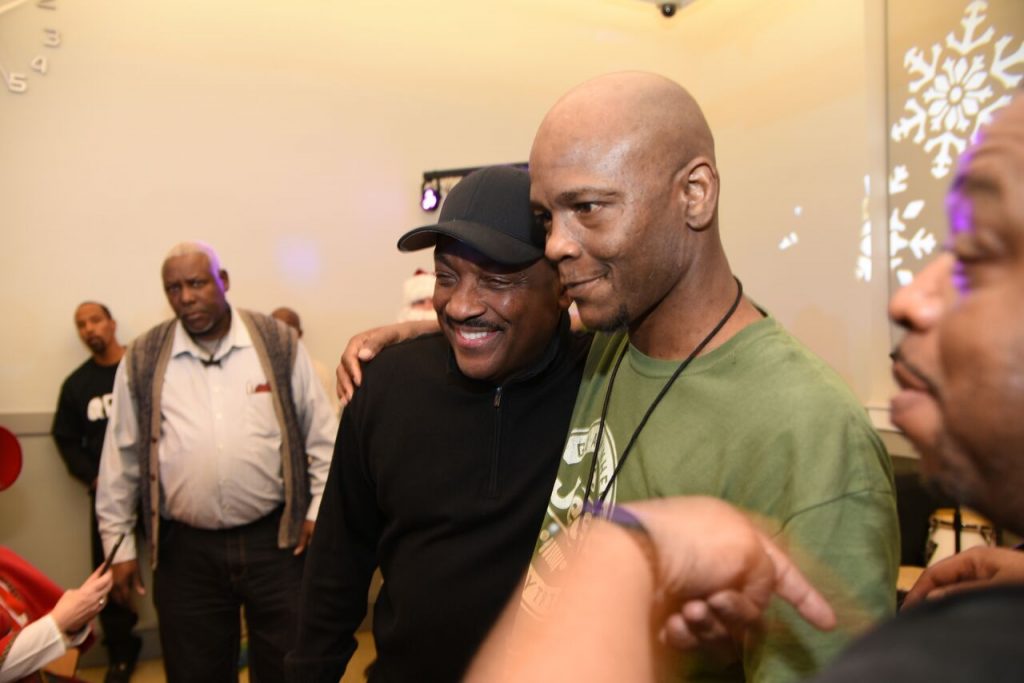 Dorsey didn't want to just barge in and "do something" for the men at Central Union Mission. She also asked herself how can she go beyond "just serving them soup." Can she sit and have conversations with them? Can she learn from them as well?
Some volunteers who attended didn't have their view of homelessness changed–but only because they've volunteered or worked with the homeless before
"I already had my opinions of homelessness and substance abuse changed in the past when working with the homeless," said volunteer Sarah Thompson. "I realize they are just regular people that ended up in an unfortunate situation."
Chaplain Xavier Streeter says that the men at Central Union Mission were "blessed" by legendary radio host Donnie Simpson's presence.
Simpson, of WPGC 95.5 fame, spoke to the men, snapped pictures and gave hugs to the men.
"He and his wife were just very, very gracious to unselfishly spend their time with our men," the Central Union Mission chaplain said.
Streeter attributes the success of the men being able to leave Central Union Mission with stability because of the Mission's "Spiritual Transformation Program" — a biblically-based program where the men get in-depth bible study and have their lives transformed by "God's Word," he explained.
Being entrenched in a church family and in a workforce program, among others, prepares them to go back into the community to be productive citizens and the "Christian men God called them to be where they are reconciled with their families" and be able to provide for them, he explained.
While 2017 marked The Warriors second attendance at Show Some Love, the annual event is in its third year
"God gave me the idea [for Show Some Love] because homeless men aren't invited to anybody's Christmas party," said Minister Deborah J. Chambers, Senior Director of Strategic Partnerships and Community Engagement.
"And so we wanted to be able to, one, provide them with a party that's just for them, in a way that makes them forget that they're in a shelter," she continued.
"For that reason, Central Union Mission really urges people not to have words of encouragement or give them statements like 'things are going to get better,'" Chambers explained.
"It's a little risky on our part because we invite them to a time of gaiety that for some may be a trigger," Chambers said. "They want the party to continue. But if they're going to be triggered by that they're going to be triggered anyway."
It started after a pizza party in the park
Erin says she got the idea of doing a pop-up restaurant for the homeless after doing a pizza party for the homeless in Franklin Square, Washington DC in 2014. After throwing the pizza party idea out on Facebook four years ago, a woman who revealed she worked for Domino's corporate said she could donate some pizzas.
The immediate response quickly encouraged Erin.
"So many people want to help, they just need somebody to just plan it," Dorsey said.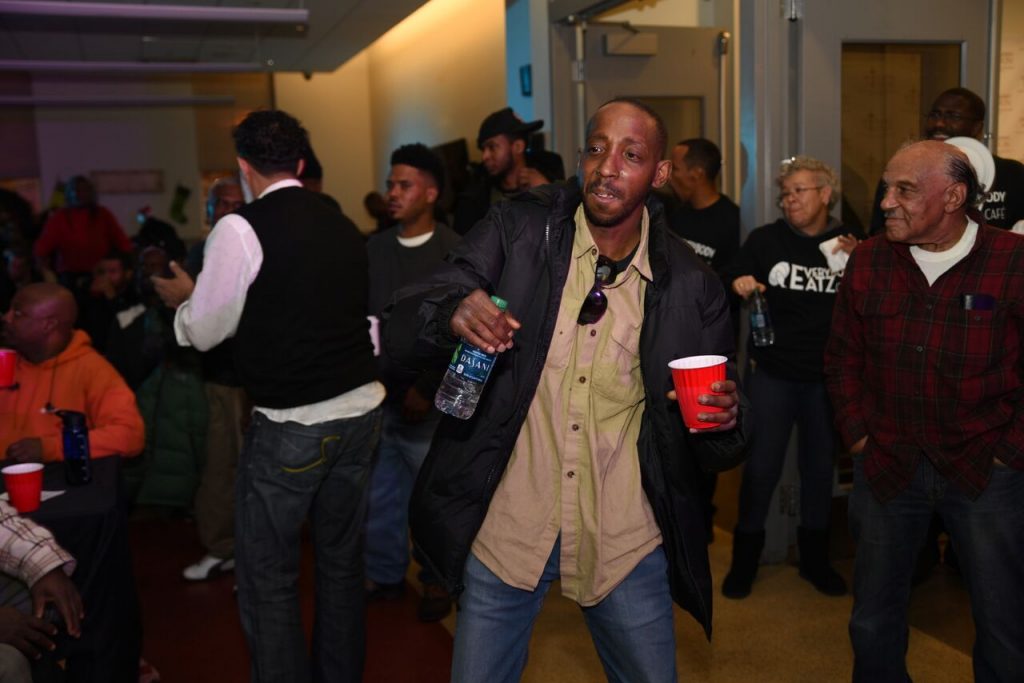 With Christmas in the then-near future, Erin thought of the pop-up restaurant and again tested the idea on social media and got an overwhelming response
Everybody Eatz was born.
She says she doesn't have too much experience doing pop-up restaurants; rather, she "just knows a lot of good people" that could help put it together.
What makes her do it? Erin, a U.S. Army National Guard veteran, says she believes everyone has the same heart and that there's not much difference between her and the next person. But some things offend her more than others.
"When I see hungry people on the street and it's freezing cold outside and I'm running to my car to turn the heat on and I'm like 'what about all the other people that I pass on the way to my heated car?'" she continued.
She attributes her heart to the homeless and homeless advocacy to her Christian upbringing.
"I can just attribute a lot of that to growing up in church, my relationship with God, and just trying to constantly see things the way that I feel like Jesus would see them on a day to day basis," she said.
"I have my selfish moments just like everybody else," she said, adding that she tries humbling herself daily "and keep in mind that there are way bigger things in the world than me."
Many people Dorsey met over the last ten to twenty years were in attendance.
"It just confirms that there are so many good people out there that really do just want to do good," she said.
Her family was also visibly present.
"The motivation is for me is to bring everybody together like from all walks of life," she explained.
Central Union Mission provides shelter for 170 men each night and provides programs for their rehabilitation from their drug abuse, criminal past, gang affiliation, and chronic homelessness.
While not perfect, the programs have "an extremely high success rate at helping individuals overcome addiction and homelessness, and achieve independent living," according to the Central Union Mission website.
These days the Warriors are still on the move.
On Jan. 20, they will be holding their annual Blanket and Coat Drive.
Erin has already put the idea out on social media and people have responded to her requests for blankets and coats.
"I got a couple…who do I send them to?" one of her Facebook friends wrote on her post.
"I have about 2 for females," another wrote. "Let me know when you need them."
 How you can help
The Warriors will need the donated items before January 20.
Donated items–coats, gloves, hats, scarves, hand warmers, socks, and monetary donations— can be given via a meetup arrangement with the organizer. Send an email to erin@thewarriorsmovement.com if interested.
They can also be given in-person on Jan. 20 at Franklin Square Park in Washington, D.C. at 10:00 a.m.
 Editor's Note: The author served as a part of the breakdown crew at the December 15 "Show Some Love" event in DC.

Christopher Goins is a copy editor and freelance journalist. He searched for five years for the least expensive graduate program only for it to close down after finding it. Thanks to technology like The Great Courses, Moodle, and Udemy, he has no need for any kind of grad school education anyway.