Walter S. Skold: Family and friends pay loving tribute to 'Dead Poet Guy'
One of the many trinkets collected in the travels of "Dead Poet Guy" Walter S. Skold.
Because I could not stop for Death
He kindly stopped for me;
The carriage held but just ourselves
and Immortality ~ Emily Dickinson
There is little question that the term "immortal" applies to Emily Dickinson. Long regarded as one of the greatest poets in American history, Dickinson's work continues to be read and revered more than a century after her death.
But what about Puritan poet Michael Wigglesworth? Not exactly a name that comes to mind when most think about poetry in America.
Walter S. Skold remembered Michael Wigglesworth and hundreds of other wordsmiths who might have otherwise slipped into obscurity. As the founder of the Dead Poets Society, Skold criss-crossed the country, with a stuffed panther named Raven, on a ten-year quest to visit the gravesites of every poet buried in the United States. In the process, Skold documented some 627 sites, while instituting Dead Poets Remembrance Day as a way to honor and resurrect fellow American poets who have passed away.
Skold crossed the veil himself on January 20, after suffering a heart attack in Elkins Park, PA. The York, PA. native and former Baltimore resident was 57.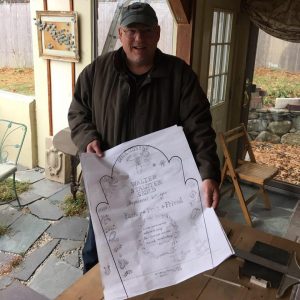 More than one hundred family members, friends, and fellow poets gathered in York last Saturday to celebrate the life of the man who came to be known as the "Dead Poet Guy." All remembered a mischievous merrymaker, generous spirit, serious scholar, and a devoted follower of Christ.
"Walter is the kind of guy who was full of surprises!" said Jeff Jerome, Curator Emeritus of the Poe House in Baltimore. "There was always another layer to him and it was all good. We were kindred spirits!"
Poet Alan C. Reese also recalled Skold's affable nature.
"The thing that sticks out to me," said Reese, "is that, when I met him, he seemed like someone I had known for quite some time. As soon as you got in his aura, it was like you were old friends. But more-so, he championed poets and the poetry community. Being here today is the least I could do to pay my respects to somebody who devoted so much time and energy to honoring the memory of dead poets, while supporting those who are still with us."
Skold's 2015-16 sojourn in Baltimore included a special Dead Poets Remembrance Day reading at the grave of Edgar Allan Poe; a solemn pilgrimage to New Cathedral Cemetery to visit Michael Egan; and spoken tributes to several local poets, including Lucille Clifton, Ogden Nash, Josephine Jacobsen, Dyane Fancey and Roland Flint.
"I got to the point where I had to be careful when saying I needed a volunteer," explained Lisa Lewenz, a former director of the Poe House and Museum. "He had a long drive and was usually planning his next big adventure, but if I needed help, he would always be there."
Ed Gallagher – Walter's college roommate – recalled a friend who he said would literally give a stranger the shirt off his back.
"Over the decades, we shared two living things: God the Word and words. When I read Matthew's gospel, chapters 5 and 6, I see Walter. He was a walking beatitude. His hunger and thirst for righteousness was captivating and relentless.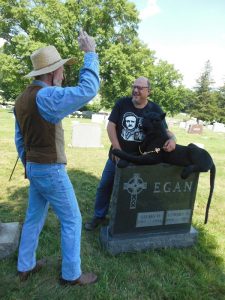 "Humor is one of those attributes of God we don't talk about too much. It's a molten core of gold at the center of the universe, and Walter was all over that. He was filled with joy and laughter, and he kept us endlessly entertained.
"I, for one, plan to visit the grave of the only dead poet who matters to me."
Simon Skold noted that his father's preoccupation with death was simply a step in what he saw as an eternal journey.
"It may be shocking to us, but he was ready.
"Thanatopsis is a word derived from the Greek 'thanatos' meaning death, and 'opsis' meaning view or sight. It was invented by the American poet William Cullen Bryant and means a consideration of death. Thanatopsis is a poem that was a favorite of my father's, though he may have had a more perseveration on death.
"The graves, the pictures of graves, the coffin I helped him build; the poems upon poems about death, the gravestone design, the day of the dead imagery and trinkets; the shelves of books on burials, rituals and perspectives on death; posed a vigorous presence over his projects and in passing comments in conversation.
"'Someday, I'll be gone,' he would say, and we would re-shift in our seats, growing ever familiar with his untamed obsession. But there was something I grew to respect about it. Something honest and unabashed, like the child being unafraid to call the king naked.
"It was his opus, in a way: death. His great love.
"As many poets did before him – like Bryant and Poe – my father spent time pondering that solitary moment. What one is doing right before it, and what happens right after.
"'I hope I'm alive when I die,' he wrote.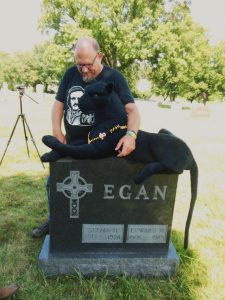 "Walter looked upon gravestones, these obvious physical markers with epitaphs so poetically concise for an entire life lived, and he recognized life unfinished because of people underneath left unforgotten. He revived their legacies and encouraged us all to do the same."
Charles Skold recalled one special visit with his dad to the grave of an obscure poet.
"Dad called me on Halloween in my sophomore year of college. He said, 'Hey I'm here. Do you wanna come to a grave with me? I'm going to visit Michael Wigglesworth!' So we got into his car and traveled to the next town over.
"I think Michael Wigglesworth was an old abolitionist in the Boston area. We brought tiki torches and lit them by the grave. As Dad was aiming to take a picture, I saw red and blue lights. The cop walked up and asked what was going on? Apparently, a neighbor had called and thought some sort of a seance was going on. After all, it was Halloween.
"Dad had many run-ins of that sort with the police, while waiting to resurrect long lost poets from obscurity. It wasn't unusual to get a call from him in jail. But he would also make those calls to us, saying, 'This is officer such-and-such. Your father is in the Baltimore City Jail.' It was a great prank because it was so believable.
"I didn't always appreciate dad's antics. Sometimes, it took my friends to help me see dad for the wonderful man and father that he was. Whenever I brought friends home, my dad would quickly befriend them, chatting away with a genuine warmth and interest in their lives. My friends would tell me how cool my dad is, how generous, how one-of-a-kind, how filled with life and wicked fun. And when they said it, I believed it.
"One of Dad's favorite Bible verses was Ephesians 2:10. It reads,
"For we are God's Masterpiece. He has created us anew in Christ Jesus, so we can do the good things he planned for us long ago."
"Dad took great comfort and felicity in those words. He was always writing little quips on his Facebook status. One of the last ones he wrote was a paraphrase of this verse. He said, 'I am the famous painting that I look like, and so are you.'
"To Dad, everyone was a masterpiece, and he treated them that way.
"So many things about my dad's life were left unfinished, but they have not been unfulfilled. The road trip continues, and to use one of his favorite phrases, 'Onward Poe.'"
Goodbye
I hate saying goodbye.
Bye isn't good –
it's sad.
So I don't,
I just smile, wave
and cry.
Walter S. Skold

Anthony C. Hayes is an actor, author, raconteur, rapscallion and bon vivant. A one-time newsboy for the Evening Sun and professional presence at the Washington Herald, Tony's poetry, photography, humor, and prose have also been featured in Smile, Hon, You're in Baltimore!, Destination Maryland, Magic Octopus Magazine, Los Angeles Post-Examiner, Voice of Baltimore, SmartCEO, Alvarez Fiction, and Tales of Blood and Roses. If you notice that his work has been purloined, please let him know. As the Good Book says, "Thou shalt not steal."