Visiting Portland: The Meadow
PORTLAND — Visiting The Meadow was an unexpected and rather mind blowing treat.
I hadn't heard of the artisanal salt, bitters, chocolate, flower and vermouth store before — clearly due to a lack of reading on my part because after visiting I spent some time on the Internet researching this wondrous place and  its well-earned reputation for amazing products.
When I walked into this spot I was overwhelmed by the sheer number of salts and dark chocolates lining the walls — we're talking hundreds of examples of each.
And in the middle of the Portland location — there is also a store in NYC's West Village now — on a huge round table, hundreds of fresh cut flowers created a gigantic bouquet that reminded me of flower stalls in Paris.
I know I say this a lot about my favorite spots but the entire store reminds me a lot of a Paris shop perhaps because the store is so specialized, offering just a few products, but offering them up so beautifully and completely.
With such a profusion of gorgeous and delicious stuff, it is hard to know where to start.
But as the shop clearly earned its reputation for salts, let's start there.
Two large shallow shelves house hundreds of vials of salts in an army of gorgeous colors from pink to black to red to white. And there were hundreds of salt boards, platters and bowls that looked on first glance like thick pieces of multicolored amber stacked up around the place.
A shop assistant walked us through a tasting of the various flavors explaining the textures that ran the gamut from fine almost seaweed thin black flakes to fat jolly white crystals that looked and crunched like rock candy.
We ended up buying what amounts to a starter package of finishing salts that came in simple glass vials. The six flavors are: a thick dirty white crunchy Pirian Sel Gris sea salt, the smoky flakes of the Halen Mon Gold sea salt, a strong dark red crunchy Haleakala Ruby salt, the compact thick nuggets of Pangasinan Star, the delicate flavor of the granules of cappuccino colored Amabito No Moshio, and a snowflake like Marlborough Flaky.
Now I know what you're saying …
OK, so maybe I don't know, but I know what I was thinking when I picked up all this stuff.
What do I do with it?
I mean I like to cook and while I had four kinds of salts in my cupboard already — table salt, sea salt, kosher salt and ground sea salt — I had honestly no idea what to do with all of these flavors and textures. I was picturing dinner parties with sea salt covered butter dishes served alongside crusty bread but was hopeful I could figure out more.
Thankfully the shop was opened by Mark Bitterman, whose name you may recognize from his book "Salted: A Manifesto on the World's Most Essential Mineral, With Recipes,"  and his wife Jennifer Turner Bitterman.
With "The Meadow Set" we received a booklet describing each of the salts and offering dish recommendations from Bitterman. (He is listed as the store's selmelier.)
Additionally the store's website — where you can also order home delivery — includes a lovely bunch of recipes with specific salt recommendations.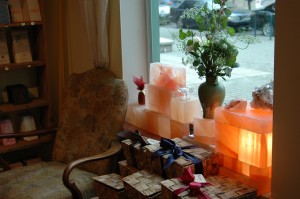 But getting back to Bitterman's recommendations. For the Haleakala Ruby salt, he recommends among other dishes using this type of salt that is "held sacred in native Hawaiian culture, used in blessings, medicine and cuisine" with a grilled pork with mango salsa.
(After reading his pamphlet, I thought it's no wonder his book won a James Beard Foundation award.)
We also grabbed some of the Prague Powder #1 — a pink curing salt —  so we can start or at least attempt home curing.
We then added some bitters to our purchases because who doesn't want to make great cocktails? (The Bittermans say they have the largest selection of bitters in the world. Examining their stock, it's a statement that is easy to believe.)
We picked up some Meyer lemon Brooklyn Hemispherical Bitters and then a four pack from Scrappy's Bitters that included vials of grapefruit, orange, cardamom and lime.
(Bitters can also be used to add flavors to whatever you want to cook. I'm all for orange flavored pancakes and Meyer lemon flavored anything.)
And from the selection of more than 300 bars of chocolate we picked two thick bars. I'm embarrassed to say that I didn't record what dark chocolate we bought and as we ate it long ago, I have no clue as to what it was.  But their selection is online and while the majority of chocolates are dark there are also flavored and milk chocolate bars as well as cooking chocolate and more.
We opted against picking up any vermouth of flowers but on our next visit we will definitely correct that oversight.

Welcome to Sarah's life of wine, travel, food and child. Sarah Abruzzese is a former Washington D.C., reporter, living in southern California. She's working on launching 7 SUNDAYS CLOTHING (www.7SundaysClothing.com), a UPF 50+ sun protective clothing company for children. Beside working on the clothing line, she spends her days running after a toddler and then if there is time left over, eating well, visiting wine country and exploring the West Coast. Follow her travels on twitter #sabruzzese.