University of Maryland's Guilford Woods Showcased in Art Exhibition
A remnant forest on the southern edge of the University of Maryland's College Park campus is the theme for a virtual exhibition organized by the Coalition to Save Guilford Woods, a community group dedicated to preserving the publicly owned woodland.
On display until the end of the year, the Celebrate Guilford Woods exhibition showcases art, photography, and creative writing submissions from a contest designed to highlight the ecological importance of urban forests like Guilford Woods.
"I'd like to congratulate our winners and all those who submitted their beautiful work for allowing us to see the wealth of Guilford Woods," says Pulitzer Prize-winning photographer Cheryl Diaz Meyer, one of the judges for the photography portion of the contest. "It was a pleasure to look at all the photos and to read about the photographer's thoughts and intentions. The images remind us that nature is a gift."
Other judges for the contest included nature photographer Krista Schlyer, children's and young adult author Mary Amato, poet Jessica Garratt, illustrator Ikumi Kayama, and painter and printmaker Sharon Hart Sefton.
Hyattsville resident Helena Beneš Kaiser, who won second place in the photography category, says she was inspired by the beauty and peacefulness of the shady refuge, a designated part of Prince George's County's green infrastructure network. "As light peers through the tall, old trees of Guilford Woods, it gives me hope for the future of life on our planet."
Guilford Woods has been in local news lately because of a controversial University of Maryland proposal to clear-cut a large portion of the environmentally sensitive land to build private townhomes and graduate student housing. At an October 15 rally organized by U-Md students, hundreds of students, faculty members, and local residents turned out to protest the so-called Western Gateway Project.
A community petition against the proposed deforestation received more than 2,500 signatures, while more than 470 U-Md faculty and staff members signed a separate petition. Multiple elected officials from Prince George's County's Districts 21 and 22 have also voiced their opposition, including Senators Paul Pinsky and Jim Rosapepe and Delegates Mary Lehman, Joseline Peña-Melnyk, Ben Barnes, and Alonzo T. Washington.
On October 28, U-Md's President Darryll Pines announced that the university would put the Western Gateway development plan on hold for further study. However, local advocates say that much work remains to be done to ensure the permanent protection of Guilford Woods.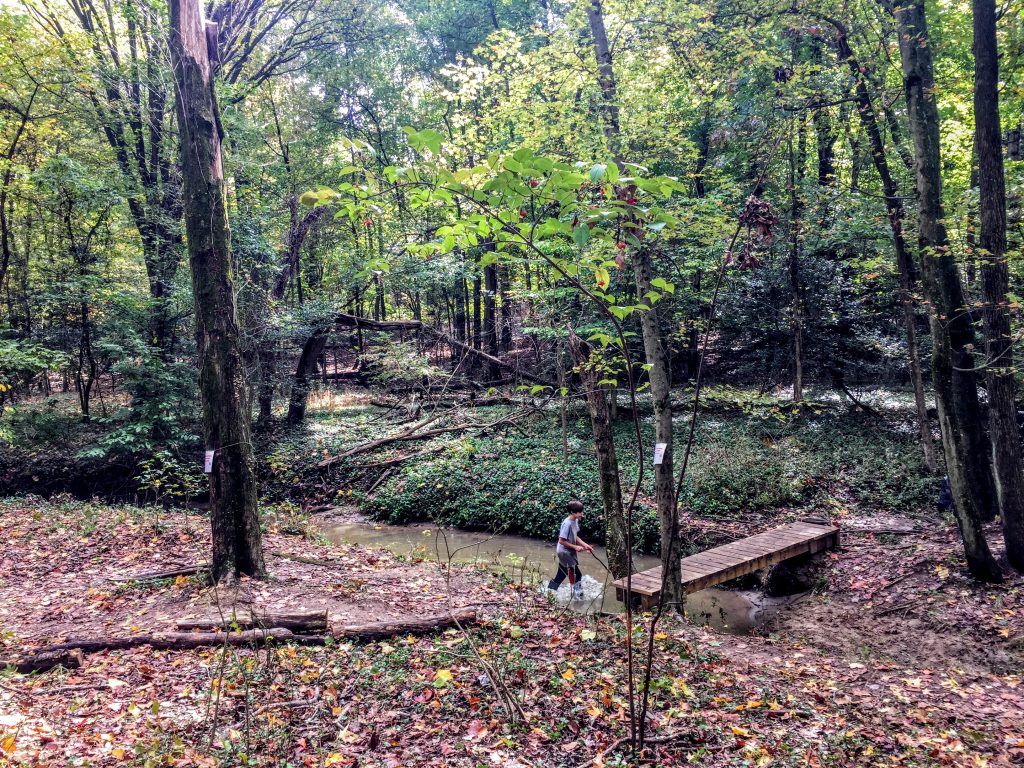 In particular, the Coalition to Save Guilford Woods is concerned about the Prince George's County Planning Board's Adelphi Road-UMGC-UMD Purple Line Station Area Sector Plan, a draft proposal for developing the area that members of the group say leaves the woodland vulnerable to future deforestation.
"The terrible reality is that the 'pause' that was given to the Western Gateway Project is rendered totally meaningless with the passage of the Adelphi Road Sector Plan as drafted," says Marc N. Simon, an architect, and smart growth advocate. "The colorful presentations and the numerous exhortations of maintaining green space, developing sustainably, and encouraging responsible growth are ignored in the actual draft of the plan, which up-zones everything and preserves virtually nothing."
Those issues of environmental sustainability and preservation of green space in urban development are what inspired Collin Polt to enter the Celebrate Guilford Woods contest. The Howard County resident's submission, entitled "Only When the Last Tree Is Cut," reflects on the way that planning departments all too often slowly encroach on nature without considering the need for equitable access to green space in urban communities.
A civil engineer and Air Force veteran based in Woodbine, Polt owns a small architectural firm that does healthcare design work for the Veterans Administration. "We have recently begun some focused design for residential reuse and renovation work looking for opportunities to utilize and renovate existing structures and sites into environmentally conscious resident-focused dwellings," Polt explains. "As a result, and incorporated into this concept, the maintenance and equitable access to green space has really been pulled into focus for me over the last few years."
"This piece and the statement made me gasp," contest judge Kayama says of Polt's ink and watercolor work, which won first place for art in the adult age group.
Polt is in good company. His daughter, Faith, also earned first place in her age group for her artwork "Footprints of the Trees," which uses colorful leaf prints to symbolize preserving pieces of the forest.
A fifth-grader at Bushy Park Elementary School in Glenwood, Faith loves math, science, and art and enjoys experimenting with mixed media arts and building functional sculptures out of cardboard. As for Guilford Woods, her verdict on the remnant forest is clear. "It is a great place to be inspired to do art," the ten-year-old says.
View the Celebrate Guilford Woods exhibition online.
Elisabeth Herschbach lives with her husband, son, and Jack Russell terrier in Prince George's County, Maryland, where she works as a copy editor and occasional writer and translator.