Toilet Paper Shopping at 6 a.m.
BALTIMORE  — Some years back, I had the honor to interview Dr. Cedric Jimerson – a respected physician who had cut his surgical teeth in resettlement camps of post-WWII Europe. Jimerson said one of his most vivid memories of that time was how the ever-winding Army supply chain affected displaced Russians waiting to be repatriated with the Red Motherland.
"We were distributing potatoes as a food staple for the starving refugees, but the stores were disappearing almost as fast as we got them in. Pretty soon we discovered the Russians were taking the potatoes and making vodka with them.
"We were also surprised to learn that the Russians didn't know what to do with toilet paper," Jimerson candidly observed.
I'm not sure if or how the novel coronavirus has impacted the economy of present-day Russia. A friend of mine who lived there for six years said the market shelves were always empty anyway. But here in America – where we long ago adopted a hygiene-happy lifestyle – shoppers have discovered that procuring certain staples has become something of a mix.
The liquor stores remain open, so presumably, no one is turning potatoes into vodka. But then, there is that vexing question of the once bountiful toilet paper supply.
Stroll down the paper-goods aisle of any market across the fruited plain, and you'll see where the bat guano has really hit the fan. From Walmart and Walgreens to Harris Teeter and the Dollar Store, the shelves have been practically wiped clean of TP.
"It's crazy," said Dominique – manager of the Shoppers Food market on Smith Avenue. "That's the first thing people ask me when they walk into this store."
Dominique was pulling double-duty as we spoke last Friday night – directing stock boys with laser-like precision while asking folks in line if they'd found everything they needed.
Most said yes – that is, to everything but toilet paper.
Curious about the backlog, I asked him when the next shipment was due to arrive.
"Do you really need some?" he quietly asked in that way a helpful shop-keep serves his clientele.
"Actually, I'm down to my last package of six rolls," I honestly replied. "But I'm one of those Depression-shaped shoppers who keeps a modest supply of staples on his pantry shelf."
"We're expecting a delivery sometime overnight," he said. "If you're interested, I'd suggest coming back here, when we open tomorrow morning. Plan to arrive between 6:00 – 6:30.
"If you wait until 8, it will all be gone by then."
To me, the idea of getting up at 5:30 a.m. EDT on a Saturday morning to go in search of toilet paper reeked of nothing less than demeaning desperation. I suppose, for some hardy souls, it was, though you'd never know for sure behind their surgical masks. Fortunately, as near as I could tell from our government-mandated social distancing, it didn't reek of anything else.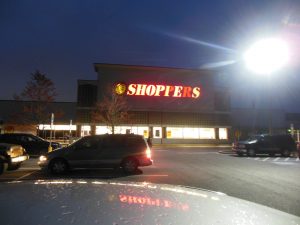 I set my alarm for 5, but that move turned out to be for naught; Mr. Whipple-poor-will started in song around 4:15 a.m. His strain was sweet enough, but he might as well have been singing, "Better get up you fool, if you want to squeeze the Charmin."
Schlepping back over to the Shoppers, I was impressed to see several dozen cars on the parking lot. What could be more Baltimore than shopping for toilet paper by the dawn's early light?
Actually, in this mostly Jewish section of town, a shopping center lot full of cars is a sight one would NEVER see on a Saturday morning. Yet, even at that early hour, the building was a bustle of activity. Patrons weaved between cardboard cartons and clerks, who were steadily restocking shelves — some of which were bare just a few hours before. Meanwhile, behind the store, truckers did the delicate dance of the diesel tractor – backing burgeoning trailers up to the welcoming loading docks.
Jerry Reed would be proud of the effort American teamsters are proffering in helping families keep food on the table.
After taking a few precious moments to sanitize my shopping cart, I made a beeline to the paper-goods aisle – passing, as I pushed, a number of shoppers who were clearly flush with excitement. One guy had a large 18 = 72 mega package of Charmin. He sheepishly admitted, with a shrug, that his coveted prize was the last of that lot.
Not to be dissuaded, I continued on towards my two-ply objective. My persistence paid off, and I was bowled over to find a few precious packages of generic toilet paper still perched upon the shelf.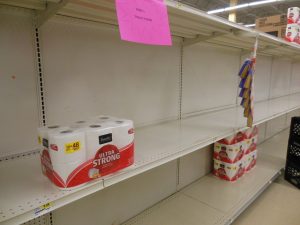 This pre-dawn foray also yielded a smattering of other items on my shopping list – items that the store did not have on hand the night before. These included disinfecting wipes (limit one per customer), eggs (also a one package limit), bottled water (I know – I should be using a thermos), and canned salmon (good til June 2022, if God-forbid it should come to that.)
I took a few photos along the way – mostly for my own amusement. But I didn't think I'd want to write about this adventure, until I spied one brazen rogue – two people in front of me in the self check-out line – hastily place a second carton of eggs onto the conveyor belt. After paying for his goods, he pushed his over-laden cart out the door, only to return two minutes later with a second, empty cart and eyes set for – you guessed – the toilet paper aisle.
Not surprisingly, when I tracked him down a bit later out in the parking lot, he had a car full of contraband but nothing to say about his cotton-soft booty.
Worse, he was not alone in the Brotherhood of Guilty Silence.
A number of people brusquely waved me off once I told them I'm a working reporter. And by people, I mean every single male of the species I cautiously approached on that teeming lot.
Not that I'm surprised, mind you. I suppose with this sticky TP shortage that has needlessly swept the nation, no man wants it known that he has been caught with his proverbial pants down.
Three women shoppers were more forthcoming – and not nearly as panicked – as their dodgy male counterparts.
Marcella – a woman with a thick Eastern European accent – was glad to give me a moment of her time.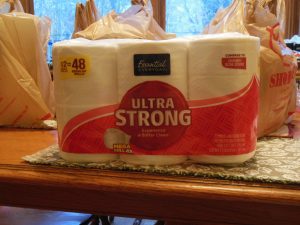 Does Marcella usually shop at 6 in the morning?
"No!" she sternly replied.
Then what did she need at this hour?
"Today, I am looking for three things: flour, bananas and a few cans of fruit. Everything else I need, I already have."
That was good enough for me, and apparently good for Marcella as well. I only wished I had asked what she was baking with the canned fruit and those bananas.
Wendy was less hurried than Marcella. She had her shopping done, when I spoke with her from a reasonable distance.
What were her thoughts about going shopping at the crack of dawn?
"The store is probably at its cleanest from the overnight cleaning, so that's somewhat reassuring." Wendy cheerfully continued from behind the relative safety of a bright blue surgical mask, "But just to get this done early, when there are fewer people. I'd say those are the two things that come to mind."
Given Wendy's full shopping cart and sensible mini-van, I wondered who might benefit from her early morning endeavor.
"Today, I'm shopping just for my family, but at other times, I've shopped for neighbors and friends."
And as for her haul?
"I found pretty much everything I was looking for – perhaps not at exactly the same price you might expect – but you have to eat to sustain."
It was after 7 a.m. now, and I had seen enough. One last quick quote and I could ferry my prudent payload home.
Thankfully, I didn't have to wait long.
"You know this crisis is real," remarked one sleepy-eyed patron slowly making her way to her sedan, "if you see me up and out of bed to shop for toilet paper at 6 a.m."

Anthony C. Hayes is an actor, author, raconteur, rapscallion and bon vivant. A one-time newsboy for the Evening Sun and professional presence at the Washington Herald, Tony's poetry, photography, humor, and prose have also been featured in Smile, Hon, You're in Baltimore!, Destination Maryland, Magic Octopus Magazine, Los Angeles Post-Examiner, Voice of Baltimore, SmartCEO, Alvarez Fiction, and Tales of Blood and Roses. If you notice that his work has been purloined, please let him know. As the Good Book says, "Thou shalt not steal."