Thousands Protest Peacefully in Maryland in Support of Black Lives
By Len Lazarick
Several thousand people marched from the Columbia mall to Lake Kittamaqundi Tuesday afternoon to protest the police killing of George Floyd and others. The huge crowd filled the lakefront from Clyde's to the fountain, an outpouring seldom seen at the town's traditional gathering place for celebrations and memorials.
The demonstration was adamantly peaceful. "This is a nonviolent protest," one of the young leaders told the crowd. "If you got any other ideas, go home." The warning was repeated several times through the event, which began on the mall parking lot at 4 p.m. and lasted to about 7 p.m.
The "Vigil & March in Support of Black Lives" was organized by HoCo For Justice, describing itself as "a predominantly Black and Brown youth collective residing in the Howard County area."
This aerial video from a source called Wondered by Nature gives a good feel for the dimensions of the crowd. Blogger Scott Ewart has also posted 470 photos from the event.
The speakers in general were only identified by first name. The HoCo For Justice website warned, "be wary of media and photographers of having your image/face." For a crowd of that size, there was surprisingly no visible uniformed police presence, except for the Howard County police vehicles that blocked off a long stretch of Little Patuxent Parkway, the main thoroughfare in downtown Columbia.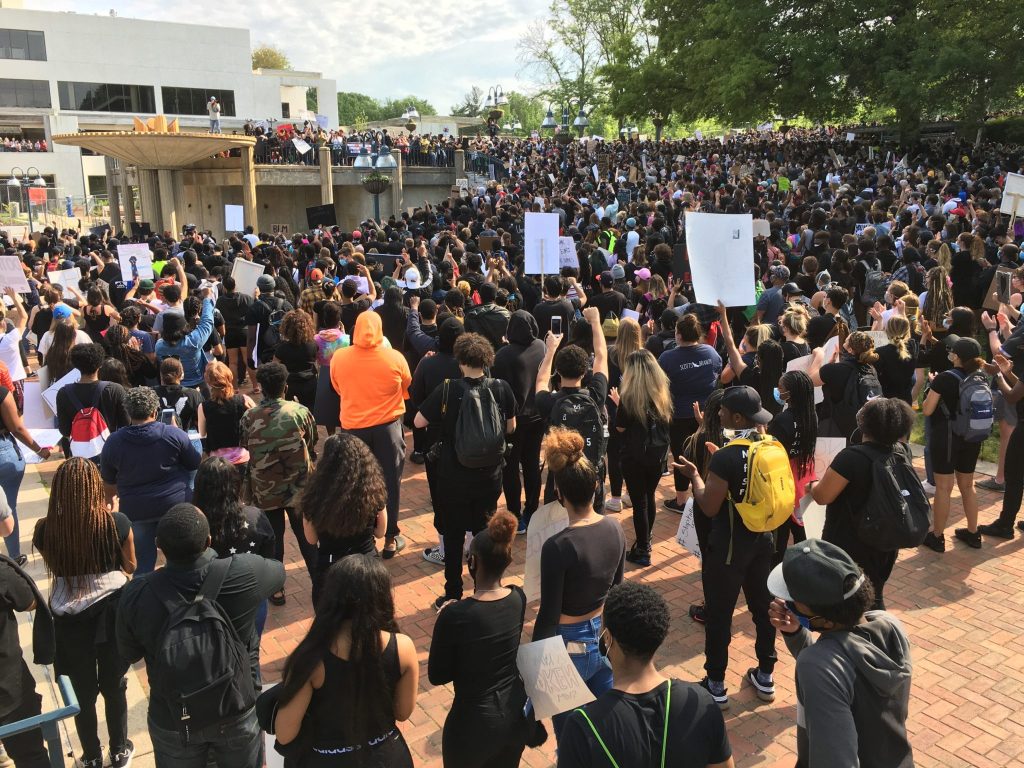 Chants
Leaders led the crowd in chants throughout the event.
"What do we want? JUSTICE. When do we want it? NOW."
"Black Lives Matter" was both a slogan and a theme of many of the hand-written signs carried by the marchers.
"Tell me what democracy looks like," went the call. "This is what democracy looks like," went the response.
The demonstrators were largely young and African American, but there were also many whites and older people. Some of them, like this reporter, were reminded of civil rights and anti-war marches of the 1960s and '70s, with slogans such as "Power to the People.
Led by organizers, the crowd repeatedly chanted the names of George Floyd, Breonna Taylor and other unarmed blacks killed by police.
"Hey, hey, ho, ho, these racist cops have got to go."
But the crowd also sang "the Negro National Anthem," "Lift Every Voice and Sing," though the singing was a bit weak on the lyrics.
The Rev. Peter Spann, a Baptist pastor, led them in prayer. "We pray that all of the anger will turn into answers."
"Racism is not a black problem, it's not a white problem, it's an American problem," Spann said.
Stolen land
The repeated stories of racial oppression and victimization were also broadened to include other races.
"This is not our land, this is stolen land," said one speaker, reciting the names of the various native tribes that had lived in the region.
There was some irony in that description, given that the statue of Columbia developer James Rouse who built the plaza they were standing in was clearly visible steps away from the crowd. Rouse's former office, now part of a Whole Foods store, overlooked the event.
There was also some irony in a talk by Michaela, a Latina community activist, who described a bill to make Howard County a sanctuary city, sponsored by then-Council member Calvin Ball but vetoed by former County Executive Allan Kittleman. Kittleman and his wife Robin participated in the march, as did Ball.
"No Justice, No Peace," was another repeated chant. "No longer knock on the door of justice, but kick it in," said another speaker.
Ball issued a statement after the march.
"As a county executive, and as a father, I am frustrated with the clear inequity that continues to exist in our society. It is easy to identify the problems and causes, but the part that eternally alludes us is the solution," Ball said.
"The youth-led demonstration today had many calls to action, and we must all work together to create the change we seek. Now, it is more important than ever that residents have the opportunity for their voices to be heard, the freedom to peacefully protest and organize, and the ability to demand we do better as a community. 
"As a county that prides itself on inclusion and civility, it remains our responsibility to collaborate, encourage and create an open dialogue to improve race relations and institute changes that improve the quality of life for not only current, but future generations. Change will only come locally if we work to encourage our friends and neighbors to do the same."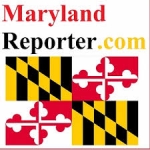 MarylandReporter.com is a daily news website produced by journalists committed to making state government as open, transparent, accountable and responsive as possible – in deed, not just in promise. We believe the people who pay for this government are entitled to have their money spent in an efficient and effective way, and that they are entitled to keep as much of their hard-earned dollars as they possibly can.