'The Renewal Show' latest Luvs Art Project exhibition at The Harbor Bank of Maryland
Albert Einstein once said, "Creativity is contagious. Pass it on." Perhaps this is what Baltimore barber Troy Staton had in mind when he parlayed his personal barber shop art expositions into an engaging platform where customers could find commonality. Capitalizing on his early one-man efforts, Staton founded Luvs Art Project – a nonprofit which now serves as a cog for connecting greater Baltimore through the allure of art.
In the spirit of connection, Luvs Art Project is currently presenting "The Renewal Show" – a forty-three piece exhibition consisting mainly of archival prints, photographs, and acrylic and mixed media compositions on canvas, board and paper. "The Renewal Show" is the latest art exhibition at the West Fayette Street headquarters of The Harbor Bank of Maryland.
We had a chance to meet Staton – and others connected with Luvs Arts Project – during an Opening Reception held last Thursday night, Feb 28. The Closing Reception and Artist Talk is scheduled to take place Thursday April 11 from 6:00 – 8:00 pm.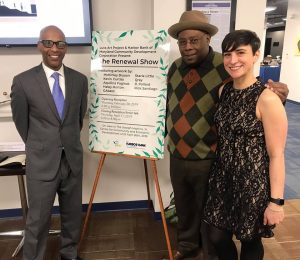 "This is our second year with The Harbor Bank – bringing community together through a collaboration with the arts," said Staton. "It has been a very joyful experience."
Staton paused to introduce us to "The Renewal Show" curator, Aquilina Faginas. "If you look around, you will see that she has done an excellent job," he said.
Faginas – the Executive Assistant to Luvs Art Project – explained that she works directly with Staton in selecting the art work, figuring out the theme, and then implementing it.
"I really enjoy what I do and I enjoy working with Troy. It can be a challenge, but it's a challenge I'm passionate about."
We asked Faginas what she looks for when curating a show.
"I look for work which compliments other pieces in both scale and style. For this show particularly, I looked for color palette that blended well. When you stand in the middle of the room, I'd like the viewer to be able to scan the space and still have everything to work together.
"Medium is not as big an issue as technique and refinement. That's not to say that we don't have more untrained artists than highly trained artists – it's a matter of saying, 'This looks good in this space.'"
Faginas told us that her introduction to the Baltimore art scene came while studying Studio Art and Photography at Notre Dame University of Maryland.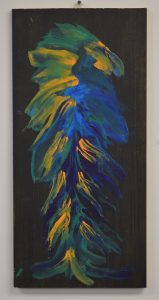 "I just branched out from there, and working with Troy has given me the opportunity to meet more artists. So, I have a compendium of art and artists I can turn to, when I start working on a show. It's really a collaborative effort in achieving the final vision.
"I'm often asked by artists, who are interested in participating, if they can get on a call list. My best advice for them is to reach out to me directly via email, saying, 'Hey, this is my website, this is my work, this is the kind of art I do.' We may not be able to utilize their work for that cycle, but there may be a perfect spot for other shows moving forward."
Germano Gomez – Assistant Vice President of The Harbor Bank Community Development Corporation – told the Baltimore Post-Examiner the bank is thrilled to have the work of so many local artists adorning the business center.
"This event came about as a collaboration between The Harbor Bank Community Development Corporation and The Luvs Art Project. What you see here is really the heart and soul of the center."
Officially, the sixth-floor space of Harbor Bank's West Fayette Street headquarters is called the Joseph Haskins, Jr. Center for Community and Economic Development. Gomez said The Harbor Bank Community Development Corporation utilizes the space for an array of events.
"This space evolved as a co-working space to stimulate small business development and growth.
The beauty of working with the Luvs Art Project is they are so connected, and that brings people here in a way which further extends those bonds," said Gomez.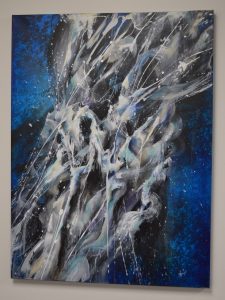 "We just feel that art is a reflection of the society and we want to honor that. Regardless of how far we go on the business end, we want to remember that this is a community, and that's what makes our space what it is."
The Renewal Show runs now – April 11, 2019
Featuring artwork by:
McKinley Bryson
Kevin Curtiss
Aquilina Faginas
Haley Horton
GAbato
Starla Little
Qrcky
R. Pollard
Rick Santiago
This event is located at The Harbor Bank of Maryland's Main Branch, 25 West Fayette Street, on the 6th floor in The Joseph Haskins, Jr. Center for Community and Economic Development. Those wishing to schedule a viewing time outside of the event/reception hours should contact Luvs Art Project.
For more information, check out the Luvs Art Project Facebook page.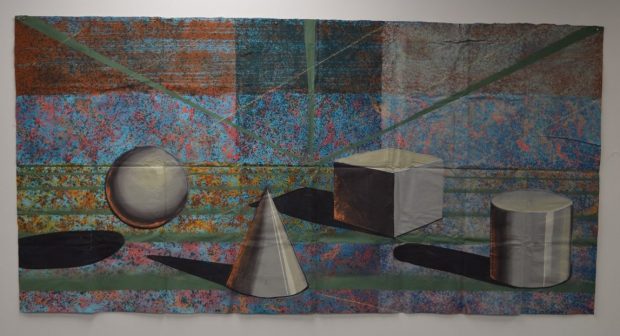 Anthony C. Hayes is an actor, author, raconteur, rapscallion and bon vivant. A one-time newsboy for the Evening Sun and professional presence at the Washington Herald, Tony's poetry, photography, humor, and prose have also been featured in Smile, Hon, You're in Baltimore!, Destination Maryland, Magic Octopus Magazine, Los Angeles Post-Examiner, Voice of Baltimore, SmartCEO, Alvarez Fiction, and Tales of Blood and Roses. If you notice that his work has been purloined, please let him know. As the Good Book says, "Thou shalt not steal."