The power of a supercar engine on your wrist- the exciting launch of the Aventi Superwatch
The Aventi A-10 is a Superwatch made with one theme in mind : the Supercar. This relentless pursuit has resulted in a serious heavyweight in watchmaking. Read on to find more.
Carbon Fiber. A V12 engine. Ceramic paint. Sapphire Crystal. These are the materials that go into a Supercar, as well as an Aventi superwatch. Aventi is a cutting-edge new brand taking inspiration from some of the finest supercars on the planet and bringing that power and feeling of exhilaration to your wrist.
A supercar is the ultimate machine, sitting between cutting edge technology and inimitable art. Aventi aims to replicate that same feeling for its customers: for a price point far lower than its high-end competitors.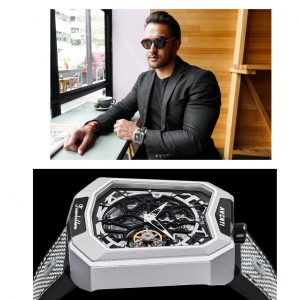 The founder, Hannu Siren, is a self-professed horologist and supercar enthusiast.
"Luxury watches and high-end cars share a lot in common," states Hannu, "It takes a certain level of detail to really showcase what is going on under the surface. Aventi was made keeping that same level of attention to detail – the best materials, perfected by some of the most advanced tooling on the planet."
The Supercar inspiration is evident from the moment you lay your eyes on the timepiece. A sleek, titanium case protects the engine of this Superwatch: a skeletonised tourbillon with double barrel hand winding.  The case itself is automotive grade titanium with Cerakote coating. This duo creates a scratch, corrosion and nearly damage-proof shell. The sapphire crystal window exposes the entirety of the movement so that every turn, twist and rotation is on display. Finally, the case is embellished with a generous coating of lume which glows bright in the dark – a look that is reminiscent of the dashboard of a supercar at night.
The watch as a whole seems more car than watch.
Endless lines and curves, it resembles the body of a high-performance vehicle more than a delicate luxury watch.
"We decided to really stick true to the core inspiration for this brand, this idea, Hannu explains, " It reflects in everything – the specifications, the colours, the marketing, the brand message. All of it goes back to the same thing : a supercar."
Even the colour options take inspiration from racing pedigree. Among the colour options are Rosso Red, Nardo Grey, Modena Yellow, Viola Purple, Nero Black and Pearl White. The pristine surface and brilliance of these colours are achieved by the use of Cerakote – a ceramic finish designed to be nearly indestructible.