Sylvester Stallone hush money leaves unanswered questions
In my last article I briefly covered a multimillion-dollar settlement deal that was made in 1987 between Sylvester Stallone and his half-sister, Toni Ann Filiti. The payoff was hush money to silence Filiti's claim that Stallone had sexually abused her for years.
As part of the deal secret audio recordings, allegedly conversations between Stallone and Filiti that could have bolstered her claims of abuse, had to be destroyed as part of the settlement agreement.
I have since obtained documents relating to the settlement agreement, the trust agreement and also a copy of the $2 million dollar check that was paid to Toni Ann Filiti (pictured in the top photo).
According to a draft of a Verified Complaint that was to be filed in US District Court for the Southern District of New York in 1987, Toni Ann Filiti was requesting a trial by jury and asking for damages in excess of $25 million.
The statement, dated June 29, 1987 reads in part: "Plaintiff Toniann Filiti brings this action against, S., her half- brother, for damages sustained as a result of his sexual assaults on her over an eight-year period, from 1979 through 1987. Defendant's actions constitute a pattern of tortious incest, assault and battery, and negligent infliction of emotional distress which has continued until February 1987.
"Throughout plaintiff's childhood, defendant held himself out to plaintiff as her guardian and protector, and as an authority figure. In many respects he purported to serve as a surrogate parent to plaintiff.
"Starting in or about 1979, and continuing to on or about March, 1987, defendant terrorized plaintiff through repeated forcible sexual assaults, which included molesting her, ripping her clothes off, forcing himself upon her, forcibly engaging in sexual acts against her will, including sexual intercourse and oral/genital sex, and otherwise restraining her from escaping from him through physical force and intimidation.
"Defendant prevented plaintiff from revealing his pattern of physical, sexual and psychological abuse toward her by threatening to harm her and their mother with serious injury, thus putting her in fear for her and her mother's life. Plaintiff reasonably believed defendant's threats, and acted according to them, because defendant had always held himself out to her as an authority figure and a person of sufficient power, wealth, and notoriety to be able to carry out his threats. In that regard, upon information and belief, defendant has employed bodyguards and others to injure people at defendant's instructions. Moreover, defendant, himself, has inflicted grievous bodily harm on others without justification and out of sheer malice.
"It was not until April, 1987 that plaintiff was able to seek assistance to help her try to stop defendant's ongoing pattern of physical, sexual, and psychological abuse.
"As a direct result of defendant's conduct, plaintiff suffered and continues to suffer severe physical injury, and severe and permanent psychological and emotional pain and trauma, including, but not limited to, severe distress, humiliation, anxiety, and depression. She has been unable to function in a work situation, and for a period of years has been a recluse.
"As a consequence of defendant's familial relationship with plaintiff, his holding himself out as a trustworthy, protective brother, as a role model and an authority figure, and as a result of the shame and humiliation of being forced to commit acts of incest with her half-brother, and the fear and terror which defendant inflicted on plaintiff, plaintiff was unable, psychologically, to take steps to help herself or to seek help.
"In or about March 1987, plaintiff reached a stage of such complete emotional and psychological deterioration that she was compelled to enter psychological therapy, despite her terror of her brother. As a result of her therapy, plaintiff became psychologically able to take steps to help herself and to end her brother's physical and sexual abuse of her.
"Plaintiff's injuries were the cumulative result of defendant's series of wrongful acts during the period from 1979 through 1987. Her injuries are not divisible nor attributable to individual wrongful acts by the defendant, but to his pattern of physical, sexual and psychological abuse."
The case never made it to the courts. And one can see why with the seriousness of the allegations and how it could have impacted Stallone's career back in 1987.
So very quickly his damage control team came in to quell Toniann Filiti's claim of years of abuse.
This remained out of the public domain for almost twenty-five years.
On July 30, 1987 a settlement agreement was made between Toniann Filiti and Sylvester Stallone.
According to the agreement, Stallone vigorously denied and continued to deny and dispute all the Claims of wrongdoing.
In addition to a lump sum of $2 million dollars, Filiti was also awarded $50,000 for medical bills and psychiatric care, every year for the remainder of her life, in addition to monthly payments of $16,666.
One thing that is very interesting is the following passage in the settlement agreement: "Plaintiff further agrees that she will not disclose, divulge, or reveal to any person or entity any of the terms or conditions of this Settlement Agreement, the Claims or the contents of any of the tapes or copies … Plaintiff shall not be prohibited from making any statements or disclosures to her husband, provided that he shall thereafter be bound by all of the Plaintiff's obligations of confidentiality … To a licensed psychiatrist, medical doctor, psychologist with a Ph.D. or licensed or certified psychiatric social worker treating Plaintiff, where such statements or disclosures are made in confidence for the purpose of obtaining treatment, and provided further that such disclosures and statements are protected as confidential communications under the law."
The reason why I believe this is important is because any victim of sexual abuse, and or incest who would be seeking help or treatment in dealing with what happened to them has to talk about it with their therapist. Also, wouldn't being the victim of such abuse also affect your relationship with your spouse? That is the only reason why that was in the agreement, I contend.
According to the settlement papers, Filiti was to deliver to her counsel, the originals of any and all tape recordings of conversations in which Stallone participated, together with any and all copies of any such tapes, any transcripts of such tapes or any other memoranda or other writings or reproductions stating or containing any of the contents of such tapes.
Also, within twenty-four hours following the closing of the Settlement Agreement, Filiti's counsel and her father, Anthony J. Filiti, had to jointly destroy all such tapes and copies.
Sylvester Stallone signed the agreement on July 31, 1987 in Los Angeles County, California. Toniann Filiti signed the agreement in New York County, NY on August 3, 1987.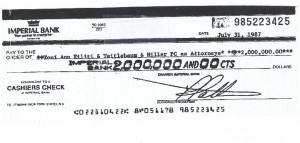 This story originally broke in the media in 2013, after the death of Toni Ann Filiti in 2012, who succumbed to lung cancer.
One big question that has never been answered as of this date and that is, what was the incriminating evidence that was on those tapes?
Whatever it was that those conversations would have brought to light, obviously would not have been favorable to Stallone, as the Settlement Agreement demanded the tapes be destroyed.
But a source close to the family has told me that not all the tapes were destroyed.
Some of those tapes could possibly surface in the future.
There is also talk of video and photographic evidence that may be still out there that could support Filiti's claim of sexual abuse and incest.
It appears that Toni Ann Filiti did talk to others about the abuse she suffered from Stallone. A friend of Filiti's told me that the abuse was real and that the sexual abuse did occur.
Filiti's son, Edd has also maintained that his mother was telling the truth and had told him about the abuse she suffered from Stallone.
Also, allegedly compromising photographs were taken at the Carlyle Hotel in New York in the 1980s. Photographs of Stallone, Filiti and Brigitte Nielsen, whom Stallone was married to from 1985 to 1987. These photos were allegedly taken prior to the 1987 settlement agreement.
Stallone has denied the allegations of abuse and Stallone's mother, Jackie Stallone, told the media in 2013 that Filiti blackmailed Stallone and that it was nothing more than a shakedown.
Of course Toniann Filiti was not around to defend herself when her mother made those statements to the press because she had died the previous year.
What Jackie Stallone said though was very interesting. That it was blackmail and a shakedown.
As is usually the case with any blackmail attempt, one has to have something that incriminates the person being blackmailed, which usually ends up in a payoff to the accuser to keep them quiet so as not to bring the allegations to light.
What Toni Ann Filiti allegedly had was her account of what happened to her during the late 1970s and into the 1980s and also what was on those audio recordings.
So to dismiss this off as just a shakedown is to say the least, just a little disingenuous.
From my experience in over thirty-five years of conducting investigations, the corrupt will always call their accusers liars. Happens all the time. Discredit the accuser by any means necessary to save your own butt.
The Settlement Agreement that was signed by both Stallone and Filiti also included a no-contact clause other than through counsel.
The Agreement states: "… the parties each agree not to directly contact, communicate with, or harass each other. Neither party will instruct or encourage any person to contact, communicate with, or harass the other party to this Agreement. Nothing herein is intended, however, to prohibit the parties from contacting each other through the other party's counsel."
I obtained a copy of a letter from a source close to the family, reportedly written by Sylvester Stallone in 1989 and sent to Toniann Filiti.
Less than two years after signing the Agreement, Stallone for whatever reason, wanted to connect with Filiti.
The letter reads as follows. [Some lines at the bottom of the pages are missing and one word as I note is not readable.]
Dear Toni Ann,

It certainly has been an eternity since we last spoke or "Debated" which is what we usually do; and I guess it is safe to assume that we've both have gone through an extraordinary amount of changes, "Highs and Lows," "Peaks and Valleys" that leaves one to conclude that "life" must be digested with large helping of humor or it surely will never pass through our system without extensive damage — so what this means is I've simply made it a quest to lighten up and gather back all, – (and there aren't many)

So as we move into this decade it is my main desire to be reunited with those few special people that have touched my life, like yourself, who through a natural wit and innate intelligence can observe life for the insane folly it is — Like Shakespeare quoted "to those who feel life is a tragedy, to those who think life is a comedy." So basically what I am saying in a very convoluted way is I miss your presence in my life, and hope the feeling is mutual. I truly hope we can mend our differences because I remember the [unreadable] times with you and want

Several years have past I do want you to know that I care for you and would come to your defense if ever you needed it — you are my sister, and your presence will always retain a wonderful spot in my heart. Hopefully when I arrive on the east coast we can meet and share a laugh once again. Love Sly.
Jackie Stallone commented to the media in 2013 after the story surfaced and called her daughter a drug addict at the time she made the allegations in 1987. She said, "Toniann was on 65 OxyContin pills a day. A drug addict will do anything."
Like I said earlier, Toni Ann Filiti was not around to give her side of the story in 2013.
But one question we should ponder is why Stallone's half-sister resorted to substance abuse. Many victims of rape, incest and sexual abuse do end up becoming either abusers of alcohol and or drugs.
According to the Rape, Abuse and Incest National Network there are several reasons why victims of abuse report using substances like drugs and alcohol: wanting to feel better; trying to numb or escape the pain; fear that family or friends won't understand; confusion or self-consciousness about the experience and lacking an effective support system or care.
I also received information before I wrote this story concerning Toniann Filiti's cancer diagnosis. A source close to the family told me that in January 2012 Filiti and her son Edd were traveling in Florida when she fell ill. Edd took his mother to Aventura Hospital for emergency medical treatment. After undergoing several tests and examinations Filiti was diagnosed with Stage 4 lung cancer. Filiti died a few months later.
According to this source Filiti had been receiving doctor-prescribed narcotics from Stallone's stepfather, Dr. Stephen M. Levine, who Jackie Stallone married in November 1998.
If Levine had in fact been prescribing medication to Filiti before her death as is alleged by my source, one would have to ask the question why didn't Filiti know about her cancer before the diagnosis in Florida and was she ever examined by Levine while he was allegedly prescribing medication to her.
As for Dr. Stephen M. Levine, his past is not without controversy. After researching Levine's past history, I said to myself, how the hell is this guy still licensed to practice medicine.
In 1985 Levine was charged with murdering his Demerol-addicted wife with an overdose of the pain-killing narcotic. Levine allegedly issued more than 225 Demerol prescriptions — made out to a fictitious person — to his wife, Myrna Levine, during the last 14 months of her life.
According to the police, Stephen Levine procured the prescriptions under the name Robert Kaufman and used the address of a Beverly Hills house that had been unoccupied for several years.
Myrna Levine died in May 1984. An autopsy reportedly detected a level of Demerol in her body 24 to 48 times that would be present under normal medical use.
Levine's brother, another doctor, Dr. David Lawrence Levine, allegedly signed his sister-in-law's death certificate listing the cause of death as cardiac arrest and a seizure disorder.
In 1986 Dr. Stephen M. Levine plead guilty to involuntary manslaughter and illegally prescribing Demerol that led to his wife's death. Levine was sentenced to 180 days in the Los Angeles County Jail. He was also sentenced to five years' probation.
How did Levine get off with such a light sentence after having been charged with one count of murder and felony 44 counts of illegally prescribing Demerol?
Well, in a March 6, 1986 plea bargain agreement, he was allowed to avoid a state prison term by pleading guilty to the lesser involuntary manslaughter charge and five counts of prescribing drugs illegally.
Levine's brother, Dr. David L. Levine who was originally charged with three counts of being an accessory after the fact to murder and to violations of the health and safety codes, he was permitted to plead guilty to just a single health code violation of being an accessory after the fact. David Levine was sentenced to one year's probation and fined $2,500.
In my opinion this was a travesty of justice, a disgrace.
But that wasn't the end of the story on Dr. Stephen M. Levine.
Documents from the California Division of Medical Quality, Board of Medical Quality Assurance from 1986 indicate Levine came under disciplinary action from the Medical Board.
According to the complaint filed by the Medical Board, on June19, 1986, on or about August 19, 1971, the Board issued physician and surgeon's certificate number G021183 to Stephen Marcus Levine, M.D.
The complaint goes on "… that a board may suspend or revoke a license on the ground that the licensee has been convicted of a crime, if the crime is substantially related to the qualifications, functions, or duties of the profession for which the license was issued.
On or about April 25, 1986, in the Superior Court of California, County of Los Angeles, in a case entitled "People v. Stephen Marcus Levine," case number A771378, respondent, following a plea of guilty, was convicted of one count of involuntary manslaughter in violation of Penal Code section 192(b) and five counts of giving a false name and address in connection with the prescribing, furnishing, administering, or dispensing of a controlled substance in violation of the Health and Safety Code section 11174. Respondent was then placed on probation for a period of five years upon certain terms and conditions.
For the period from approximately July 1983 through May 10, 1984, respondent issued prescriptions for Demerol for his wife, Myrna Levine, using the false patient name of Robert Kaufman. The Demerol was used by Mrs. Myrna Levine, who on or about May, 12, 1984, died from an overdose of Demerol. "
In a supplemental accusation from the Medical Board, dated October 2, 1986, states, on or about March 13, 1986, respondent executed and caused to be submitted a renewal application for DEA registration to the Drug Enforcement Administration. In said application, respondent answered, "Yes" to the question: (b) has the applicant ever been convicted of a felony in connection with controlled substances under State or Federal law, or ever surrendered or had a CSA registration revoked, suspended, or denied? Respondent submitted the following statement in explanation to said answer:
"Entered plea of guilty on 3/8/1986 to 5 counts of violation Calif. Health and safety Code 11175 of prescribing in a false name and address. The false name and address were for a patient I examined and who was introduced to me as my father-in-law by my wife."
In truth and in fact the prescriptions which were the subject of the guilty plea were for respondent's wife, not for a patient, and respondent had not examined said individual.
In April 1987, Dr. Stephen M. Levine stipulated to the charges brought by the Medical Board. Levine voluntarily waived his right to an administration hearing. The Board revoked his medical license, then stayed the revocation and placed Levine on probation for five years, suspending Levine from practicing medicine for six months.
The order became effective on July 22, 1987.
Dr. Michael M. Levine's medical license was fully restored by the State of California and he continued to practice medicine. A disgrace in my opinion.
Toni Ann Filiti was not around to defend herself when her allegations of incest and sexual abuse committed by Sylvester Stallone almost twenty-five years earlier surfaced in 2013.
But that is not the end of the story.
The truth has a funny way of creeping out. Sometimes many years after an incident happened, other facts and witnesses come to light.
In this case, there may still be a light waiting to shine on the truth.

Doug authored over 135 articles on the October 1, 2017 Las Vegas Massacre, more than any other single journalist in the country. He investigates stories on corruption, law enforcement and crime. Doug is a US Army Military Police Veteran, former police officer, deputy sheriff and criminal investigator. Doug spent 20 years in the hotel/casino industry as an investigator and then as Director of Security and Surveillance. He also spent a short time with the US Dept. of Homeland Security, Transportation Security Administration. In 1986 Doug was awarded Criminal Investigator of the Year by the Loudoun County Sheriff's Office in Virginia for his undercover work in narcotics enforcement. In 1992 and 1993 Doug testified in court that a sheriff's office official and the county prosecutor withheld exculpatory evidence during the 1988 trial of a man accused of the attempted murder of his wife. Doug's testimony led to a judge's decision to order the release of the man from prison in 1992 and awarded him a new trial, in which he was later acquitted. As a result of Doug breaking the police "blue wall of silence," he was fired by the county sheriff. His story was featured on Inside Edition, Current Affair and CBS News' "Street Stories with Ed Bradley". In 1992 after losing his job, at the request of the Federal Bureau of Investigation, Doug infiltrated a group of men who were plotting the kidnapping of a Dupont fortune heir and his wife. Doug has been a guest on national television and radio programs speaking on the stories he now writes as an investigative journalist.