Super Bowl LIII is set and controversy leads the way
First Down: The NFC and AFC titles and a trip to the Super Bowl were on the line this past weekend. Unless you are the New England Patriots, this is a rare opportunity for teams to claim a title that does not present itself all that often. Many former players talk about how they failed to appreciate the moment because they were so young when they first played in a title game only to go on to a long career and never get the chance to play in a big game again. It is just one of the many reasons the NFL is often referred to as standing for Not For Long.
That said, last weekend offered up two games between the young and the ageless. Tom Brady and Drew Brees, whose combined ages are somewhere around 267 years, faced off against Patrick Mahomes and Jared Goff, whose combined ages are closer to fifty. The one thing the four quarterbacks had in common is they were tasked to lead their high powered offenses to mask the deficiencies of their defenses.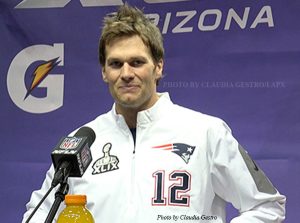 Consequently, high scoring games were the trendy pick while everyone seemed to ignore the concept of defenses winning championships. While today's NFL is designed to keep the games moving and scoring at a fast pace, defenses can still win big games. They may have to take a more "bend but don't break" approach, but it is what a defense can do when their opponent is in their red zone that often determines a game's outcome.
This results in what I refer to as Special Teams Win Championships now that kickers seem to be pretty accurate from inside 50 yards when it comes to kicking field goals. If an offense stalls out and cannot make a big play, having a kicker who is accurate from nearly half an end zone away can be a big plus.
Having guys like Drew Brees or Tom Brady leading your offense is an advantage because, while age may be catching up to their arm strength, it is made up for by understanding the totality of the game. They are less likely to make big mistakes inside the red zone and costing their team valuable points than a young gunslinger. They are better equipped at controlling the game's clock and knowing when to drag out a drive to give their defense a much-needed break.
The question this past week was whether or not their experience would out weight the sheer talent of a guy like Patrick Mahomes or the total talent of a solid ground game to go along with big plays from the passing game that Jared Goff has access to.
In the end, you get a sport that shows why strategy, preparation, experience, and talent all come together in what is considered the most difficult team sport to master.
Second Down: Rams 26 Saints 23 If the first game between these two juggernauts was a football version of Rocky I then this sequel was Rocky II, every bit as good as the first, but with a different outcome.
Once again, the Rams fell behind early and appeared headed toward a blowout. However, this time, thanks to some trickery from the punt team and a kicking foot the size of Rocky Balboa's heart, the Rams came out on top in an overtime classic.
The Saints will remember this game for a long time, especially since it might never have gone to overtime had the officials not blown a blatant pass interference call late in the game.
Rather than getting first down on the Rams five for a potential game-winning touchdown, New Orleans had to settle for a field goal and handed the ball back to L.A. with enough time to drive for a game-tying field goal. However, let's not forget, those same officials did not do the Rams any good when they missed a face mask call that might have cost the Rams a game-winning touchdown.
In overtime, Sean McVay tossed caution to the wind and decided to attempt a 57-yard field goal rather than put the ball back into the hands of Drew Brees. While it was a decision that defied conventional wisdom, it was also one that defined this Rams team. They were not afraid to put their defense back onto the field while at the same time not being afraid to go for the win.
Because of the late blown calls, we can expect renewed interest in reviewing missed penalties, especially late in the big games. Whether a change is made in the offseason or not, it won't matter to this Saints team. Perhaps they use it as motivation for next season or perhaps the window for them to win another Super Bowl with Drew Brees at quarterback just flew the coop.
What we do know is this is a Rams team that has heart and will not be easy to beat when the Super Bowl is played. They are deep on offense, talented enough on defense to hold the Saints well below their season scoring average, and now willing to place the game's outcome onto their special teams.
Imagine what Sean McVay will come up with next.
Third Down: Patriots 37 Chiefs 31: Who would have guessed such a low scoring affair through the first three-quarters of the AFC Championship? Who would have guessed 38 points scored in the fourth quarter after such a low scoring game?
Like the NFC title game, the Chiefs and Patriots played a rematch from a regular season classic and turned in another game for the ages. For anyone who might have thought Father Time had caught up to Tom Brady, they were wrong. For the third straight year, the New England Patriots will move on to the Super Bowl and play the Los Angeles Rams.
For the Chiefs, this is going to be a long offseason. They had home field advantage, a red hot star quarterback, enough offensive firepower to scare any team, and an opponent who seemed to finally be mortal this season.
After being stymied for three quarters, you have to give credit to the Chiefs for not folding when they could have several times. It's tough enough to have to score 24 points on any Patriots team. To do so in one quarter just to send the title game into overtime shows you this Chiefs team had no quit in them.
However, when you give the football to Tom Brady in overtime with a tired defense left to stop him, there is virtually no chance you will win the game. Brady, as usual, made sure of this and now we have a fantastic Super Bowl to look forward to.
Fourth Down: By now, you either love or hate the Patriots after their eighth straight trip to the conference championship game, not to mention their soon to be ninth Super Bowl in the Belichick/Brady era. Say what you want about this team, but they play the game with all their heart and have no interest in ever easing up. It's why you still see vets like Julian Edelman and Rob Gronkowski contributing at a time other players would call it a career.
We forget the cumulative effect that goes with playing an extra three games a year for nearly a decade and what it can do the body. We do not appreciate how each season, this team morphs into something new or never seen before by an opponent on a weekly basis. We fail to grasp what it is like to lose so many assistant coaches and have to replace them with men who can keep up with the demanding Bill Belichick, or how many players come in as seemingly unknown role players who turn out to be wonderful examples of the scouting talents of team Bill.
I suppose, if you hate this team, you are saying to others how lucky they were to win after giving up 24 fourth-quarter points. You will root hard for the Rams to beat the Evil Empire and then cross your fingers next year is the year it all comes crashing to an end for the greatest football run ever.
However, none of this will make a difference to how New England moves on because for now, the only thing they are focused on is their next opponent which just so happens to be the Los Angeles Rams in the Super Bowl. They know they just played a great game and beat a tremendous team on the road, but while we talk about how we feel about them at the water cooler, just remember, they have put Sunday behind them and are now in "business as usual" mode. Players and coaches are studying endless amounts of film to find the slightest edge to take advantage of.
Perhaps, in another 18 years, we will be sick of Patrick Mahomes or be calling Sean McVay "Darth McVay." However, for now, the Rams are the good guys in many eyes and the Patriots are the villains. Oddly enough, this all began in a galaxy long ago when the Patriots were viewed as the upstart good guys looking to end the run of the Greatest Show on Turf.
Overtime: Sunday's title games were generational games. Both the Saints and Patriots are led by quarterbacks in their forties who went up against two guys almost young enough to be their sons.
The game has changed tremendously since Tom Brady first entered the league. When his Patriots upset the then St. Louis Rams, we had never seen an offense score like Mike Martz's bunch did. Today, it is expected your offense put up numbers like that Rams team did or field a defense that can shut down opponents (not sure there is one anymore).
The old and new split the results in the two title games and as a result, we are left with a Super Bowl that will be every bit as generational. Not only will it pit quarterbacks who are from a different generation, but it will also pit two coaches, one young and one not so young.
Sean McVay represents all that is cool about football and in many ways is why we have tuned into games by record numbers again. His fresh approach, creative genius, and seemingly fearless attitude is infectious. Meanwhile, Bill Belichick continues what was once the new way and is now anything but that. Still a defensive mastermind, he also knows the direction the game has moved toward and grown to understand how to field an offensive force on a yearly basis.
McVay has relied on an old guard genius of his own, Wade Phillips, to match defensive wits with Belichick. The Patriots have always employed some of the brightest and youngest offensive minds to keep current with the ever-improving offenses in football so do not expect New England to be short on ingenuity.
In the end, what we get is a terrific chess match that will be played by well-coached behemoths who are lucky enough to play in the single largest annual sporting event of the year. I will think about the two teams a bit more before making any predictions. For now, I am going to appreciate how this football season has in many ways been one of the most important in the history of the NFL. It would only be fitting if the Super Bowl turns out to be every bit as great as the two games that led up to it.
Song Dedication: With kickers playing such a huge role, not just in the Conference Championships, but throughout these playoffs, I thought they were deserving a this week's song dedication. Enjoy some INXS and I will give you my Super Bowl predictions next week.
Photos by Claudia Gestro Top photo: Rams placekicker Greg Zuerlein

James Moore is a life long resident of California and retired school teacher with 30 years in public education. Jim earned his BA in History from CSU Chico in 1981 and his MA in Education from Azusa Pacific University in 1994. He is the author of Teaching The Teacher: Lessons Learned From Teaching and currently runs his own personal training business, In Home Jim, in Hemet, CA. Jim's writings are often the end result of his thoughts mulled over while riding his bike for hours on end.