Super Bowl LIII: Defense was the name of the game
I will skip my usual format and get right to it. Going into this Super Bowl, it was easy to see two teams with enough offensive fireworks to break plenty of Super Bowl records. What was lost in all of the hype was there were also two pretty good coaches, Pats Head Coach Bill Belichick and Rams Defensive Coordinator Wade Phillips, who are considered defensive masterminds. Give each of them two weeks to watch film and scheme for an opponent and you are going to see what we saw.
If you tuned into this game expecting offense, you were probably disappointed. However, if you enjoy hard hitting defense mixed with power football, you were treated to an old school football game. There was a point where it seemed like this game should have been played on a muddy field under gray skies while fans sat on bleacher style seats rather than the comforts of a modern stadium. This was an old school game from the start and it was clear it was exactly what Bill Belichick dialed up.
The Rams had to think this was a repeat of the first time these two teams played in a Super Bowl because it was as if the Patriots filmed every practice, every film session, and every coaches meeting the Rams held leading up to this game. No matter what Sean McVay tried, he was never able to get a rhythm going for his offense and the end result was his defense was tasked to play more than expected.
However, the game did not begin so well for the Patriots offense and there was a feeling they may have blown a great chance to jump out to a sizable lead in the first half.
Not only did Tom Brady toss a horrible pick with his first pass, he looked like a backup quarterback anytime he wasn't able to find an open Julian Edelman. The end result was the Patriots managed to control the ball plenty in the first half while only producing three points.
Besides the pick, Brady threw one other equally horrible ball late in the first half, was lucky he was so far off target over the middle on another or it might have been picked, and even missed an open back four yards away on a screen. At times, he looked more like a rookie starting his first game than someone playing his ninth Super Bowl.
However, Brady also managed to find Julian Edelman time and again, managed the clock well, and kept the ball out of the hands of Los Angeles' dangerous offense. Their only question at the half would be whether or not they could capitalize with touchdowns in the second half.
Meanwhile, the Rams were unable to establish any running game. Perhaps Todd Gurley II and his bum knee were a hindrance, but when C.J. Anderson entered, the ground game did not improve. As a result, Goff was forced to remain in the pocket since play action and bootlegs were out of the question.
Goff is outstanding when he can move outside the pocket, but when forced to remain inside it with pressure, he failed to produce. The Rams had to walk off at half time thinking they were fortunate to be down by just a field goal while New England had to be wondering whether or not they were about to face a storm in the second half.
As it turned out, the second half was not any better for Los Angeles. While the game remained close on the scoreboard, there was a sense New England was firmly in control. It is easy to forget that as great a game the Patriot defense played, the Rams defense more than held their own. At some point, it requires an offense to step up and make plays. For the Patriots, it was Julian Edelman, Rob Gronkowski, Sony Michel, and an offensive line that imposed their will.
When New England went up 10- 3 late in the game, there was no thought they might have scored too soon and left L.A. with too much time to drive for the tie. When Jared Goff tossed a floater that fell well short of the end zone for a Stephon Gilmore interception, you just knew New England was not going to let the game slip away.
If this game showed anything, it showed teams can play great defense without having a strong and dynamic outside rusher. We make so much of what a great edge rusher can do, but both the Patriots and Rams relied heavily on dominant inside pushes which forced both Tom Brady and Jared Goff to throw without getting their feet set. Anytime this happens to a quarterback, their offenses fall out of rhythm. The difference was, the Patriots had a plan that allowed them to run the ball and mix in short passes to Edelman to chew up the clock.
For Sean McVay, the offensive genius, he lacked any answers. Neither Todd Gurley of C.J Anderson ran with any effectiveness which negated play action passing. Jared Goff was never able to figure out where the pressure was going to come from because the Patriots managed to bring it from a variety of players and from a variety of angles, rarely ever having to rush more than five men.
It was a long game for a Rams team use to scoring 30 or more points a game and for their defense which was used to their offense controlling the ball, giving them a chance to rest.
In the end, the better team won. This was a masterful job of coaching by everyone on the New England staff. I can't recall the last time a team was so well prepared with a defensive game plan as New England's was. Even with their offense struggling to score points, it was clear, New England had an answer for anything the Rams threw at them.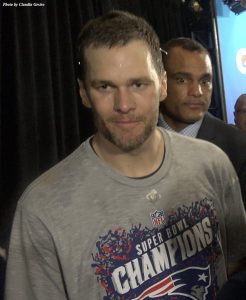 As much as people love to hate New England, they sit on top of the football world again. They may lose a few assistant coaches and let a few key players go in the off season, but expect to see the path to next year's Super Bowl go through this team. They're not going anywhere for a while.
What Next: This will be a long off season for three Rams.
There is no kind way to put it; Jared Goff stunk. It would be one thing if this was just one poor game for him, but the Rams quarterback looked ordinary over the final quarter of the season which has to make some wonder whether or not he will be worth signing to a large second contract.
Goff does not seem comfortable when forced to drop back and stay in the pocket, especially when tasked with leading the team while behind. Teams know if they get up early on the Rams, Goff becomes an ordinary quarterback. While it is true Tom Brady did not play that well, especially in the first half, was there ever any doubt he would raise his game in the second half? Was there that same lack of doubt about Goff?
Goff is only as good as his team's ground game. When the Rams can run the ball, Goff has play action and bootlegs to make him look like an All Pro. Without one, as was the case Sunday, he looks like Ryan Tannenhill.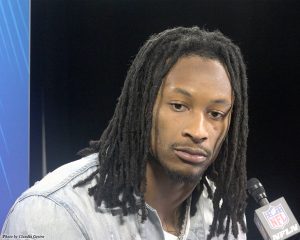 Todd Gurley also has to wonder what happened to him. My guess is, his old knee injury from college came back to trouble him. If that is the case, will it require another surgery or just rest and rehab? The Rams are a far more dangerous team with a healthy Gurley. He is a three down back who can explode for huge runs both inside and out of the tackles and an outstanding receiver. The Rams do not need C.J. Anderson if Gurley is healthy and were fortunate to find him available late in the year.
Do the Rams carry both backs next year and use a running back by committee? If so, do not expect Todd Gurley to embrace the idea. Do the Rams let Anderson walk and watch him go to another team or is he worth investing in as an insurance policy?  The next few weeks will provide us the answers to what kind of a look L.A. has in the backfield next year.
Finally, Sean McVay, the 33-year-old wonder kid coach will wonder how he was so out coached, even if it was by Bill Belichick. It's one thing to come up against an opponent who has a good read on what you want to do. That happens more often than we think. However, great coaches find ways to make adjustments in the middle of games. They are constantly thinking ahead.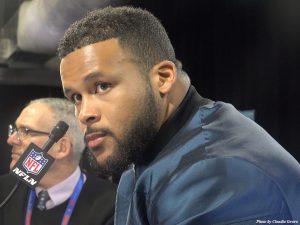 It almost seemed as if McVay was without any ideas as to how to change things up. He never attempted to pull out any gadget plays, give looks New England never saw on tape, or think of drawing up something in the dirt with Goff during a timeout. His was a very flat performance and it will eat at him throughout the off season.
On top of this, McVay and the front office will have to begin making tough calls on players and their contracts. This is a tremendous team with great potential. However, if Goff's game continues to slide as it did late in the year and if Gurley's knee is going to be an ongoing issue, this offense can go from great to mediocre in no time.
On the defensive side, they did not get enough return on their dollars invested in two high priced corners, they still lack an edge rusher, and there is an over reliance on Aaron Donald up front.
The Rams have their work cut out this off season.
For the Patriots, there is no telling what they will do other than morph into whatever it takes to win. Last year, they lacked a ground game and depth in the defensive backfield. This year, they relied on a great ground game and excellent play from the defensive backs.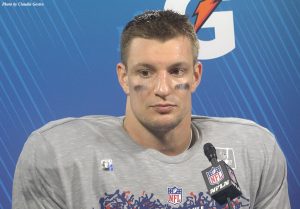 Expect their weakness this year to be strengths next year.
The NFL Does Good: There is a tendency to get caught up in all that is negative about the NFL. Poor officiating, horrible off field behavior, controversial flag kneeling, and questionable minority hiring practices to name a few concerns. However, just like in the real world, most players and most people who earn a living from the NFL are good people.
Living next door to Thousand Oaks and seeing the community reel from twin tragedies striking within hours of each other, it has been uplifting to see and read about all the Rams organization has done to help lift the spirits of those most affected by a horrific mass shooting and destructive wild fire.
The Rams practice in Thousand Oaks and many members of the team live in the community. It would have been easy to see how players could have become consumed by their own evacuations during the midst of their season that they were unable to give back to victims.
However, when players donate entire games checks so surviving family members have access to counseling services after losing a loved one in a senseless shooting or so families can begin rebuilding their lives after losing everything in a fire, you realize these athletic behemoths are caring humans who take the time to think of others while using their financial good fortune to the betterment of others.
The Rams are no different than any other team in that regard. Last year, Chris Long donated his entire salary to educational service programs designed to help others crawl out from a societal hole most get swallowed by. Patriot players gave back plenty when Boston was rocked by bomb explosions during the Boston Marathon. Every team goes all out to help touch the lives of children hit with a death sentence from cancer by participating in the Make-A-Wish Foundation.
The causes teams, players, and owners attach themselves to is endless and all too often kept out of the public eye which is a shame. The league needs more than just TV ratings and our money. They need fans who know when they invest their hard earned money into the NFL, some of that money is used to do a lot of good for people who have been dealt a tough hand in life.
Extra Points: When I return with my NFL coverage, it will be with a proper name for this column. In high school, my big claim to football fame was being the first soccer style kicker in the school's history. I caught my share of flak for it, but like everything else in my team sports playing history, it made me a better person.
With that in mind, when I resume covering the NFL, it will be with a column called Extra Points.As always, thanks to everyone who checked out my weekly NFL thoughts and for passing them on to your football loving fans.
We're just five months away from training camp. Between now and then, we have the combine, free agency, the draft, and of course the usual league shenanigans. For now, take a breath and enjoy a break. I know I will.
Song Dedication: This year's Super Bowl was played on the 60thanniversary of the Day the Music Died. We will never know what might have been had Buddy Holly, Ritchie Valens, and the Big Bopper gone on to live long lives. We just have the music they left us. In another 60 years, we will just have the memories of the greatest football dynasty ever. This week, I dedicate a little Buddy Holly to the Super Bowl Champion New England Patriots. Enjoy.
Photos by Claudia Gestro
Top photo: Patriots wide receiver Julian Edelman who was named the game's MVP

James Moore is a life long resident of California and retired school teacher with 30 years in public education. Jim earned his BA in History from CSU Chico in 1981 and his MA in Education from Azusa Pacific University in 1994. He is the author of Teaching The Teacher: Lessons Learned From Teaching and currently runs his own personal training business, In Home Jim, in Hemet, CA. Jim's writings are often the end result of his thoughts mulled over while riding his bike for hours on end.