Super Bowl betting tutorial if you think you might place a bet
As Super Bowl XLVIII ramps up for Feb. 2, at MetLife Stadium, the teams are in place and the slower than usual ticket sales picking up with the approach of game day.
With a projected high of 38 degrees, which is mild for East Rutherford, New Jersey, this time of year and no precipitation in sight, fears of playing an Ice Bowl instead of the Super Bowl are over. Concern about bad weather and icy conditions held off heavy bettors until a more accurate weather forecast could be made. With that no longer a consideration, they have been heading to the casinos in droves and laying down their bets.
This promises to be one of the most heavily bet Super Bowls in history as the top offensive team meets up with the top defensive team. The Super Bowl, always the most heavily bet sporting event in Las Vegas, is expecting to top $100 million this year. Pictured at the top is the Las Vegas Hilton Sports Book, from a YouTube video.
Although the Seahawks were early favorites to win the game, the Broncos quickly made up time and edged them out and that trend continued while football fans waited to see what the weather was going to do in New Jersey on game day.
This is the sixth Super Bowl for the Broncos but they haven't had a win in 15 years. Their last win was at Super Bowl  XXXIII in 1999 against the Atlanta Falcons when they scored 34 against the Falcons' 19.
The Seattle Seahawks played against the Pittsburgh Steelers in 2006 at Super Bowl XL, losing to the Steelers 21-10. That taste for a Super Bowl win could make them serious rivals against the Broncos even though none of the original players are still on the team.
Russell Wilson's accuracy in 2012 was 77.1 percent completions, the fourth highest rating in the NFL. Although his season this year wasn't as good, we are looking for Wilson to put his talent to use and make a great showing at the game.  No quarterback in his second year has ever gone to the Super Bowl with more wins in his career than Russell Wilson.
The Colts are probably still kicking themselves for letting Peyton Manning go. Manning, who already has one Super Bowl win under his belt, has been making retirement noises even though he has had his best season in his NFL career. This season he has averaged over 339 yards per game in passing with a completion record just short of 69 percent.  If the Broncos win and he does decide to retire, there is no better place to do it than at the top.
Some betting books are showing a predicted final score of 31 Denver and 24 Seattle even though the Seahawks are slightly favored at +3 with a point spread of -115 to the Broncos -3 with a point spread of -135. With that kind of point spread, we are so not going there. You might have a better chance to make a few bucks buying scratch-off tickets at the local convenience store.
The Over and Under is probably a better bet to make, being the total score at the end of the game, with the scores split between the two teams. Since the betting began on the Super Bowl, it has hung in at a total of 47 points.
While the Hawks may be considered by some as underdogs because of their weaker offense, this bettor is thinking the Hawks will take the Super Bowl by one touchdown and it will be at a score over 47.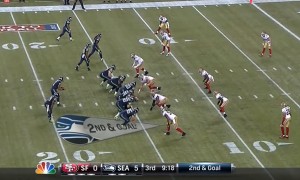 The money line is at +110 for Seattle and -130 for Denver.  So a money line bet of $100 on Denver if they win would return $130 while putting $110 on Seattle would return $100.
As everyone knows, it isn't just the outcome of the game that people bet on and with the odds so close on this Super Bowl there is less betting on the outcome of the game itself.  So you might want to go for some of the prop bets, which, in Las Vegas, constitute a larger part of the betting every year and where you can potentially win a good return on your money for a bet as small as five bucks. Prop sheets are released by the casinos daily and contain an almost endless number of betting possibilities.
Who will score the first touchdown? The money is on Peyton Manning, of course, in the first quarter at  +160 where a $200 bet will win you $320. He is also at +165 in the third quarter for a touchdown and these two bets are probably among the safest ones to make on the game.
In field goals, will both teams make a field goal of 33 yards or more?  With the odds at +170 and some of the NFL's best kickers on both teams, this could be a good bet.
There are some bets to stay away from entirely but we know you are smart enough to figure those out. One example is whether or not the Red Hot Chili Peppers will go shirtless which currently is at -120 for both yes and no.
One of the crazier bets is whether one of the broadcasters mentions the word "marijuana" during the sportscast, since both teams are from states with legalized pot, a running joke on the internet.
A few others are on whether the Seahawk's cornerback, Richard Sherman, will receive a penalty for taunting, on whether during the halftime entertainment singer Bruno Mars will be wearing a hat, whether the stadium loses power during the game (a lot of people are betting that it will), and whether the National Anthem will be  sung in over or under two minutes, 25 seconds.
Disclaimer: Bet at your own risk. We are not responsible for losses incurred if you take our opinion as a sure thing because it is far from that. Experienced gamblers wouldn't do that and neither should you.

I started to write because I developed laryngitis and needed to communicate or burst. It's true. However, once I discovered the written word, I fell in love. I edited and wrote for my college newspaper and wrote articles for various journals after that. I am still working on the great American novel but I have yet to find the one among many starts I want to finish. Above all, I am fascinated with the world and the people in it. I have a dog who sincerely believes he should write instead of me but I steadfastly refuse to show him how to use the keyboard partly because of writer neurosis and partly because I hate his style.