Sinbad and the Pirate Princess: Bond beauties cross swords in new radio adventure
Caroline Munro portrayed the slave girl, Margiana, in the Ray Harryhausen film, The Golden Voyage of Sinbad.
Now, brace yourselves for another thrilling voyage with the most audacious salt of the Abbasid Caliphate.
A ferocious pirate roams the Arabian Sea and Sinbad must stop her!
It has often been said that radio is the theatre of the mind. Spend any summer evening listening to a baseball broadcast and it's easy to understand how our grandparents could wistfully describe in detail everything they "saw" on the radio. From "A fiery horse with the speed of light, a cloud of dust and a hearty Hi-ho Silver!" to "Who knows what evil lurks in the hearts of men?", talented writers, actors, foley artists and musicians created masterpieces of the imagination, then left them hanging firmly in the hearts and minds of an entire generation.
Baltimore actor, producer and writer Mark Redfield – the moving force behind the literary magazine, Poe Forevemore – freely admits to a lifelong love of radio. Over the years, his endeavors have included not only Poe-centered presentations at venues around the Baltimore area, but live performances of such classics as War of the Worlds. Last Friday, Poe Forevermore launched its most ambitious radio drama to date: a re-imagining of the Sinbad legend, entitled Sinbad and the Pirate Princess. The shows are available as I-Tune downloads or in CD form from Poe Forevermore.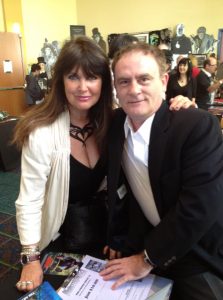 Joining Redfield on the epic voyage are two actresses who have made their careers portraying wildly alluring, adventuresome women: James Bond beauties Martine Beswick and Caroline Munro. Along with the Bond films (Beswick in From Russia With Love and Thunderball; Munro in The Spy Who Loved Me) both actresses appeared in various Hammer Studio horror films. Munro also portrayed the slave girl, Margiana, in the Ray Harryhausen film, The Golden Voyage of Sinbad.
We caught up with the trio as they were signing autographs last fall at the Mid-Atlantic Nostalgia Convention, where pleasantries provided a springboard to learn about the radio show.
"First of all, I'm incredibly excited to be working with Mark Redfield," said Munro. "I've known him for a good few years, and I've always admired his work. He's just a super actor, so I'm glad I got to work with him. A couple of months ago, we did The Black Cat together. That was just a two-hander, and it was a lot of fun. This time, he's written this wonderful script for Sinbad and the Pirate Princess. Martine and I were coming to Baltimore to do the Nostagia Show, so we came a bit early to record Sinbad, with Mark and a group of other fine actors. It's a wonderful adventure."
Had Munro ever done any radio work?
"Not really. I've done various things on camera; I just did a reading on camera with Gary Oldman and Juliet Landau, but that is yet to be released. I did do a Dr. Who with Peter Davidson, where I played a naughty character, but that's about it, so I loved doing this radio-type show. You can just fall out of bed and come in; you don't have to bother with anything much. Again, just working with Mark. I hope we do more. I'd seen him on the stage, but working with him as a director was fab. I'm really excited to do more!"
Martine Beswick also admitted she is new to radio theatre.
"Sinbad is the first one I've ever done, and I absolutely loved doing it. I play this bad-ass baddy, and I'm hoping to do more. My background wasn't in theatre, but in film and I love doing film.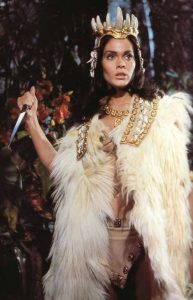 "The challenge in doing a radio style play is that you have to create visually, without anybody actually seeing you. You've got to create a reality, and that is a challenge. Otherwise, you are just reading. You have to get behind the character, just as you would on film, while creating something the audience can visualize. You have to put colors in there in order for the character to be full. It's really an interesting process, to actually feel it and not simply be melodramatic. (Laughing) Don't ask me if I've succeeded, but that's what I was trying to do. I was a little scared at first, but now I'm ready for more."
"Poe Forevermore is a two-fold endeavor," explained Redfield. "It's the literary magazine with horror and science fiction, but its sister activity is Poe Forevermore Radio Theatre. The radio shows take the same idea – mystery stories, horror, science fiction, mythology, etc., and doing new audio plays; radio plays for the 21st Century."
Redfield said the chance to work with Munro and Beswick sparked the selection of the Sinbad story.
"We chose to do the Sinbad piece based on Caroline's history with her film, The Golden Voyage of Sinbad. Again, she plays the pirate princess of the title, and Martine is the bad guy. We're also doing some other things with Caroline. Harker and the Shadow of Dracula, which is an original piece as well. It's sort of a sequel to the novel Dracula, mixed with John Steed and Mrs. Peel from The Avengers, so we're having some fun with these two wonderful stars."
Redfield credits "A great guy" – Mark Maddox – with executing "the very Ray Harryhausen art" for the Pirate Princess cover, and Jennifer Rouse for her work with the audio design and editing. Robert F. Sprowls & Johanna Supensky are the Executive Producers of the series. J.R. Lyston, Ron Burr, Bell Burr, Eric Supensky and Mary Anne Perry round out the cast.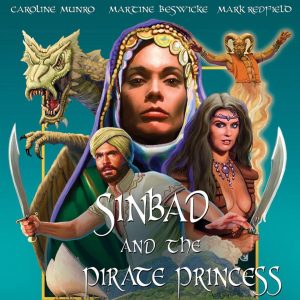 "We're using all kinds of modern techniques, but it's still actors dramatizing scenes – not audio books. The shows are dramatized with music and sound effects; full productions. Some of the stories run 30 minutes, but what we're working on now – Tom Mix, Sinbad and the Pirate Princess, Harker and Dracula, and the entire Vampire Hunter series – these are longer form. They will run ninety minutes, but on I-Tunes they'll be broken down into three 30 minute chapters.
"The whole thing of doing radio plays has been on my bucket list for a long time. It's an interesting medium to be writing for. I've gone from writing screenplays with less dialogue, where you have to think visually, to finding ways to paint pictures and provoke images in a listener's mind through dialogue and narration and sound effects. Frankly, I'm loving working in the medium."
Redfield's love for the medium is also melding with his longtime fascination: the life and works of Edgar Allan Poe. The end result is a 10-hour biography of Poe titled, "Alone". Redfield promised more to come on that project. In the meantime, Poe Forevermore is offering a full slate of radio shows. So, brace yourselves for another thrilling voyage with the most audacious salt of the Abbasid Caliphate. A ferocious pirate roams the Arabian Sea and Sinbad must stop her!

Anthony C. Hayes is an actor, author, raconteur, rapscallion and bon vivant. A one-time newsboy for the Evening Sun and professional presence at the Washington Herald, Tony's poetry, photography, humor, and prose have also been featured in Smile, Hon, You're in Baltimore!, Destination Maryland, Magic Octopus Magazine, Los Angeles Post-Examiner, Voice of Baltimore, SmartCEO, Alvarez Fiction, and Tales of Blood and Roses. If you notice that his work has been purloined, please let him know. As the Good Book says, "Thou shalt not steal."