Seth Rogen's The Night Before lacks holiday cheer
2 out of 4 stars
If jokes can be made about drugs, booze or a private part, Seth Rogen's your guy.
Want to make jokes about impregnating a chick out of wedlock? Knocked Up made $219 million at the worldwide box office. How about some good marijuana humor? He rode Pineapple Express to $101.6 million. How about wise cracks about losing your virginity? Superbad took $169 million to bed. Pornography? He made one with Miri. And don't even forget his biggest ode to debauchery: Neighbors, last year's smash hit that lit it up for $270 million.
Rogen's latest film, The Night Before, is being pushed as his next great stroll down perverted lane, but instead of shining in his Super Bowl, he leaves the audience dazed in the Stupor Bowl.
Sometimes, too much of anything is just too much. How many more times does the audience need to see Rogen play a character higher than Bob Marley? How many more jokes about a certain male body part can be told before they're no longer funny? Answer: Not too many.
And that's The Night Before's downfall. Rogen, along with co-stars Joseph Gordon-Leavitt and Anthony Mackie, just aren't that funny during their drug-and boozed fueled journey to attend the mother of all Christmas parties.
It's a shame, really, since the premise has "hilarious" written all over it.
For each of the past 14 years, Isaac (Rogen) and best friends Chris (Mackie) and Ethan (Gordon-Leavitt) have spent Christmas Eve together getting hammered as their ritual for helping Ethan overcome the tragic death of his parents. But this year is supposed to be the final night of their ritual, as Isaac is close to having his first child with wife Betsy (Jillian Bell); Chris has secretly used steroids to become a huge NFL star after years of mediocrity; Ethan is still Ethan – a lonely wanna-be musician who realizes he wants to win back the love of his life, Diana (Lizzy Caplan). Oh, and the movie starts off with Isaac's wife giving him a present: a box with every drug imaginable and her blessing to smoke, snort and eat them all before the sun comes up.
The Night Before is filled with quips and raunchy humor that has the audience smiling, but never delivers that one definitive scene that fills the theater with laughter, which is what makes Caddyshack, Bridesmaids, Office Space, and The Hangover Franchise so memorable.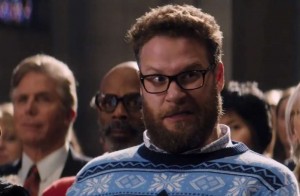 It's Rogen's curse: he has set the bar so high, especially with Neighbors, that it's going to be a daunting task to meet audience expectations. In this case, he hoped The Night Before would benefit by him teaming with director Jonathan Levine and Gordon-Leavitt, his collaborators in the cancer comedy/drama 50/50 in 2011. But the same flaws in that film — namely a lack of humor and character development –plague The Night Before, which carries a laundry list of shortcomings.
The stupidity of Rogen joking about killing his newborn daughter and how the Jews didn't kill Jesus? Check.
The stupidity of Rogen stumbling around the streets of New York in the same drunken haze for basically three-quarters of the film? Check.
The stupidity of regurgitating the seemingly same sex jokes that we've already heard in Rogen's previous work? Check.
The stupidity of casting Mackie as an NFL star when he looks more like a baseball player? Check.
It's as if Rogen took everything that worked in his previous films, repackaged it, called it The Night Before and then presented it as a holiday gift.
But a medicore gift will always be a bad gift, regardless of the giver.

Jon Gallo is an award-winning journalist and editor with 19 years of experience, including stints as a staff writer at The Washington Post and sports editor at The Baltimore Examiner. He also believes the government should declare federal holidays in honor of the following: the Round of 64 of the NCAA men's basketball tournament; the Friday of the Sweet 16; the Monday after the Super Bowl; and of course, the day after the release of the latest Madden NFL video game.