'Sesame Street Live! Let's Party!' to hit Lyric Opera House
KJ Williams may be 33, but he always feels like a kid when he puts on his Elmo suit and takes the stage.
"Elmo is young at heart and so am I," Williams, a Baltimore County native, said. "When the kids in the audience see me you see the shock on their faces because for most of them, they are seeing Elmo for the first time live instead of on television."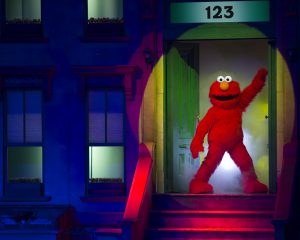 Elmo will join his Sesame Street buddies Abby Cadabby, Big Bird, Grover, Oscar the Grouch, Rosita, Cookie Monster and others when "Sesame Street Live! Let's Party!" visits the Modell Performing Arts Center at the Lyric in Baltimore on Nov. 17 at 10:30 a.m. and 2:30 p.m.
"The characters, songs, and lessons of Sesame Street are timeless because adults and children feel encouraged to participate in the content," producer Nicole Feld said.  "For this new approach to Sesame Street Live!, my vision as a producer, and also as a parent, is to create an equally engaging live experience that welcomes the entire family to dance, sing, and play with these fun characters and each other."
The story centers on emcees Casey and Caleb planning a party – with the audience's help. The show stresses teamwork between the characters and the audience to make the party happen.
"It's a highly interactive musical that really gets the audience involved," Williams said. "It's a really fun show."
But it is Sesame Street, so fans can expect to sing songs, including "I Love Trash" and "C is for Cookie.  Fans will get to dance with Elmo, enjoy the mischivious magic of Abby Cadabby, fly with Big Bird and experience Spanish culture with Rosita.
"Sesame Workshop is proud to partner with Feld Entertainment on this new chapter for Sesame Street Live!" said Scott Chambers, Senior Vice President and General Manager of North America Media and Licensing at Sesame Workshop. "We are both committed to creating experiences that deepen our connection with families, and this new production supports Sesame's mission of helping children grow smarter, stronger, and kinder in an unforgettable way."
Sesame Street Live! Let's Party!
Where: Modell Performing Arts Center at the Lyric
When: Nov. 16 at 10:30 a.m.
Tickets: Start at $20 and can be purchased here.

Jon Gallo is an award-winning journalist and editor with 19 years of experience, including stints as a staff writer at The Washington Post and sports editor at The Baltimore Examiner. He also believes the government should declare federal holidays in honor of the following: the Round of 64 of the NCAA men's basketball tournament; the Friday of the Sweet 16; the Monday after the Super Bowl; and of course, the day after the release of the latest Madden NFL video game.