Oven Roasted Vegetable Medley
Sprouts, 'nips and carrots
Serves 6
Roasting is a great way to bring out the flavor of vegetables and free yourself up in the kitchen. The oven-roasting method for this particular trio of vegetables can be applied to lots of other combos with equal success.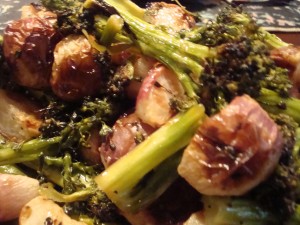 Choose roasting when your stovetop burners are occupied or the oven is already heated up for another purpose, such as baking a rack full of potatoes. It's also the right route to go if you are expecting company and you want a passive, idiot-proof recipe. The vegetables can be prepped the day before and slipped into the oven before your guests arrive. The hardest thing you will have to do is set the timer (a cook's best friend).
Tips for roasting vegetables
The trick to any medley is to find beautiful combinations that take the same amount of time to cook. Group tender, quick-cooking vegetables and hard root vegetables in separate pans to allow for different cooking times. Use your artist's eye to create compositions with good contrasts of color, shape and texture. Rule of thumb: If you can find it at your farmer's market growing locally and in season all at the same time, it will probably go well together in a medley.
It's also important not to crowd your vegetables—if you do, they'll end up steaming instead of roasting. So you need to choose a shallow pan that is large enough to accommodate everything without overlapping. Having just said that, it may seem counter-intuitive to cover the vegetables with foil. But sealing in their natural moisture allows everything to tenderize in a quarter of the time it would otherwise require—15 minutes instead of the typical hour—while the blazing oven temperature heats the bottom of the pan, browning the vegetables and converting their starches to sugars.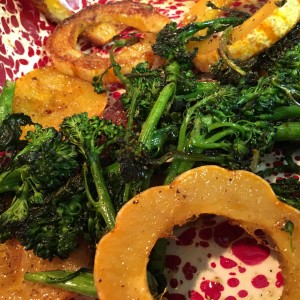 A tribute to parsnips: You may not have taken the time to acquaint yourself with parsnips, an old-fashioned sort of root vegetable that deserves a second look. Parsnips are innately sweet, with a taste somewhere between a starchy carrot crossed with the peppery bite of a turnip. When they are blasted in the hot oven along with a little olive oil and salt, their sugars caramelize and literally form a crunchy crust on the rim of each white coin that is as irresistible as a sweet and savory potato chip.
Note: You can cover with foil or roast uncovered. Try both ways to discover your favorite method.
6 large Brussels sprouts, trimmed and halved
1 large carrot, halved lengthwise and sliced ½-inch thick half moons or ½-inch coins, depending on diameter
1 medium parsnip, halved length-wise and sliced into ½-inch thick half moons or ½-inch coins, depending on diameter
2 T. extra virgin olive oil
Salt and cracked, black pepper, to taste
Directions: Preheat oven to 400 degrees F
Place vegetables in shallow roasting pan large enough to accommodate them without overlapping. Toss with olive oil, salt, and pepper, to coat.
Cover tightly with tin foil and cook for 15 minutes.
Uncover, loosen gently and turn with a spatula. Vegetables should be browned on bottom and very tender. If they require any additional cooking, roast uncovered for a few extra minutes, checking frequently to avoid drying out.
Variations:
Season with a pinch of dried crushed red pepper or dried herbs like oregano or rosemary before cooking, drizzle hot veggies with lemon juice or balsamic vinegar, or garnish with roughly chopped fresh herbs like parsley or basil.
More vegetables you can roast using the same method: Asparagus, green beans, potatoes, zucchini, peppers, onions, turnips, beets, mushrooms, eggplant, cauliflower, broccoli, leeks, plum tomatoes, garlic (!)
Suggested medleys:
Turnip, carrot, onion, potato
Broccoli and turnip
Zucchini, red bell pepper, onion, eggplant
Asparagus and new potato
Plum tomato and pepper
Beet and carrot

Ruth Goldstein is a retired registered nurse, sporadic journalist, community advocate, and lifelong resident of Pikesville. A practicing vegetarian since she was a college student, she has been inventing recipes and writing about food for more than 30 years. In addition to her cooking practice, her other areas of interest are human rights, end of life issues, teaching English as a second language, and gardening. She spends her leisure time watching British TV dramas, following politics, reading in bed, and dreaming about future art projects.