When you hear the word Ritz or a hotel named Ritz Carlton you know you'll be getting upscale value, a first class operation and great service.  I agree.  However, if you run into a business located in a Ritz Carlton it doesn't necessarily mean the price points are only for a certain audience.  Such is the case with Sip Kitchen Wine Bar, located within the Ritz Carlton condos on Key Highway.  To be sure this is a moderately priced restaurant that opened here in December 2014.
For example, during lunch you can order a kobe burger, which I did, for $13 short ribs are $13  and the Salisbury steak and cake $12.  During dinner the tuna is $15, the pork chop $21 and the pan roasted scallops $22.  These are prices you'll find in any good local restaurant.  I start off this article with pricing because my thought is if people heard Sip Kitchen is in the Ritz Carlton they'll liable to be mistaken about the prices.  Don't be.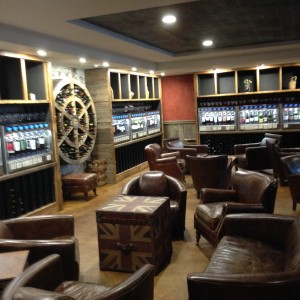 When I first walked in I was very surprised as to the size, 5,000 square feet.  You enter into the bar/lounge area.  Here you'll find comfortable chairs, which the night I was here, a weeknight, all of them were occupied.  People would gather them into their little space and enjoy conversation and wine.  Speaking of wine, they have a machine, actually called a wine numatic machine (machine may not be the exact word but it will suffice here.)  What it does is dispense 72 wines.  You buy a card with a certain amount of money on it (up to you), then put it the machine, like at a credit card, press a button for the amount of wine and kind you want, and there it is.  When the card runs out, just put more money in it.  All the wine is temperature controlled.  To be clear, there are 72 separate wine bottles with their own dispensers.
In the back are the tables, but you can eat in the lounge.  The best word to describe the décor is rustic.  There are even barn doors used to separate the main dining room from the private room, which will seat 15.  There are copper top tables and the walls indeed have that rustic look.  It is all designed that way.  It wasn't left over from some past business.  The entire restaurant seats about 140.  When the weather decides to warm up there will be outside seating.  But you get to it through the restaurant.  There is also a banquet room upstairs.
This is the type of restaurant where you don't want to rush your meal.  Have a drink before dinner and then leisurely make your way through the meal.  For that reason, I do advise a reservation.  The dress is casual but why not look nice when having dinner here and leave your faded jeans at home and take them out the next time you go to a rodeo.
Sorry but one of my pet peeves is how people are dressing these days at restaurants and theatre.
The restaurant is owned by Mark Jacobs who also owns two Sip Kitchens in Atlanta.  The management company did all the hiring locally.  That's a good thing.  I spoke with one of the servers who has worked for the past 12 years in local restaurants and she told me this is her best job.  Why?  Because the management folks are easy to work for, business has been good (and therefore tips) and it's a nice atmosphere.   The general manager told me about 80 percent of the customers are locals as opposed to residents of the Ritz.  That is a good sign and bodes well for their future.
Sip Kitchen is open seven days for lunch and dinner with valet parking at dinner.  Street parking is also available.  I have been there twice and both times found a spot on Key Highway.
In my own humble way, this restaurant is a welcome destination to the Baltimore restaurant scene.  One of the residents told me, 'I wasn't sure about this place when it first opened, we have waited such a long time for a restaurant.  Now I found myself here two to three times a week'.
You can reach them at 667-239-3105 or sipbaltimore.com.   The exact address is 807 Key Highway, across from the Visionary Arts Museum.