Racial stress, solutions explored in 'A Conversation Inspired by Between the World and Me'
(L-R) Panelists Logan Young, Alexander Harrington, Dr. Raymond Winbush, Julian E. Jones, Jr., Charles Bethea, and Farajii Muhammad. (Anthony C. Hayes)
On Thursday night, a crowd of about 75 people were on hand as the Randallstown branch of the Baltimore County Public Library hosted a panel discussion on Ta-Nehisi Coates' award winning novel, Between the World and Me. The panel also was asked to touch on their reflections on the past, present and future of African American fathers and sons.
The distinguished panel members were Dr. Raymond Winbush, Research Professor and Director of the Institute for Urban Research at Morgan State University; Charles Bethea, Chief Curator/ Director of Collections & Exhibitions – Reginald F. Lewis Museum of Maryland African American History and Culture; Julian E. Jones, Jr., Baltimore County Council – District 4; Activist and TV/radio talk show host Farajii Muhammad; Baltimore City College baseball standout Alexander Harrington; and Logan Young – another City College athlete who is deeply involved in social justice.
WBFF-TV anchor Kai Jackson moderated the lively discussion which was presented in cooperation with the Reginald F. Lewis Museum of Maryland African American History & Culture. Owing to the anticipated size of the crowd, the event was held at the Randallstown Community Center.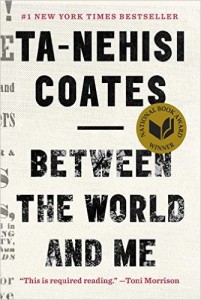 Between the World and Me won the 2015 National Book Award for Nonfiction. Inspired by James Baldwin's 1963 book, The Fire Next Time, Coates' starkly moving novel (written as a letter to his son) deals with the feelings, fears and violent realities of being an African-American man.
Winbush was the first to speak, saying in part, "I have probably only read four books in the last forty years which reach this level. What I love about this book is Coates does not try to sugarcoat the issue of racism and how it's interwoven with the history of the United States. I like how he calls white Americans "dreamers" because they dream of a country that never was. The idea that racism is not interwoven into America; the denial that you can see in the current presidential campaign, is something Coates talks about . I think that Coates has done a major service in trying to talk about racism in an honest way because we lie about it. We use the term "White Privilege" which tends to soften and make more palatable what is really "White Supremacy". That's one of the problems with race in America; that we want to talk about it in sugarcoated terms. Coats says America will not be America until it acknowledges what it has done to Black people, to red people and to brown people."
Addressing the idea of fathers having forthright discussions with their sons about race, Farajii Muhammad admitted the struggle he is having as the father of a 2 ½-month-old as to when have the conversation.
"My own father never had that conversation with me, but we live with the reality that when a white boy goes out to play, his mother just says, 'Be careful.' When a black boy goes out, his mother has to say, 'Don't wear your hoodie, be careful if you're stopped by the police, etc.' There is this whole laundry list she must recite before letting her son go out to play. What Ta-Nehisi's book did for me was it drove home the point that we must have a whole different conversation about survival. That in itself is just sinful." He continued, "America had devalued human beings because of its system…. We are now at a place where we are all frustrated by the idea of White supremacy and Black inferiority. The universal principal of justice is starting to resonate with so many people – especially the next generation. We're not in a post-racial America, in fact we are probably more biased than ever. However, there is a generation coming up behind us that's going to be exposed to racism on a very raw level, and the burden of trying to relieve this country and the American tradition of racism lies on their shoulders. It will be up to the next generation to really challenge the grip which racism has on this country."
Pausing briefly, Kai Jackson expressed his view that times have changed insofar as recent events (such last year's Baltimore riots) have actually opened the door for more open and honest discussions on racism.
Councilman Jones agreed with Jackson's observation, noting the personal evolution Ta-Nehisi experienced when he went away to college but quickly returned to the theme of fatherhood.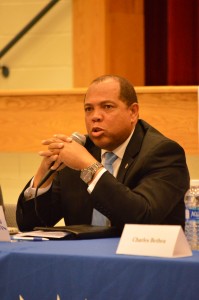 "When you become a father, that changes everything. It's no longer all about you. It's about taking care of that child; it's about taking care of your family. When I read that part (in the book) I thought about all of the humiliations Black men have historically had to endure, because at the end of the day it was about providing for your family. There's no question that we live in a racist society. What I'm fearful of, when it relates to our people, is that we spend too much time talking about the racism and the terrible atrocities that we ruin our kids, and they never try to open the door of opportunity. There are a lot of things you can overcome in this country if you try."
Noting the fine line Black men must walk in the milieu of modern day America, Charles Bethea told the story of how his immersion as a youth in the Black Power movement motivated him to turn down a scholarship to a traditionally White college in favor of attending historically Black Cheyney University – only to discover once he got to Cheyney that his first roommate was white.
"Using my own experience, I've tried to teach my children that life is not fair and you will often be judged solely on what you look like. One of the things I liked about the book is Ta-Nehisi gives his son the background, but he does not necessarily give him the answers. He equips him with information that allows him to move forward. I think as parents – at least for myself raising two young Black men – that is all I can do. I can give them the education, I can give them the understanding and my interpretation as best I can, and then allow them to deal with it."
Bringing the two younger panelists into the conversation, Jackson first asked Logan for his thoughts on the absence of a woman's voice from the book.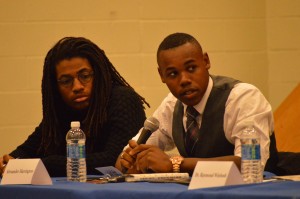 "The main topic of this book," said Logan "is a father talking to his son. I'm sure he could have added woman's voice, but to do so would have meant stepping outside of himself. Keeping the conversation as he does – between a father and his son – makes the book very topical and more honest."
Alexander Harrington stated, "As much as Black people want to talk about this, white people are coming at it from a different angle. The question seems to be 50/50 whether or not racism will ever end. I feel it will probably end as new generations come, but we have to move away from using words which try to cover it. Racism is a tradition, and traditions are hard to break." Harrington would later add his belief that his generation should move past historic notions of racial limitations and be the ones who set the bar for their own achievements.
One comment from the audience which elicited applause from Councilman Jones, came from 60-something father of three.
"My oldest son called me today to tell me that he just got a $130,000 contract to be a project manager with SpaceX. My younger son is a pilot with American Airlines, and my daughter dances with the New York City Ballet. My question is, do we use racism to disguise the fact that we have a dysfunctional family?"
Jones responded, "That is a point I was trying to make earlier. The fact of the matter is racism is here and it exists. It's OK that we educate our children so they recognize it, but we should never get to the point where we harp on it so much that it hampers their ability to go out and try. So when we're teaching our kids about racism, we should also be teaching them about being a project manager and about being a pilot. One of the things I take issue with in the book is when he talked about the "dreamers". People from all over the world come to America looking for the American Dream. And yet, we as Black folks who came here in chains 400 years ago – we don't pursue the American Dream, because we think it's unattainable. So many times we don't have folks who want to step up and claim the American Dream. We've been here for 400 years and yet in many areas we are at the bottom of the economic ladder, and I think it's because we spend so much time talking about how prejudiced everybody is that we are putting a chain and ball around our children and they grow up thinking that 'The world is a terrible place and I don't stand a chance' so they don't even try."
Countering Jones' remarks, Muhammad noted that, "A man or woman cannot rise above the condition of his or her people, and as great as our brother's family is doing, the reality is that's not the condition of Black people in this country. Our daughters aren't dancing in the New York Ballet and our sons aren't American Airlines pilots. As great as we're doing individually, our people are in a really, really bad place."
Muhammad concluded that finding a solution means going beyond seeking unity of thought amongst 40 million African-Americans. "That will never happen," he said. "What we need is to have 241 million other Americans acknowledge that there is a problem."

Anthony C. Hayes is an actor, author, raconteur, rapscallion and bon vivant. A one-time newsboy for the Evening Sun and professional presence at the Washington Herald, Tony's poetry, photography, humor, and prose have also been featured in Smile, Hon, You're in Baltimore!, Destination Maryland, Magic Octopus Magazine, Los Angeles Post-Examiner, Voice of Baltimore, SmartCEO, Alvarez Fiction, and Tales of Blood and Roses. If you notice that his work has been purloined, please let him know. As the Good Book says, "Thou shalt not steal."