PINES and Seabuckthorn Berry Oil make Smoothie Magic
If you are a follower of my product reviews you'll know that I have become accustomed to (read as 'addicted to') smoothies. I find them nutritious, economical, fun, time saving and utterly delicious. But even the greatest smoothie lover can get bored of what's on the market. I'm always looking for more nutrition, different tastes and healthier options to create that 'smoothie magic'.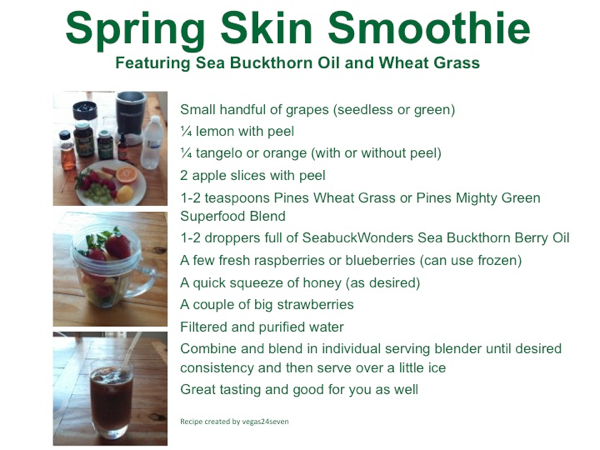 I make my own smoothies all the time but recently I've been experimenting with new ingredients, adding in various powders and oils along with the fruit and veges to see which combinations work best and offer me exciting alternatives.
I have two new favorite ingredients which have given my smoothies a new scrumptious boost in terms of both flavor and nutrition: SeabuckWonders Seabuckthorn Berry Oil and PINES Wheat Grass.
The organic Himalayan Seabuckthorn Berry Oil is an intensive cellular care product, meaning it's great for the skin. It contains more than 190 bioactive nutrients, including the rare palmitoleic acid (Omega 7).
PINES Wheat Grass powder is gluten free and just one rounded teaspoonful provides the same nutrition as a serving of deep-green, leafy vegetables. I got my sample at no cost in order to review it for this smoothie. It's a super superfood!
The first smoothie I made with these ingredients is a recommended mix that's high in vitamin c and antioxidants. It's called a 'Spring Skin Smoothie' and works from the inside out. After all, with all this goodness in one drink you really are what you eat!
You want to drink this first thing in the morning or as that afternoon hunger pang appetite suppressant. It's got a real fruity bite to it and kicks butt!
The second one is my own concoction which involves avocados, bananas, apple and melon along with almond milk and almond butter and Seabuckthorn Berry Oil and PINES. I call it 'Summer Nutrition Boost'. This one is the very satisfying and will again give you an energy boost. This one I froze and made into Popsicles so my son thinks they are the best treat  ever.
With both Seabuckthorn Berry Oil and PINES a little goes a long way. Smoothies don't need to be the same old anymore with these two ingredients added in. So change it up and get that nutrition boost you need for the summer.
You can get PINES here and SeabuckWonders here. There are loads more recipes to experiment with to create your own smoothie magic!

Claire Bolden McGill is a British expat who lived in Maryland for three years and moved back to the UK in August 2015. Claire wrote about her life as a British expat on the East Coast and now works in travel and hospitality PR in the UK. She still finds time to blog about her repatriation and the reverse culture shock that ensued – and she still hasn't finished that novel, but she's working on it. You can contact Claire via twitter on @clairebmcgill or via her blog From America to England.