Orioles start road trip with a win
After Friday's game against the Los Angeles Angels of Anaheim, the Baltimore Orioles are now leading the American League East Division, one game ahead of the Boston Red Sox. Going into the game the Sox and O's were tied atop the division.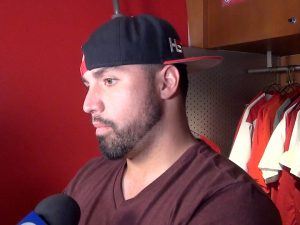 Baltimore got to Angels started Hector Santiago early, with Joey Rickard getting his first lead-off homerun of his major league career. Manny Machado followed with another solo homer.
After Mark Trumbo scored a two-run homer in the third inning, Santiago got into an argument with home plate umpire John Tumpane and was ejected. After the game Santiago said his final comments weren't directed at Tumpane, but catcher Carlos Pérez. Officially it is listed that the pitcher was tossed for gesturing at the umpire.
The Angels were able to get back in the game, tying it at 4-4 in the sixth, with O's starter Mike Wright giving up three runs in the inning.
Baltimore came right back to take the lead when first baseman Chris Davis hit a two-run blast in the seventh.
The O's talled three more runs, with Rickard getting his secnd RBI of the game in the eighth inning.
Although Zach Britton is one of the best closers in the game, he didn't pitch Friday Night. Brad Brach finished the game for the Orioles, allowing one walk in the ninth.
Our reporter Claudia Gestro asked Orioles manager Buck Showalter about Britton before the game and afterwards she was able to speak with the left-handed closer in the clubhouse. She has both in her video report.
The Orioles have only four true starters right now, with Yovani Gallardo on the DL, but the Angles have five pitchers on the disabled list, including three of their starters. The Orioles are in a better position to win this series, but the bats of Albert Pujols, Mike Trout and Kole Calhoun could get hot and change a game and series. They took three of four from the Dodgers earlier in the week.
The second of this three-game series will begin in a few hours. Getting the start for the Orioles will be Kevin Gausman and for the Angels, Matt Shoemaker.
Photos by Claudia Gestro

Baltimore Post-Examiner is run by a creative cadre of dedicated journalists – some who worked at the Washington Post, Baltimore Examiner and other regional and national publications. It's the Post-Examiner because we love the play on the word "Post" but we are also hoping to answer that question: What's next after newspapers? We see a lot of websites come and go – and many simply are not making it for various reasons. We have been a model of success since we launched in 2012 with "a little bit of everything" and we aim to continue to break that cycle of websites coming and going.