Nine Innings in Baltimore: Bottom of the First
(This is the continuation of the serial novel Nine Innings in Baltimore. Read the previous chapter here.)
Orioles' lead-off hitter Brady Anderson, batting just under .280, stepped to the plate as Trudy and her father and 7-year-old India Jean – first baseball game, black and orange cap on her head – settled into upper deck  of Memorial Stadium.
The Birds were a faint shadow of what they were when Trudy was growing up as a Junior Oriole in Dundalk, when her steelworker father brought her to 33rd Street just as he was now bringing her and his granddaughter.
Earl Weaver's dreadnought – Brooks and Frank and Boog and four 20-game winners in a single year – turned pinstripes into paisley. India Jean would never know World Series baseball in Baltimore. But she would never forget who brought her to her first ballgame.
"Hot dog?" asked Poppie as Anderson struck out.
"With mustard," said India Jean and her grandfather motioned to the vendor at the end of the aisle as Trudy stared out past a small pennant high above the left field wall that said: "HERE."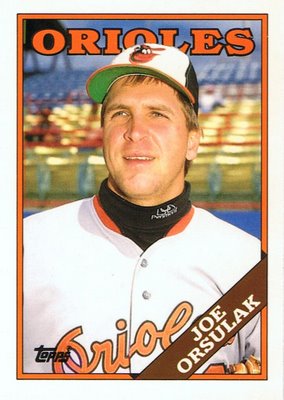 Trudy was more than a year down the road from leaving her daughter's father, whom she'd been with from the moment they met. More than a decade ago, she'd watched Basilio drink the better part of two bottles of Blue Nun while they got high at a playground near her house. Before throwing up in the street, he'd told her they were perfect for each other.
"How is that?" she'd asked, taking the joint from him.
"Cuz we're just like John and Paul."
Sitting on the hood of his Olds Toronado – a metal-flake orange monster which that night became her new home – Trudy passed the joint back and smiled until Basilio explained.
"John and Paul both lost their mothers when they were still kids," Basilio said. "That's the thing that cemented their friendship."
"That and guitars," said Trudy and Basilio knew that he would marry her.
Then he put his hand on the front fender, turned away from the skinny girl with almond eyes and barfed all over the asphalt.
Joe Orsulak flied out to left and Ripken – young Cal, the Ironman in the middle of a run that lasted about twice as long as Trudy and Basilio had, depending on how you kept score – singled to left.
A glop of mustard squired out of the bun and onto India Jean's white blouse as catcher Mickey Tettleton struck out, stranding Cal on first to end the inning.

Rafael Alvarez has lived in Baltimore his entire life except for a brief and cautionary exile in Hollywood. A former City Desk rewrite man for the Baltimore Sun, Alvarez has published books of fiction, memoir and very provincial history. Best known works include "The Fountain of Highlandtown" and the on-going "Orlo & Leini" stories, each detailing life in Crabtown, USA. Alvarez also worked as a reporter for the Baltimore Sun prior to starting a career in television. He has worked as a writer and story editor on the Home Box Office drama series The Wire and a writer and producer on the crime dramas Life and The Black Donnellys. He has written several books including a guide to The Wire, a non-fiction guide to the archdiocese in Baltimore, a short-fiction anthology and two collections of his journalism. He can be reached via orlo.leini@gmail.com or books@alvarezfiction.com.