'Neighbors': Hilarious Family vs. Frat flick
3 out of 4 stars
Braxton University's Delta Psi Beta fraternity had a colossal problem: They had no money to fix their flooded basement, which would cause their house to be condemned.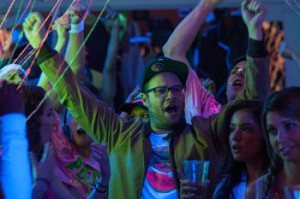 So of course, they did what any hot frat boys would do: They made molds of a certain part of their bodies and sold them to women of all ages as sex toys.
What, you thought they were going to sell pictures of nude girls covered by whip cream? That's soooo "Revenge of the Nerds."
Just when you thought chest-thumping man flicks – the opposite of chick flicks – couldn't push the envelope any further, "Neighbors" takes the envelope, wraps it with superfluous genitalia scenes, sprinkles it with lots – and lots – of sex and then tops it off with enough marijuana and booze that would make "Dazed and Confused" jealous.
Pete, the fraternity's vice president, can make a part of his body grow tremendously just by concentrating for a few seconds, calling his manhood "a blessing and a curse." That's a highlight or a lowlight, depending on your point of view. Still, it's quite possibly one of the greatest lines in the history of man flicks.
You go see a Seth Rogen movie because you want to see the crude, silly humor that kills brain cells. You watch because Rogen uses sex, nudity, genitalia, drug and alcohol as his stars, while other directors actually cast, well, you know, actors and actresses to carry their films.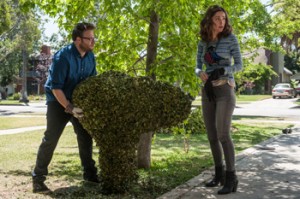 The man who treated – or horrified, again depending on your point of view – us with his roles in "Zack and Miri Make a Porno" (2008), "Pineapple Express" (2008), "Step Brothers" (2008), "Super Bad" (2007), "Knocked Up" (2007) and "The 40-Year-Old Virgin" (2005), uses the suburbs for his tale of debauchery in the best performance of his career.
This movie forces you to pick sides. Do you pull for newlyweds Mac and Liz Radnor, played by Rogen and the very funny Rose Byrne ("Bridesmaids" 2011), who recently dumped their life savings into buying a house to raise their newborn daughter? Or do you root you root for the Radnor's next door neighbor, Delta Psi Beta, featuring fraternity President Teddy (Zac Efron), Vice President Pete (Dave Franco) and all of their brothers and pledges who have names like Garfield, Scoonie and Assjuice?
Mac and Rose aren't innocent. Mac smokes weed at work and when the fraternity throws its first party, Mac gets as high as Robert Downey Jr., while Rose doesn't have a problem taking shots like she's Lindsay Lohan.
All's well until Mac breaks a promise to the fraternity by calling the cops one night because the Delta Psi boys' party prevented the Radnors from sleeping.
War is waged.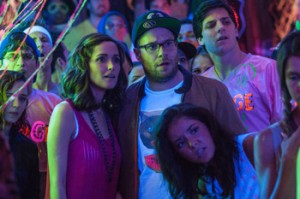 The fraternity attacks the Radnor's home, their yard and even their shrubbery, while the Radnors will stop at nothing to get brothers of Delta Psi to turn on each other – even if it means Liz makes out with Teddy's smoking hot girlfriend and Pete while Mac watches.
"Neighbors" culminates with an epic fraternity party that provides an exclamation point to end nonstop drunken haze or lewdness.
This is a movie you'll love or hate; it's simply too crude to keep you on the fence. If you left "The Hangover" pumping your fist, then "Neighbors" is worth seeing in the theater. But if you aren't into movies that include promiscuous sex and a two-story marijuana bong, you'll feel like you need to take a shower after watching this one.
Either way, you may leave the theater with fewer brain cells.
Check out our sister website Los Angeles Post-Examiner for a totally different take on Neighbors.

Jon Gallo is an award-winning journalist and editor with 19 years of experience, including stints as a staff writer at The Washington Post and sports editor at The Baltimore Examiner. He also believes the government should declare federal holidays in honor of the following: the Round of 64 of the NCAA men's basketball tournament; the Friday of the Sweet 16; the Monday after the Super Bowl; and of course, the day after the release of the latest Madden NFL video game.