Naman Arora urges brands and businesses to get accustomed to digital technology
Digital technology is a necessity rather than a luxury. Without digital technology, humans and products would be missing opportunities to establish their brands in various fields such as information, services, securities & defense, transportation, media and many other sectors.
Multiple openings through digital technology have recreated rejoice amongst everyone, especially the youngsters. One such Delhi-based entrepreneur Naman Arora has originated himself in the area of data analysis for improving sales and growth prospects of businesses.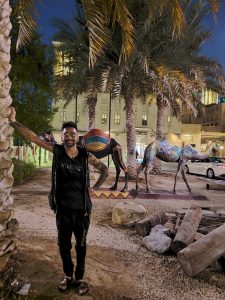 He has developed skills in examining available data relating to products and constructing strategies for their sales, and hence he has formally set himself as a professional digital consultant.
He presently scores on his organization called 'Data Art Information Technology' where he provides services like app development and management, networking services, web and software development, data classification and analysis by appropriately utilizing search engines like Google and YouTube. Besides this, he holds expertise in SEO and WordPress for promotion, sales and marketing of brands.
With changing times, the traditional technique of marketing has become obsolete and it is replaced by digital technology. Naman Arora had envisaged it at a young age and perhaps selected digital technology as his career option. Fortunately, his thoughts found their place in the fast and furious world of digital technology. Brands and businesses are now accessible at a click of the button through the internet and smartphones, all credit goes to people like Naman who are contributing their best in this technological world. 
The entrepreneur speaking about the rise of the digital era said, "Multiple opportunities are existing on digital platforms for growing your business. Profitable businesses fetch other prospects and bring more enthusiasm to do better. All businesses rely highly on digital means to prosper." He further stated that people will have to use digital platforms compulsorily to avoid corruption and exploitation.
Besides this, Arora has a vision that e-money will replace currency notes and eventually eradicate the physical printing of currencies which may add benefits environmentally. In the future, Naman Arora has plans to make use of digital technologies in the field of fashion and beauty. He thinks that fashion designing as per the desires of clients can be digitally programmed and approved before attire is cut and stitched. "Beauty products can also be digitally displayed for their colors and shades", added Arora.
What are your thoughts? Do you agree with Naman Arora about the transition of digital technology?