For quite a while now, people always ask me what new technology would I recommend.  The easiest way for me to answer that is to tell you what I use.  To do this I will post what technology I am  using and why you should use it too.
 Apple iPad ($300-$830)
At first I thought it was very unnecessary.  When I got to play around with the iPad,  I instantly fell in love with it.  I bought one six months ago and I have barely put it down since.  I use it a lot for email, reading ebooks, surfing the web and much more.  Recently magazines have really taken to this platform and used it to add a whole new layer of interactivity  –  making it more social, and a whole lot more fun.  For many of you this item is not a tough sell because many of you have already ran to stores or gone online to buy them. I would encourage you though if you have not, to go to your local Apple store or pick up your friends and play around with it, because it is without a doubt one of the best tablets out there.
Now that the iPad has been out for several years, there are many different versions at many different prices (you don't always need the newest version).  I have the iPad 2 and I really enjoy it.  The only thing that is upgraded on the newest version is speed, camera, display and battery.  Those are a lot of new features, but not worth me paying for the upgrade.  If you have the extra cash I would grab it but if you don't, save yourself a lot of money and by the iPad 2 on ebay, Apple, or Amazon.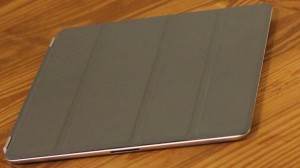 Apple Smart Cover ($40)
If you are going to get an iPad, do yourself a favor and pick up a smart cover.  When I use my technology (phone, tablet, laptop) I never like big cases because they ruin all the work of the companies that designed these products.  Luckily smart cover protects the screen and keeps your iPad looking good at all times.  Also with its magnetic connection it is very easy to take on and off.
Erik Hoffman is a web designer and computer consultant. He has run a computer consulting company for the past four years where he enhanced businesses by designing and developing user-friendly websites that have helped companies reach targeted revenues.