Monster-Mania-Con: Something eerie for everybody
Horror fans Wes Jr. and Damian pose with two Ghostbusters cosplayers at Monster-Mania-Con. (Anthony C. Hayes)
Halloween only comes once a year – unless you're a fan of all things dark and devilish.
Area horror fans found plenty to tickle their nerve-racked senses at last weekend's Monster-Mania-Con. The three-day event, which filled the Delta Hotel Marriott in Hunt Valley, Maryland, allowed fans of the genre a chance to meet numerous artists and vendors, along with rubbing elbows with some twenty well-known names from the fiendish field of screams.
"I'm a huge horror fan," said Baltimorean, Roshelle. "I guess my ultimate slasher/horror films would be the Freddy Krueger movies. But mostly I just like watching horror and reading horror. Novels, comics; I saw some Edgar Allan Poe things over there, so that's a table I'll be checking out. I live in Baltimore, but I've never been to any of the Poe attractions. But on October 7th, there is the 'Poe Toast Amongst the Ghosts.' This will be my first year attending that event. I was going to enter the writing contest, but I missed the deadline!"
What did Roshelle hope to enter into the contest?
"It's a short horror story that I have been working on. I hope to see it in print someday."
Joe, a camera-packing horror aficionado from Washington, D.C., said he traveled up the parkway to see Malcolm McDowell.
"I haven't actually seen him yet. It's very crowded in that autograph area. There's a line wrapped around the room and out the door to see him. Joe said, along with horror, he enjoys sci-fi and anime conventions. "I did get a picture with Ashley Laurence, which was nice, but more than anything else, I just like taking pictures of the cosplayers and seeing what else is going on."
Despite the greenish scream masks and gaping skulls which tend to fill the ghoulish galleries, Monster-Mania is still a family affair. Wes, Lisa, Little Wes & Damian was one such family enjoying interacting with some of the cosplayers on hand.
"We used to live in Baltimore City, but now reside in Carroll County," said Wes. "We come down here every year. This is our fifth year in a row. The kids are 7 & 3 and they are huge horror fans. Lisa and I enjoy the horror flicks of the 1980s, so the kids are very familiar with them."
"They know Jason, Mike Myers, Leatherface," interjected Lisa. "Now they are into Walking Dead. We try to catch this convention as often as we can. The boys don't always associate the fictional characters with real people, so it's great to be able to bring the kids here and see the actors out of costume. They're always happy to know a character is an actual person.
* * * * *
Getting around the autograph areas was somewhat tricky, given the huge crowd on hand. But the stars were delightful and interacted effortlessly with their throngs of adoring fans.
Adrienne Barbeau happily posed for pictures with everyone who stopped by to say "Hello." So did Curtis Armstrong – the ever popular "Booger" from the Revenge of the Nerds franchise.
Around the corner, Wilford Brimley paused as one autograph seeker steadily bent his ear, while across the hall Jen and Sylvia Soska held court – and a whole lot of hearts, as well.
Justin Gildow, from Shrewsbury, Pennsylvania, was all smiles when asked if he was a big horror fan.
"Yes, I guess you would say I'm a big fan. I enjoy Castlevania, Resident Evil, Silent Hill and Clocktower. Movie-wise, I would say Friday the 13th and Halloween. That's why I'm here at the convention. I had a blast last year, and I'm ready to do it again next year."
Justin said he did not attend to see any celebrity in particular, though we did spot him getting a hug and kiss from the Soska Sisters. That might explain the huge smile on his face.
* * * * *
We expected the vendor areas to offer masks, memorabilia, and movies. But much to our delight, they were also packed with a few surprises.
Melaney Pattini of "Wings of Sin" was making her first appearance at Monster-Mania.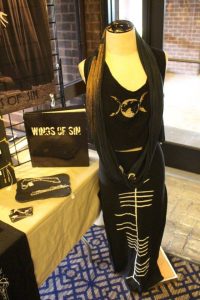 "I've had this company since 2008, but I have been sewing since I was eight years old. Most of my stuff is based on mythology and the dark arts. That definitely overlaps with the horror.
"I'm a practicing witch, so that's where a lot of my inspiration comes from. This is my first horror-con, and I wasn't sure how it would go, but it seems to be fitting in really well, so I'm happy about that. I also do painting conventions, but I cater to metalheads and the darker alternative. My stuff sells really well there. The one thing about doing these conventions is I always come away with tons of new friends, and I always see them whenever I come back to their area."
Jennifer Irene Cawlo said she and her husband are full-time RVers – traveling around the country to sell their art at various shows.
"I've been crafting, painting, drawing and sculpting since I was a little child," said Jenn, "so I've always been doing something. Drawing or making a comic book. I create jewelry, wood sculptures, and wood designs. My work is basic but very whimsical. People seem to love the bottles. Anything with glitter on it is great!"
Baltimore merchant Michelle Armiger was another vendor whose whimsical interests carried over into a burgeoning business.
"We wanted to make products for people who have similar interests to us. Growing up, this kind of stuff wasn't really available. Most people didn't consider superhero throw pillows as decor for the home. But today, people want to be surrounded by the things that they like. It's not Ethan Allen, but it's fun. Our feedback on eBay and Etsy has been great because my partner Angie is a great seamstress. We'll set up at craft shows, but we like doing the horror conventions the most. Here, we are selling to people of a similar mind."
Rounding out the vendors, we spoke with was Cori Dials – a cheerful Woodbridge, Virginia retailer who was simply full of surprises.
"This is my seventh convention but my first time as a retailer. I normally put out calendars, but I've been pregnant for two years, and nobody wants a pregnant woman calendar. (Laughing) Maybe one person out there."
How in the world did the expectant mother get into horror calendars?
"I have run a horror-burlesque troop for the last six years. We're based in Virginia, but because of the laws down there, it can be tough to do burlesque. So we tour up and down the East Coast. Because we do the horror-burlesque shows year round, I thought a calendar would be great. We'd always sell out of them, but I've got a 1-year old at home, then got pregnant again right away, so I haven't done a calendar now in two years. But I missed doing the convention scene, so here I am doing retail!"
After showing us some of her wares, Cori moved to grab her retail business card – only to discover she was fresh out.
"Here's my other card, but don't let it spook you. I'm also a mortician by trade."
* * * * *
Three of the booths in Artist's Alley particularly caught our eye.
Take Detroit artist Kevin Asher's display of "art from the dystopian apocalyptic wastes."
How did Kevin get into repurposing such things as old telephone magnetos and baby doll heads?
"I just grew up around a bunch of factories and was told you never throw anything away. We always had something around the house for reuse purposes. So, as a kid, I started sculpting out of stuff I had taken apart. It's just evolved."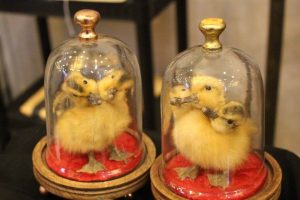 What's Kevin's market?
"I don't know, that's one of the reasons I'm here. I used to do galleries and did pretty well, but after the crash in 08, it just got cost prohibitive. I get great feedback, but unfortunately, people in th U.S. don't really invest in art. They prefer sh**y stuff from pop culture and mass-produced junk. If somebody appreciates the art behind my pieces, then I've got a customer for life. If not, well that's OK, too."
One booth over, Richmond's Sarah James was also repurposing some, ummm, found objects.
"I've got a lot of oddities," said Sarah. "Growing up, I wanted different types of jewelry, but I could never find it, so I just started making items out of things I found like bones and beetle shells. It just grew. We live in the country, so if we're driving down the road and see a dead animal, we pick it up and turn the remains into art. Nothing is in perfect condition because we found it. But we like to make use of it, so it can be remembered that way.
"I do the taxidermy myself. I'd always wanted to learn how, so I went through some programs to get the certifications. It's funny, at horror conventions everyone thinks it's alive, so they tend to be scared. But in other places, people will drop by because they are looking for specific things. My booth is kind of like a little museum. People will stop and browse just to see what things look like. I do random art exhibits, but for the interaction, I like the horror conventions the best."
Zane Wylie was another busy artist who made no bones about his morbid creations.
"I buy old retired medical training skulls – human skulls. I carve them with a high-speed Dremel tool and then make replicas. Originally, I was studying facial expressions and the way muscles attach to the human anatomy. I became curios about skeletons and had been carving animal skulls, so I decided to give it a shot on a human skull. Currently, AMC has leased 14 different skulls of mine for the TV show Preacher. I did a skull for Constantine and two other TV projects coming up."
What kind of feedback does Zane get?
"I've heard from doctors and archeologists, people from the states and overseas. They all say they enjoy the pieces. I have no ulterior motive for doing this, other than to create art that I can keep."
We also asked Zane if he covets any of his pieces?
"Oh, that's a good question. I would really hate to give up the one here on the right – 'The War Chaplain.' It's got several different Byzantine Empire crucifixes and a religious relic of the true cross which hangs from its mouth. It took me about 120 hours to finish. Someday, I'd like to do an entire skeleton. The time I'd have to put into it would make it cost-prohibitive to most buyers, but I think it would be a fun project for me to do."
* * * * *
Sensing a widening pit in our stomachs – not from horror but rather from hunger – we decided to ask one last vendor where we might grab a bite to eat.  Luckily, a cleaver-bearing Brit (who sounded a lot like Michael Caine) was happy to point us in the right direction ~
BPE: And who are you, sir?
BB: I'm The British Butcher. We sell human flesh and tears of suffering. All good things for your appetite.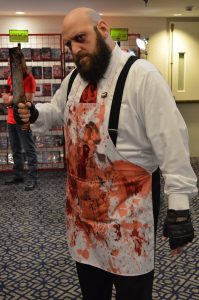 BPE: What sort of clientele are you finding here at the convention?
BB: Oh, all sorts. People who are curious about human flesh. Just what it might taste like. Take you, for instance. What might YOU taste like?
BPE: Delicious, I'm sure. How do you suggest seasoning a human?
BB: We find that humans go well with just a little salt and pepper. Nothing too crazy. Maybe a little cayenne sometimes.
BPE: Do you suggest any particular wines to pair with the meat?
BB: A little merlot perhaps, or a nice white zinfandel. It depends on the person you are eating.
BPE: Are there any specials this weekend?
BB: Actually, if you go to our booth, you will find a nice menu of our specials. There are many celebrities here. We have the Doug Bradley cinnabon bread, but we're almost out, so I do suggest you stop on by if you're interested, sir.
BPE: Thank you! I think I will.
(Doug Bradley cinnabon bread? Sure, I mean, what the hell…)

Anthony C. Hayes is an actor, author, raconteur, rapscallion and bon vivant. A one-time newsboy for the Evening Sun and professional presence at the Washington Herald, Tony's poetry, photography, humor, and prose have also been featured in Smile, Hon, You're in Baltimore!, Destination Maryland, Magic Octopus Magazine, Los Angeles Post-Examiner, Voice of Baltimore, SmartCEO, Alvarez Fiction, and Tales of Blood and Roses. If you notice that his work has been purloined, please let him know. As the Good Book says, "Thou shalt not steal."