Monster Jams kicks off season at Royal Farms Arena
Blake Granger has driven in dozens of arenas in his five years as a Monster Jam driver, but he always savors coming to Royal Farms Arena.
"It's like getting to be a part of history," he said. "It's not just all of the Monster Jam events the building has had through the years, but all of the great entertainers who have performed there. There have been so many people who have paved the way for us in that building and it means a lot for me to compete there."
Granger, a 31-year-old native of Lafayette, La., will be among the eight drivers in the Arena Championship Series Central Division, which will open their season at Royal Farms Arena with four events from Jan. 7-9. On Jan. 7, the competition begins at 7 p.m., with start times at 1 p.m. and 7 p.m. set for Jan. 8 and the drivers returning on Jan. 9 at 1 p.m. Tickets start at $28.
The drivers will use their behemoth beasts, which are about 12 feet tall, 10 feet wide and weigh upwards of 12,000 pounds, to turn Royal Farms Arena into their personal playground as they try to impress the crowd.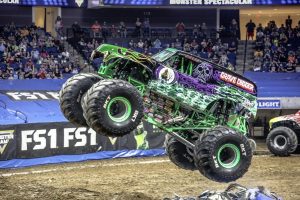 Granger drives Max-D, which is one of the more popular trucks on circuit, as it could seemingly come out of a post-apocalyptic war movie. But he knows it takes more than a flashy car with spikes on its frame to win.
In three of the four competitions at each event, the drivers' scores are determined by the crowd. Fans are urged to log onto an app that enables them to vote for which drivers performed the best.
Drivers often mingle with fans before the event, including taking pictures with them and – depending on the tour's COVID-19 policy that's fluid – sign autographs.
"Fans are a huge part of what we do and who wins because they are the judges," Granger said. "I really look forward to meeting our fans before the event and getting to know them. If you win over the crowd, the scores will come. Fans want to like the drivers they vote for and I want to make sure our fans are having a great time."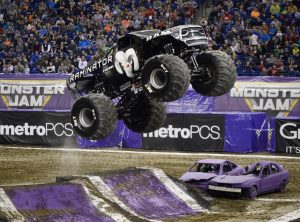 The event starts with a series of single-elimination races, where two drivers try to make a lap around the dirt track as quickly as possible, with the driver who wins three races receiving eight points. The other drivers receive one fewer point than the driver who finished immediately ahead of them, which is how all of the competition is scored.
After that, it's up to the crowd to determine the winner.
In the second round, drivers perform tricks using just two wheels, ranging from wheelies, to moonwalks – a wheelie when the two front tires remain on the ground and the driver bounces the truck backwards – to using their skills to balance their truck on just driver's side or passenger's side tires, which are each 66 inches.
The third event is simple – drivers perform as many donuts as they can in a set amount of time.
In the final event, drivers get 75 seconds to perform freestyle, where they try to pull out tricks to win over the crowd.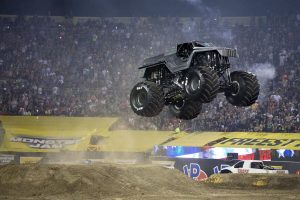 Drivers amass points that carry over from city to city that go toward qualifying for the Monster Jam World Finals XXI in Orlando from May 21-22.
Granger will be challenged by Krysten Anderson, who drives the most famous truck of them all, "Grave Digger," while Tony Ochs drives "Soldier Fortune Black Ops" that looks like it came right off a battlefield. Elvis Lainez is behind the wheel of "El Toro Loco," a bright orange truck topped with horns, with Zack Garner riding "Wild Side" and Jon Zimmer Jr. behind the wheel of "Terminal Velocity. Mark Hall and Kurt Kraehmer drive "Raminator" and "Rammunition," respectively
"The goal is to get to the World Finals – that's what it's all about," Granger, who has been on tour for five years and is the 2019 World Final ATV champion, said. "Baltimore is the first stop and everyone wants to get off to a great start and that means winning in Baltimore."
If You Go
Monster Jam
Where: Royal Farms Arena
When: Jan. 7 – 9
Start Times: Jan. 7: 7 p.m.; Jan. 8: 1 p.m., 7 p.m.; Jan. 9: 1 p.m.
Tickets: Start at $28 and can be purchased here.

Jon Gallo is an award-winning journalist and editor with 19 years of experience, including stints as a staff writer at The Washington Post and sports editor at The Baltimore Examiner. He also believes the government should declare federal holidays in honor of the following: the Round of 64 of the NCAA men's basketball tournament; the Friday of the Sweet 16; the Monday after the Super Bowl; and of course, the day after the release of the latest Madden NFL video game.